Officially incorporated in 1906, Camas was named after the Camas Lily, which can still be found in the area. With a population just under 20,000, the town maintains its small-town feel and alluring charm. Nestled between Vancouver and Washougal, and just 14 miles from Portland, the city is easily accessible from other nearby cities, making Camas a popular place to visit and call home.
Whether you're visiting for a day or two, or you're considering a move to Camas, you are in for a treat. There is so much to do, see and taste in this quaint yet vibrant city nestled along the Columbia River.
Start With Coffee
Any good day starts with a coffee shop visit, where you can grab your favorite caffeinated (or caffeine-free!) drink along with a delectable pastry or breakfast sandwich. Thankfully, Camas has a few wonderful coffee shops to choose from.
Complete with drive-thru service, Squeeze & Grind is a convenient stop on the way into downtown Camas. The shop offers an array of espresso drinks in addition to smoothies, pastries, desserts and more.
Nestled in the heart of downtown, Caffe Piccolo serves spectacular handcrafted coffees, specialty teas and European-inspired menu items. Their inviting atmosphere is the perfect place to pause and relax at the start of your day!
Pair your coffee with something sweet at Cake Happy, a creative bakery serving a variety of items, including pastries, custom-made cakes and espresso from Mount Hood Roasters. This small-batch bakery specializes in custom cakes, but offers a plethora of baked goods and treats using only the best ingredients.
Explore the Charming Downtown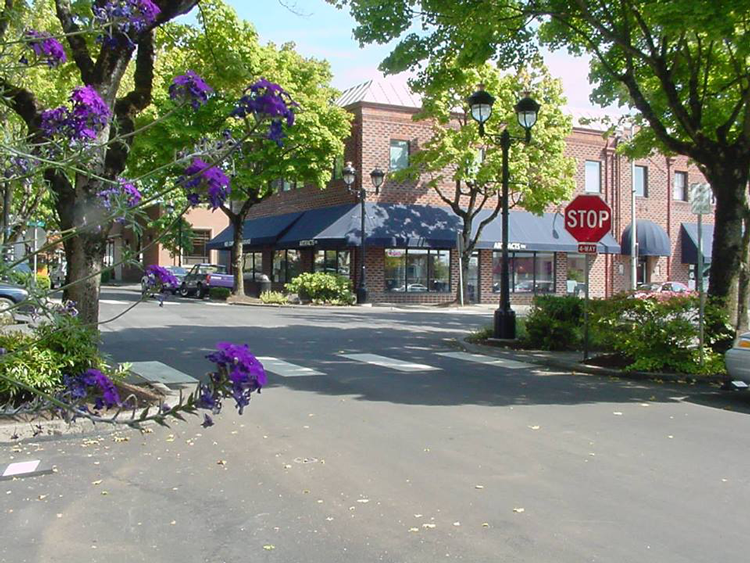 Photo Courtesy of the City of Camas
Historic downtown Camas is bursting with charm and character just waiting to be admired and explored. Enjoy the myriad of vintage architectural gems, displaying a blend of styles from the town's history dating back to the early 1900s. As you stroll through the quaint downtown area, you will discover charming antique shops, clothing shops ranging from upscale boutiques to quirky consignment stores, home goods and gift shops, coffee shops, restaurants, a historic theater, and much more. The town's beauty is magnified by beautiful landscaping, bronze sculptures, historic lamp posts, seating areas and more.
Eat Lunch
Duck into a local eatery during your adventure through downtown Camas. Looking for a lunch spot? Might we suggest…
Photo Courtesy of Camas Thai
Enjoy authentic Thai food at Camas Thai, a laid-back eatery in the heart of downtown. You'll discover all your favorite Thai dishes, from curries and seafood to tofu and noodle dishes.
Cafe Natalia is a staple in Camas. This cozy cafe serves renowned breakfast fare and unique American-Russian comfort food every day from 6 a.m. to 2 p.m. (and until noon on Mondays). It's the perfect destination for someone who wants to enjoy breakfast classics past noon.
Hana Foods is a clean and casual counter-service joint serving delicious Japanese and Korean teriyaki dishes. It's an excellent choice for a quick yet tasty lunch stop in Camas!
Spend Time Outdoors
Nestled between the Columbia River to the south and Lacamas Lake to the north, Camas is perfectly positioned to enjoy the outdoors. Plus, there are a number of parks in Camas designed for outdoor recreation.
Photo Courtesy of Clark County Public Works
Lacamas Lake Regional Park is a 312-acre forested reserve just north of downtown. There are 6 miles of paved and unpaved trails that wind through forested areas, some with old-growth trees, a cascading waterfall, and a small lake to paddle a canoe. The lakeside day-use area has a playground, picnic tables and restrooms. Fishermen test their skills against bass, bluegill and perch in Round Lake, which is open to non-motorized boats only, and has a 1.2-mile trail surrounding it.
Grab a Drink
Unwind from the day's activities with a drink at one of the many watering holes in Camas!
Photo Courtesy of Mill City Brew Werks
Mill City Brew Werks is a small locally owned and operated craft brewery and restaurant based in Camas. Taste their exceptional hand-crafted brews, wines from both near and far, and the variety of food options on their full menu!
A Beer at a Time offers the most beer on tap in all of Southwest Washington! Select from the 51 beers on tap and hundreds by the bottle at this cozy and lively wood-filled shop and tasting room.
Caps N' Taps opened in 2013 to fill a void of craft beer in downtown Camas. This local taproom and bottle shop specializes in 20 rotating taps, over 100 specialty bottled brews, and regional wines.
Salud! Wine Bar, Event Center and Wine Storage invites you to stop in, sit down, uncork and unwind. Enjoy a glass of wine, a cheese platter, fondue, charcuterie and more at Salud!, whether you're relaxing by the fire or basking in the sunshine by their large windows. On Friday and Saturday night, Salud! hosts live music from 7–10 p.m.
Enjoy Dinner
Nuestra Mesa is a rustic, brick-walled eatery serving refined Mexican dishes and inventive cocktails. As "nuestra mesa" translates to "our table," owners and husband-and-wife duo, Todd and Tania, invite you to share their table.
Feast@316 is a contemporary steakhouse serving a variety of artisanal cocktails, seafood and of course — delicious steak dishes. You can't go wrong with your selection at Feast@316, whether you're stopping by for lunch, dinner or simply a couple of drinks.
The Sushi Joint 2 is a modern sushi hot spot in the heart of Camas. Split a couple of fresh, delicious sushi rolls presented in stylish fashion and made with the best ingredients.
Watch a Film
Photo Courtesy of Rowe Ray for the Liberty Theatre
No trip to downtown Camas is complete without a visit to Liberty Theatre, a restored two-screen theater built in 1927. The historic theater shows a blend of blockbusters, indie films, old classics, and other unique films. The full-service snack bar offers popcorn, candy, drinks, and food, plus premium local craft beer and wine for adults! Take a look at their showtimes to travel back in time at this charming local theater.
Linger a Little Longer…
Photo Courtesy of the Camas Hotel
If you enjoyed your visit to Camas, or if you're simply in need of a local "staycation" of sorts, book your stay at the enchanting Camas Hotel. This boutique hotel is an excellent place to unwind and relax, and serves as the perfect home base for exploring the region, whether you're heading to other cities in Southwest Washington or across the border to Portland. Effortlessly modern and vintage at the same time, the accommodations in Camas Hotel provide a relaxing retreat in the heart of this historic district buzzing with activity.
…Or Even Longer by Purchasing a Home in Camas!
If a night or two at Camas Hotel just simply won't suffice, vow to make Camas your new home! There are an array of beautiful homes for sale in Camas.
Prune Hill rises over the western half of the city and showcases large homes hugging the hillsides with views of Mount Hood and the city lights of downtown Portland. Descending from the top of the hill and past the lake, one enters the more established areas, with home styles including traditional, Craftsman, older Victorians, modern homes on large park-like lots, condos, and townhomes.
This home is for sale here.
Wherever your home search takes you, we are more than happy to help direct you towards your dream home in Camas! Contact us if you need assistance.