While we enjoy decorating our homes for every season, there's nothing quite like the coziness of a warm, inviting home in the winter to inspire creativity! Glowing trees, colorful lights, prized figurines, and so much more! If you're looking for some fresh ideas to kick your holiday decorating up a notch, don't worry—we've rounded up a few tips and tricks to help you add some extra flair and sparkle this year. Happy holidays!
If you want to add a specific PNW twist this season, check out our guide Holiday Decorating Ideas for the Pacific Northwest Home. 
Keep it Simple
Minimalism is all the rage these days, so it's no surprise that it's taken holiday décor trends by storm too! Keep it simple this year by putting up a fresh tree, lightly decorating it with a few ornaments and placing a few holiday touches here and there throughout your home. Not only does it help keep your home looking fresh and clean, but it will also make putting your holiday decorations away a breeze.  
Or Go All Out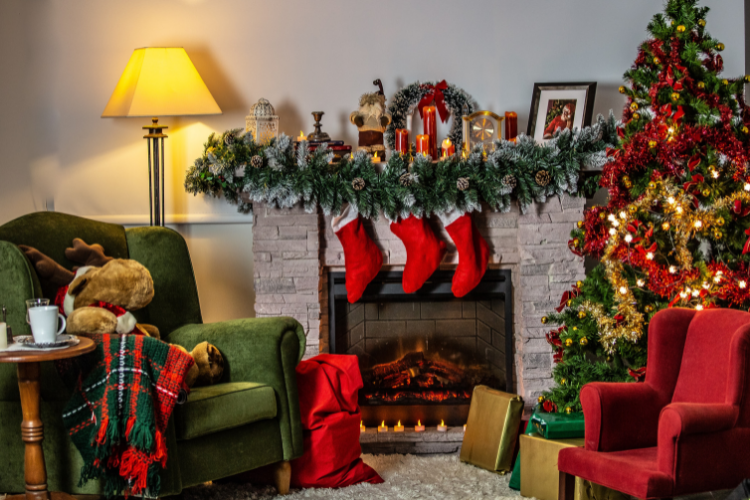 If minimalism just isn't your thing, try maximalism! This trend, which involves decorating to the max, has made a comeback in recent years. Holiday enthusiasts will love this design style as it gives them a chance to decorate with a little bit of everything this season, from lights to ornaments to Christmas train sets and everything in between.  
Incorporate Color
While most stick to the simple green and red color palette for the holidays, why not try something a bit different this year? Pinks, blues, yellows, golds, whites and even purples can be festive when mixed with more traditional elements.  
Set the Table
Even if you're not planning to have a massive holiday dinner this year, making the table look festive all season long adds a certain level of charm to your décor! So set the table with a tablecloth, place mats, fancy China and even some ornate centerpieces to your dining space. That way, every meal will feel like an exquisite Christmas feast!  
Craft a Festive Wreath
Everyone knows that the front porch is an opportunity to make a great impression on guests and passersby. Dress up your door with a festive wreath featuring fresh greenery, ribbons, pinecones, snowflakes and more!  
Create an Indoor Snowstorm
Have a snow day every day! Put on your favorite holiday movie, download a free printable snowflake template, then turn plain white printer paper into magical snowflakes you can string together and hang all over your home. 
Light Up the Outdoors
One of our favorite holiday traditions is driving around our local neighborhoods in search for fabulous holiday decorations! No matter how you decide to decorate the outside of your home, try to make it as fun as possible. While classic white string lights always look nice, we're partial to colorful light shows, holiday movie characters and snowmen to help light up the night. 
Incorporate Vintage Finds
Doesn't Christmas make you feel nostalgic? Bring in a bit of that nostalgia by incorporating some vintage finds into your décor this year! Stop by a local antique store in your area to pick up a few vintage ornaments, decorations, signs and more.  
Don't Forget the Mantel
Your fireplace is arguably the most important part of your holiday décor! Not only is it where Santa will arrive, but it's the spot where you hang your stockings and will become the centerpiece of your entire home this holiday season. Dress it up with a garland, holiday figurines and, of course, your family's stockings. Don't have a fireplace or mantel? No worries! Hang a wide shelf with some sturdy hooks that you can hang your stockings on instead.  
Or the Banister
Decking out your entryway is a sure way to add holiday cheer to an area of your home that both you and your holiday guests will enjoy! To do this, run a garland of fresh Evergreen sprigs up the length of your banister. If you don't have a staircase inside your home, you can still do this outside your front door or around doorways to create the same effect.  
Happy Holidays! 
How are you planning to decorate your home for the holidays? Let us know in the comments below!