Considering a visit to Hood River? We don't blame you one bit. This small town situated at the confluence of the Columbia River and Hood River is a popular destination for Oregon and Washington residents — as well as outdoor enthusiasts all over the country. 
Many visit Hood River for its renowned kiteboarding culture, its collection of breweries and wineries, its proximity to Mount Hood, or the fruit-picking along the Hood River Fruit Loop. Today, we're talking about why you should visit Hood River, which include these reasons — and more! No matter your interests, you're likely to fall in love with this quaint, outdoorsy town in the Columbia River Gorge. 
Not convinced? Let's see if we can change that! 
Hood River Fruit Loop
Perhaps the most well-known attraction in Hood River is the Hood River Fruit Loop, a 35-mile scenic drive lined with 29 member stands offering a variety of wines, fruits, vegetables, flowers, ciders, food and more. While many wineries are open all year, most stands operate on a seasonal basis that changes each year, with most opening in June or July and closing as late as November or December. Use our guide to the Hood River Fruit Loop, which includes details about each member stand as well as an interactive map to help you plan your trip! 
There's a reason Hood River is nicknamed the "Windsurfing Capital of the World!" On a sunny, clear day, you are likely to see dozens of colorful kites dotting the sky above the Columbia River. Kiteboarders from all over the world come here to experience the unique and optimal conditions for riding. In fact, several professional kiteboarders and kiteboarding companies call Hood River home! Whether you are a seasoned pro or have never tried the sport, Hood River is a great place to be. Use our kiteboarding guide to optimize your day on the water — and more importantly, avoid any confusion or danger! 
And Other Sports
Kiteboarding isn't all that Hood River is good for! Many use this ideally located town as a home base for exploring the many trails, lakes, rivers and mountains nearby. Use our outdoor recreation guide to help you experience the great outdoors near Hood River, whether you want to go hiking, biking, skiing, camping, kayaking, or golfing. The best part is you don't have to choose between them, as you could go kayaking and skiing all in one day in Hood River! 
Locals are used to it, but visitors have to lift their jaws off the ground. The views in Hood River are simply second to none. From the city, you can see Mount Hood looming in the distance, take in views of the sparkling Columbia River, and take in rolling hills of lavender and fruit trees in the valley. 
One of our favorite vistas is found at the Vista House, a property built in 1917 as a place for travelers to rest and refresh themselves on their journey along the Gorge. Today, visitors can learn about the architecture and history of the Vista House, the Historic Columbia River Gorge, the local area, the flora and fauna of the region, and much more. Plus, from this high-up vantage point on Crown Point, the views of the Gorge and surrounding scenery are hard to beat. Admission to the Vista House is always free, but donations are greatly appreciated. 
NOTE: The Vista House is currently closed due to COVID, but you can still park in the parking areas and take in surrounding scenery. 
Proximity to Mount Hood
All winter and spring, skiers and snowboarders flock to Mount Hood to experience the longest ski season in North America that typically extends from mid-November through Memorial Day. And many use the opportunity to explore Hood River before or after their day(s) on the slopes!  
Reaching an elevation of 11,249 feet, Mount Hood is the highest point in all of Oregon and the fourth highest in the Cascade Range. Plus, Mount Hood is one of the most climbed mountains in the world, making it a prominent and must-see mountain. Use our comprehensive guide to Mount Hood to enhance your visit to this popular peak, which includes insight on the best places to stay, where to eat, and things to do on and around Mount Hood. 
Some say traveling is just eating good food in a different city — and there's plenty of good food here! To help narrow down your choices of fabulous restaurants in Hood River, we created a list of our favorites, all of which offer award-winning fare and the promise of spectacular views. Whether you're in the mood for brunch, seafood or wood-fired pizza, there's a spot for you on this list! And if it's the views you're after, we collected some of the best restaurants and breweries with a view in Hood River. Looking for an outdoor patio? We got you covered. 
Year-Round Fun
Believe it or not, Hood River is a fairly well-kept secret. With an estimated population just under 8,000, Hood River is a small town where residents know one another — and their local baristas and grocery store workers. And while the city attracts plenty of visitors on an annual basis, Hood River still maintains its character without selling out to tourists. You won't see kitschy tourist traps in Hood River! 
Wineries + 

Breweries
Hood River is increasingly being known for its craft beer culture, as a number of independent craft breweries have popped up in Hood River (and nearby towns!) over the last several years. Take a look at some of our favorites, from the long-standing Full Sail Brewing Co. in Hood River to the relatively new Thunder Island Brewing Co. in Cascade Locks. 
While we've explored the surrounding hiking trails, rivers and mountains, the heart of the action in Hood River lies in its charming downtown. The seven-block stretch along Oak Street is lined with beautiful historic buildings, home to a variety of restaurants, cafes, coffee shops, ice cream shops, art galleries, shops and boutiques, and more. Check out some of our favorite shops and boutiques in Hood River to plan your shopping adventure in downtown Hood River! 
Not Far from Portland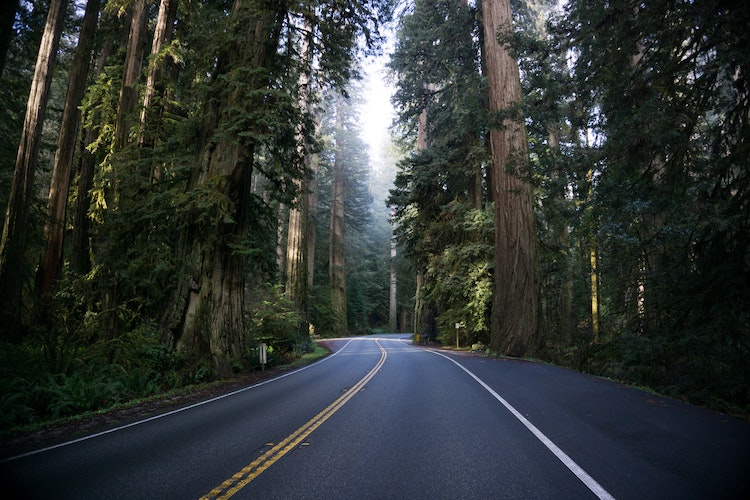 If you're traveling from afar and need to fly here, you will be pleased to know that Hood River is just a little over an hour away from Portland and PDX Airport. Plus, if you're traveling during daylight hours, your drive to and from the airport goes along the scenic Columbia River Highway. This 70-mile highway extending from Corbett to Dodson is considered one of the most scenic drives in the country. Along the way, you will discover waterfalls, historic monuments and buildings, fish hatcheries, and a number of jaw-dropping overlooks. 
We hope you enjoy your stay in Hood River! If you need more ideas, use our visitor's guide to Hood River, which includes ideas for when to go, where to stay and what to do.