In a beautiful city like Portland, it's only right to position our indoor and outdoor living areas to take full advantage of surrounding scenery, from the lush greenery hanging overhead to the towering mountains looming in the distance. 
That's exactly what a local designer did with this home in Northwest Portland perfectly positioned amongst a thick grove of evergreen trees. Allison Smith Design completely transformed this outdated five-bedroom '90s home from top to bottom — reimagining the 5,536-square-foot property as a sprawling, modern refuge set against a forested green space. 
ASD is a full-service design studio providing large and small remodeling, new-build design, custom furniture, commercial projects (new and remodeled), and custom design palettes. Allison Smith and her team work on everything from commercial to residential, and even restaurants. ASD helps their clients with every aspect of the design project, from material selection to floor plan adjustments, and project management to custom furniture design, and all the way down to accessory placement. And this project was no exception! 
Modern Portland Home in the Trees
Built in 1993, this home in Northwest Portland had great bones and an idyllic location amongst a forest of trees, but it was certainly in need of an update. The client came to Allison Smith Design with a lot of inspirational ideas and a love for modern design — particularly the modern farmhouse aesthetic that is so popular right now. The team took their ideas and built on them to come up with a design that was truly unique for the client and a bit more timeless. It was a complete and extensive renovation of the entire five-bedroom, five-bathroom home taken down to the studs, and the client trusted the ASD team every step of the way. 
Before and After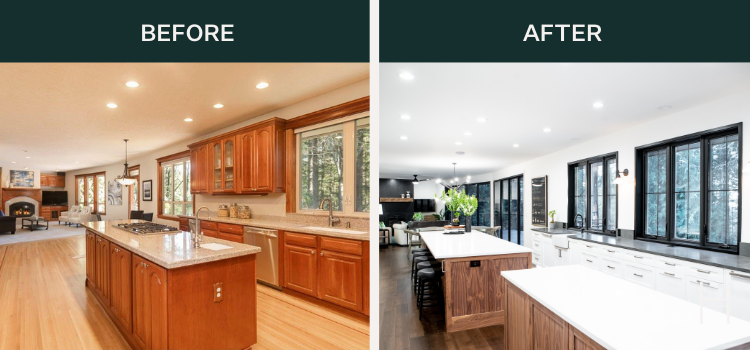 Before ASD got their hands on this home, it had lots of carpet and wood trim in every room, plus more traditional light fixtures and details, which dated it quite a bit. It had a good layout and plenty of space, but just needed to be modernized and optimized in order to take advantage of its prime location. 
The home is nearly unrecognizable between the "before" and "after" photos — but the end result is absolutely brilliant. The client loved modern design with its high contrast and clean lines. The ASD team focused on black and white, with pops of green throughout, inspired by the wooded backdrop behind the house. It also has several touches of dark wood throughout, bringing in subtle touches of nature, reminiscent of the trunk of a tree or rich garden soil. 
The kitchen is particularly stunning, equipped with two separate islands containing plenty of drawers and cabinets for storage. The wall above the sink is lined with large windows letting in natural light and offering a clear forest view. The kitchen connects seamlessly to the main living room, which has a stunning black brick fireplace with a natural wood mantel. 
One of Smith's favorite features is the tongue-and-groove paneling on the ceiling that was painted a deep black or emerald green in various places, including the dining room and den/study. 
"I love using paint on a ceiling," Smith said. "It's a fun way to add subtle interest." 
Bringing the Outdoors In
The home truly feels like a treehouse. There is a gigantic green belt that spans from right to left along the back of the house. 
"We added as many windows as possible so that you would feel like you were sitting in the middle of the trees," Smith said. 
One of those "windows" is the two sets of large floor-to-ceiling glass doors that lead from the living area and kitchen to the spacious deck. 
The team also brought various green elements into the design to marry the outside and inside, from emerald green artwork to potted plants and throw pillows to rugs. The pops of green are refreshing, restorative and soothing, symbolic of new growth while also being a little cheerful. 
"The green is a little unexpected without being too trendy or gimmicky," she said. 
Much like with nearly every industry, the interior design world was greatly affected by COVID and the complications it created. The pandemic wreaked havoc in supply chains and there was a flurry of contractors getting snapped up for projects. Not to mention, contractors struggled with the overwhelming workload and the City of Portland had a backlog of permits that were slow to be granted. Plus, the massive wildfires last fall also disrupted supplies, as well as some of their contractors' schedules when their families were evacuated. However, with all of those complications, the ASD team was able to complete this impressive renovation in 9 months, resulting in a very happy client. 
"Our client was game from the get-go and in the end, we have a very enthusiastically happy client," Smith said. "That makes it all worth it!" 
Beyond this project, the ASD team had to adjust to our new virtual reality spurred by the pandemic. But thankfully, they felt as though they were made for this. 
"Over the last couple of decades, our firm has survived a handful of recessions and weird times, but never a pandemic," she said. "I was not sure what it all would mean, but it didn't take long for us to settle into our new groove. In fact, we have done a lot of international business in the past, as well as various projects around the country, so we were used to working from a distance. Working remotely wasn't a stretch for our team at all – we felt like we were made for this." 
About Allison Smith
Allison Smith of Allison Smith Design has 30 years of experience designing homes in the Portland area and beyond — including Beijing, where she completed a western-themed mock town outside the Great Wall called Jackson Hole, and in 2018, a rodeo-themed bar and restaurant in Beijing's financial district. 
Well before Smith's official career started, her love for interior design began at a young age. 
 "I was 10 when I started to rearrange the furniture and eclectic possessions that my family accumulated through all our moves between Mexico, Utah, Montana, and Southern California," Smith said. "As a young adult I spent time in New York City, learning about art, architecture and being mentored by my cousin who was an incredible artist and textile designer before returning to the northwest to continue my interior design work." 
 As a young mother, Smith set out to make a little extra money to help provide for her family — and she jumped in with both feet. In 1986, she offered to design for the Street of Dreams and planned to simply make enough to cover gas and other expenses. But low and behold, she won all the awards! So she did it again the following year — and the rest is history. This accidental success launched her interior design career in Portland. 
Smith has lived in Portland for 35 years and loves the paradox of the city: constant growth combined with the best of the old. 
 "I love how Portland tries to hold on to its roots, while also being new and always trying to evolve itself," she said. "I draw inspiration from the abundance of nature around. I love that we are within an hour to mountains, beach, and forest." 
When she's not designing, Smith enjoys running, hiking and spending time with her family. 
When asked what her signature design style was, Allison responded, "My style is the client's style!" 
"Over the years I've thought about specializing, but at the end of the day the most rewarding work is trying to direct a client toward their signature style," she said. "Trends come and go, so while we acknowledge and incorporate elements from current trends, ultimately, we work to figure out what the client really loves to make their design timeless. I want to make them flourish in their eyes, not mine." 
Contact Allison Smith Design