Community gardens are integral to the livelihood of our communities for a variety of reasons. They increase food access and simultaneously decrease food insecurity, while promoting organic gardening practices, sustainability and the importance of eating local food. Not to mention, they empower citizens to get involved with gardening and learn more about healthy, nourishing food. And in the process, community gardens connect gardeners with their neighbors, as they work together to achieve a common goal. 
All of Portland's community gardens are developed and operated by volunteers and Portland Parks & Recreation staff members, working in tandem with plot holders. That's where you come in! If you're interested in joining the incredible community garden family in Portland, either as a volunteer or plot holder, here's everything you need to know. 
With an impressive number of community gardens in our midst, it's easy to forget that it wasn't always this way. In 2010 and 2011, Oregon Solutions completed the Portland Community Gardens project to increase community garden opportunities in the city. They saw a scarcity of community garden space combined with an ongoing issue of food insecurity. The organization aimed to increase access to fresh, healthy food regardless of race, age, income or neighborhood. According to Oregon Solutions, "the project strived to reconnect communities to their food source, to nature, to culture and their greater community through gardening." 
The end result was remarkable. $1 million in capital funds were given to expand the city's community gardens, and new gardens popped up in the neighborhoods of Madison, Vestal, Gilbert Heights, Blair Garden, Vermont Hills, and Furey Garden. In total, 150 garden plots were added between 2010 and 2011, and many additions and expansions were made to existing gardens. 
Photo Courtesy of Portland Parks & Recreation Community Gardens
With so many to choose from, it can be difficult to determine the right community garden for you. One of the easiest ways is to start with location. Start planting, growing and harvesting in the garden closest to your home — or even volunteering there. There's something special about cultivating the land and getting to know the community in which you live. 
Use this map to find the garden nearest you, filtering by section of the city, from northwest to southeast Portland. And down below, you'll find a complete list of all the gardens and a link to their page. There, you can learn more about the history, size, and more helpful information. 
Registration and Plot Information
Only one plot may be assigned per household, which is defined as one or more adults and any dependent children. There must be a primary gardener, who acts as the main point of contact and should complete at least 50% of the work on the plot. 
Plots range in size from a starter plot (about 50 square feet) to a quad plot (about 800 square feet), depending on how much produce you plan to grow and what's available at your particular garden. In general, the starter or single-size plots are ideal for beginning gardeners and/or families of 1-2 people, the standard-sized plots are perfect for families of 2-3 people, and the double- or quad-sized plots are more appropriate for large families or groups and more experienced gardeners. 
Ranging from $20 to $220, plot fees cover the entire garden season, which runs from November 1 to October 31 each year. 
More information about all of the above, including plot sizes and pricing, can be found here. 
Requesting a Plot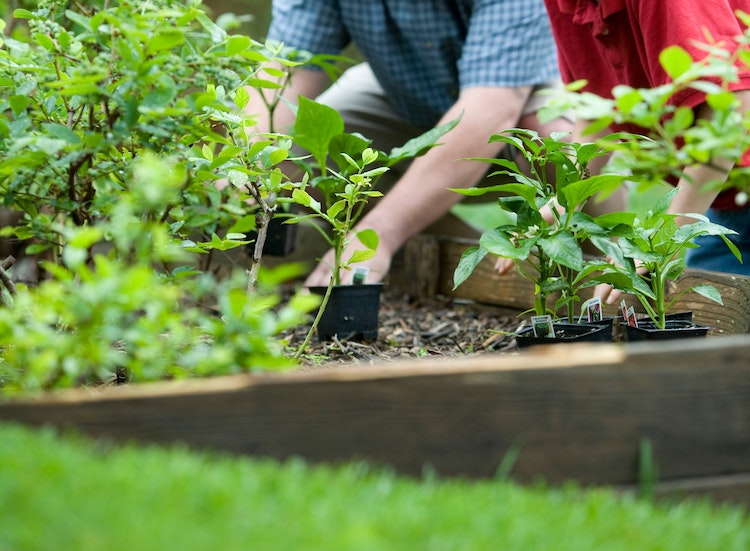 Okay, so you're convinced! Now what? You may have to wait in line in order to get your hands on your very own plot. In fact, some of the more popular gardens have at least a 2-year wait at the moment, including Blair, Buckman, Clinton, Colonel Summers, Everett, Grant, Ivon, Mt. Tabor, Sabin, Sellwood, and Sewallcrest. 
Submit a request to add your name to the waitlist for your garden of choice. The city assigns plots each year between February and June, as space becomes available. If there are no plots at your preferred garden, your name will remain on the waitlist for the following year. Click here for more information about requesting a plot and click here to fill out a form. 
Plot holders are responsible for abiding by the many policies and rules set in place in order to keep the gardens looking healthy and beautiful for other gardeners and passersby. For example, gardeners must care for their garden all year long, which includes removing weeds and harvesting ripe produce in a timely manner. Organic gardening is required, which means only organic fertilizers, weed killers or bug killers may be used. You must also log a minimum of 6 hours of service to the garden, to assist with various tasks outside your plot. Click here for a complete list of the policies. 
Produce for People
If you've ever tended to a garden, you know there's usually an excess of produce during harvest time — which can be a very good (and delicious!) problem to have. Produce for People is helping turn excess produce into something good. In 1995, Portland Parks & Recreation's Produce for People program began as a grassroots effort to combat poverty by using produce to fulfill the needs of the hungry. In concert with hunger relief agencies, the program seeks to provide emergency food shelters in the city with fresh, nutritious, locally grown, organic food. In 2018, the program teamed up with 31 community garden sites and donated over 26,000 pounds of produce to more than 24 different food pantries in the area. Learn more about the Produce for People program and how you can get involved here. 
Friends of Portland Community Gardens
With all the moving parts and sheer magnitude of this operation, it's nice to know there's a group dedicated to supporting and advocating for community gardens in Portland. Friends of Portland Community Gardens is just that — the group has been a hands-on advocacy resource for the Portland gardening community for more than 30 years. They "empower gardeners to make the most of their community garden plots by providing communal supplies such as compost and tools." Learn more about our nonprofit's mission and programming here — and how you can get involved, through volunteering, donating or becoming a member — here. 
Volunteer
Maybe you already have a garden of your own or you're not interested in tending to your own plot at a community garden. There are still several ways to get involved with the city's incredible community garden world. Volunteering is one of the best ways to give back! View the events calendar to see upcoming volunteer opportunities. Or you can join an existing work party, usually hosted by their partner, Hands On Greater Portland. Work parties rotate on a regular basis at different garden sites throughout the city, where volunteers help spruce up existing community gardens by weeding, mulching, planting and pruning, or help grow new community gardens by building beds, laying paths, spreading mulch, and more. Green thumbs are encouraged but not required! 
Follow Along on Social Media
With the ever-changing nature of the community garden program in Portland, it's easy to feel out of the loop. Stay up-to-date on what's happening by following Portland Community Gardens on Facebook, where they post regular updates, helpful resources, beautiful photos, and other relevant information. 
At the end of the day, it's worthwhile to spend a little time digging in the dirt — either in your own backyard garden or alongside other gardeners at a community plot. We wish you a fulfilling and rewarding season!