You may have visited the quaint town of Cannon Beach during the warmer months when the beach comes to life with activity, from sandcastle building to kite flying and dog walking to skimboarding. But during the winter, the beach takes on a whole other form — as a moody, foggy backdrop best enjoyed from a cozy locale or under many layers of warm winter gear.
If you need some convincing, we're here to explain just a few reasons why winter is an excellent time to visit this coastal town. From cozy, indoor activities to scenic outdoor adventures, there's plenty of things to do this winter in Cannon Beach!
COVID NOTE: Be sure to practice social distancing and wear a face covering when in public places, both indoors and outdoors. Check the website of all mentioned businesses before your visit to Cannon Beach, as regulations and guidelines related to COVID-19 are subject to change. Click here for the latest coronavirus updates for Cannon Beach.
There Are Plenty of Cozy Places to Stay
Photo Courtesy of Crowerks via The Ocean Lodge
First things first, you'll want to establish your accommodations before making your way to the coast. To take full advantage of the scenery, it's best to stay oceanside so you can wake up to the serene view of the Pacific — and of course, Haystack Rock! Thankfully, there are plenty of oceanfront hotels and vacation rentals in Cannon Beach, ranging from two-person rooms with a balcony to large houses with a yard ideal for a group or family. While they differ in size, amenities and features, these accommodations all offer jaw-dropping views of the ocean! Plus, many feature a fireplace for the ultimate cozy vibes this winter.
There Are Less Crowds
Spring and summer are the most popular times to visit Cannon Beach, for obvious reasons. So there's an advantage to visiting during the off-season, when there are less people both in town and on the beach itself. During the winter, enjoy the peace and quiet of this quaint town — and all its beauty — without having to navigate foot traffic! Plus, you can often take advantage of lower rates at those hotels we mentioned.
It's Whale Watching Season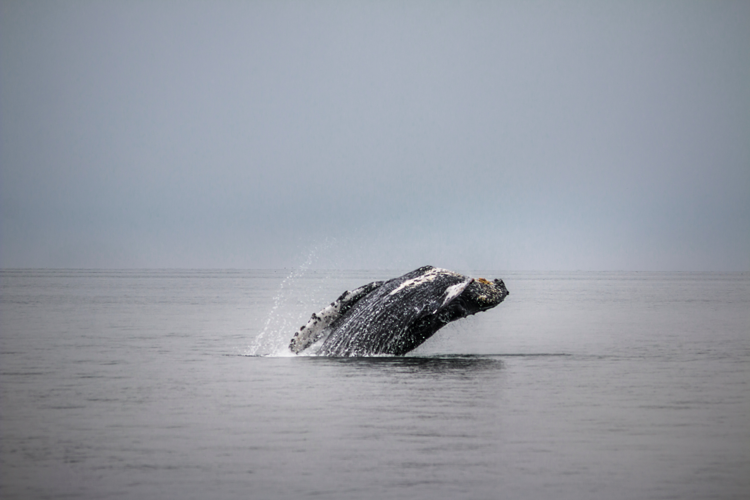 Twice a year, nearly 20,000 gray whales travel along the Oregon Coast between Alaska and Mexico and can easily be spotted off the shoreline at Cannon Beach. These 35-ton beasts make their way south for warmer waters at the start of winter (mid-December through mid-January) and head north to cooler waters at the start of spring (mid-March through mid-April). And during peak migration, you could potentially see as many as dozens of whales passing by at a time! Consult our whale watching guide for more information about this unique phenomenon, including where to go, what to bring and more.
…And Storm Viewing Season
In addition to whale watching, one of our favorite outdoor winter activities is storm watching in Cannon Beach. The Oregon Coast is known for its powerful storms that blow in during the winter, which can be observed at several vantage points along the coast. Be careful to not get too close, as strong winds, flying debris and rip currents can pose a major threat. Some of the best places to witness the next winter storm include Fort Stevens State Park in Astoria, Ecola State Park just north of Cannon Beach, the Seaside Promenade and the Devil's Punchbowl near Newport. But some are best viewed from indoors, including the restaurants along the beach, like The Wayfarer Restaurant & Lounge.
There are Nearby State Parks to Explore
While many things change throughout the seasons in Cannon Beach, one thing does not: proximity to some of the best state parks. Did you know that there are four state parks within 10 minutes of Cannon Beach? All four are worth exploring all year long — especially Ecola State Park, which offers exceptional views of the ocean and is a common place for Roosevelt Elk to roam during the winter months. Just be sure to bundle up, as the wind off the coast can make conditions even more brutal!
The Beach is Idyllic
Colder temperatures and less sunshine may not be the most enticing formula to draw you to the beach, but it can be a particularly magical scene — at least if you bundle up with plenty of warm layers. If you're up for the adventure, take a stroll to Haystack Rock with a cup of coffee (Insomnia Coffee is just steps from the beach!), watch the enormous waves crash on the shore, and breathe in the cool fresh air all the while.
There Are Plenty of Shops
Whether you're looking for a last-minute holiday gift for a loved one, a new outfit for yourself or a unique piece of decor for your home, there's a shop in town that has what you're looking for! Take a stroll down Hemlock Street and duck into the warm, inviting shops and boutiques along the way for the ultimate small-town shopping experience. The shops cover a variety of categories, from women's clothing to home goods and children's toys to books!
…And Art Galleries
On your shopping adventure, you're bound to pass by an art gallery — or a dozen. Believe it or not, Cannon Beach has a thriving art scene and is home to many renowned artists. Not to mention, the town's serene beach setting is conducive for aspiring artists to practice their brush strokes en plein air. For these reasons and more, Cannon Beach was included in John Villani's book, The 100 Best Art Towns in America. Embark on your own self-guided walking tour of some of the best art galleries in Cannon Beach, focused on a variety of styles and mediums, from abstract sculpture to landscape painting, and everything in between.
It's a Great Place for a Scenic Drive
After all this exploring on foot, you may want to take a break with a relaxing drive. There is arguably no better place for a scenic drive than Cannon Beach, as you're stationed along the Oregon Coast — considered one of the Seven Wonders of Oregon. Tackle a portion of the Pacific Coast Scenic Byway, which runs all the way from Astoria to the Oregon-California border, offering up some of the most jaw-dropping sights in the country. The byway offers breathtaking views of the freezing ocean while you traverse through marshes, seaside cliffs, agricultural valleys and wind-sculpted dunes. The northern portion, which runs through towns like Astoria, Seaside, Cannon Beach, Manzanita, Tillamook and others, offers a rugged and rocky landscape complete with Oregon's signature fog.
What else?
Let us know your favorite thing to do during the winter in Cannon Beach!