COVID NOTE: As of July 30, Hood River County is on the Watch List to return to Phase I due to the increased spread of COVID-19 cases. This means travel may be prohibited from those living outside the county. Counties remain on the Watch List for a minimum of three weeks and until their sporadic case rates drop below the determined thresholds. If Hood River County returns to Phase II, this means visitors will be allowed to visit Hood River while adhering to guidelines in place. To see a full list of the guidelines and other details related to COVID-19, click here. Use our guide to plan a trip to Hood River once restrictions are lifted.
With an estimated population of just under 8,000 people, Hood River is a small town tucked away at the scenic crossroads of the Columbia River Gorge and the Cascade Range. Known as the "Windsurfing Capital of the World", Hood River is an oasis for all wind-related sports — including kiteboarding. In fact, on a hot summer day, you'll see dozens of colorful kites dotting the sky above the Columbia River.
But this small town has more in store than its kiteboarding culture. There is an abundance of local shops, restaurants, breweries and other businesses dotting the streets of Hood River, lined with friendly residents and excited tourists alike. And after just one day here, you'll understand why it's such a popular place to visit.
If you're interested in joining the thousands of visitors Hood River draws each year, consult our visitor's guide! We're covering all you need to do, see and experience while you're in town.
WHEN TO GO
There isn't really a bad time to visit Hood River, but if you want the true kiteboarding experience, considering visiting during the spring or summer! This is an especially ideal time for some of the activities listed below, like the Hood River Fruit Loop, dining on outdoor patios, outdoor recreation, etc. But if you can't make it out until the fall, don't fret. There's plenty to do then too, like cider sipping, fall foliage peeping, and attending some anticipated fall events!
Speaking of events, there's always something going on in Hood River, so you might want to plan your trip around one of the many annual events on the calendar.
WHERE TO STAY
Photo Courtesy of Columbia Gorge Hotel & Spa
Before you get here, you have to know where you're staying. And there are plenty of places to consider, whether you're looking for a unique budget-friendly option or a more luxurious getaway. Here are some of our favorite hotels in Hood River, listed in order from the more affordable to the more expensive.
Modern hotel in Bingen, Washington with a variety of accommodations, including individual rooms, hostel-style bunks and cabins, plus a boutique resort-style spa.
Cozy lodge situated in a forested area along the river, offering breathtaking views and family-friendly amenities, like a children's playground and large picnic area.
Historic hotel in the heart of downtown Hood River with unique modern-meets-vintage decor and an on-site restaurant called Broder Øst.
Charming bed and breakfast situated on 5 acres adjacent to Indian Creek Golf Course, featuring three large private suites, a reading library and a communal dining room.
Spectacular hotel situated on the edge of a cliff 200 feet above the Gorge, offering condo-style lodgings with full kitchens, luxe bathrooms and all the furnishings of home.
Historic manor-like hotel along the river with luxurious, uniquely decorated rooms (most with a 2-person maximum) and a full-service spa.
Luxury cabins in Carson, Washington amongst a beautiful garden setting, with breakfast provided. Indulge in a couple's in-cabin massage or romantic package to celebrate your special occasion.
WHAT TO DO
Participate in the city's most popular sport if you're feeling adventurous! Try your hand at windsurfing or kiteboarding, two similar yet different sports, whether you're a seasoned expert or you've never tried either. If you're new to kiteboarding or windsurfing, be sure to get lessons from a professional instructor at one of the many schools in town, including Cascade Kiteboarding, Gorge Kiteboard School, Brian's Windsurfing, Kite The Gorge, Hood River WaterPlay or New Wind. Use our guide to kiteboarding in Hood River, which includes everything you'll need to know before you hit the water.
There are plenty of boutiques and shops in Hood River worth exploring, whether you're searching for a gift, a new outfit, home decor, children's books and toys, spices, jewelry or outdoor gear. Embark on a shopping adventure in Hood River for any occasion — or lack thereof! Check out some of our favorite local shops and boutiques in town.
Go Wine Tasting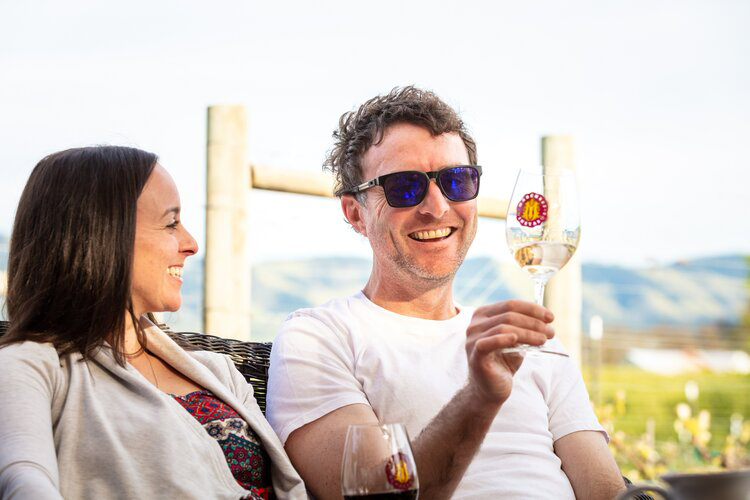 Photo Courtesy of Marchesi Vineyards
There is certainly no shortage of wonderful wineries in the Columbia River Gorge. A few favorites include Marchesi Vineyards, Cathedral Ridge Winery, Stave & Stone Winery at the Vineyard, and Mt. Hood Winery. Get a taste of the local wine scene with Gorge Wine, which beautifully showcases the astounding beauty of this wine-rich region and provides helpful resources for visiting wineries in the Gorge.
The Hood River Fruit Loop is a must while you're here — especially if your visit falls during the spring, summer or fall. The Hood River Valley is home to an overwhelming number of wineries, fruit orchards, flower fields and more. There are 29 member stands that create the Hood River County Fruit Loop, offering wine, fruits, vegetables, flowers, ciders and food. Some are open all year, while others open for harvest time, which changes each year. Take a look at our guide to the Hood River Fruit Loop, complete with a map and descriptions about each member stand.
COVID NOTE: Check each member stand website before your visit to ensure they are open at this time.
Chase Waterfalls
The Pacific Northwest is dotted with dozens, if not hundreds, of impressive waterfalls of all shapes and sizes. Catch a glimpse of one (or a few!) of the many sparkling waterfalls in the area, including the iconic Multnomah Falls, Latourell Falls, Bridal Veil Falls, Wahclella Falls and Dry Creek Falls, all of which are nestled along the scenic Columbia River Highway. See the full list of waterfalls in the Columbia River Gorge here.
Get a healthy dose of history and exceptional views at the Vista House, a house built in 1917 as a place for travelers to rest and refresh themselves on their journey along the Gorge. Today, visitors can learn about the architecture and history of the Vista House, the Historic Columbia River Gorge, the local area, the flora and fauna of the region, and much more.
Photo Courtesy of Riverside
Some say traveling is just eating good food in a different city — and there's plenty of good food here! To help narrow down your choices of fabulous restaurants in Hood River, we created a list of our favorites, all of which offer award-winning fare and the promise of spectacular views. Whether you're in the mood for brunch, seafood or wood-fired pizza, there's a spot for you on this list! And if it's the views you're after, we collected some of the best restaurants and breweries with a view in Hood River.
Go to the Hood River Farmers' Market
Each May, Hood River residents look forward to the start of farmers' market season, which can be enjoyed all summer and fall long. The Hood River Farmers' Market hosts 40–50 vendors each week from May through November, bringing the finest and freshest foods to the community.
COVID NOTE: Before you go, review the market's extensive list of protocols in place in response to the COVID-19 pandemic. Vendor booths will be spaced out at least 10 feet apart, no samples or consumption of food on-site is allowed, vendors and customers must wear face masks, everyone must follow social distancing guidelines, and a number of hygiene/sanitation practices are in place.
Reaching an elevation of 11,249 feet, Mount Hood is the highest point in all of Oregon and the fourth highest in the Cascade Range. Visible from many vantage points in Hood River and surrounding communities, this towering mountain is both a stunning backdrop and a popular destination for outdoor recreation all year long. Use our comprehensive guide to Mount Hood to enhance your visit, including places to stay, where to eat, and things to do on and around Mount Hood.
Craft beer is certainly on the rise in the Gorge, as a number of independent craft breweries have popped up in Hood River (and nearby towns!) over the last several years. Take a look at some of our favorites, from the long-standing Full Sail Brewing Co. in Hood River to the relatively new Thunder Island Brewing Co. in Cascade Locks.
Get to know (and taste!) the many exceptional breweries lining the Gorge, especially on the Oregon side, with The Gorge Beer Trail. This beer-centric tour takes you on a hoppy adventure to some of the best breweries in the Gorge, with stops in Sandy, Troutdale, Cascade Locks, Parkdale, The Dalles, Hood River and Government Camp.
In addition to kiteboarding, there is so much to do outdoors in Hood River. Take a look at some of the best outdoor activities in Hood River, from leisurely kayak tours to action-packed bike rides on rugged trails. Our guide for outdoor recreation in Hood River includes plenty of ideas for summertime adventure, including hiking and biking trails, kayaking and stand-up paddleboarding destinations, golfing, camping and more.
If you're visiting in the winter, you can still enjoy the beautiful outdoors! Stay at Timberline Lodge and go skiing or snowboarding at one of the many ski resorts on Mount Hood, including Cooper Spur Mountain Resort, Mt. Hood Meadows Ski Resort, Mount Hood Ski Bowl, and Summit Ski Area. And if skiing isn't your thing, go Cosmic Tubing or snowshoeing instead!
Enjoy Your Stay!
We hope you enjoy your stay in Hood River! And if you're looking to make your stay a bit more permanent (by buying a home), we can help with that too.