Summer is here! And there's no better place to be than the quaint coastal town of Cannon Beach, whether you're visiting from elsewhere or you're lucky enough to live here.
Due to changes in place from the coronavirus pandemic, this summer in Cannon Beach may look a little different than you imagined it would. But there are still plenty of things to do, from a virtual sandcastle contest to takeout ice cream, and coastal hikes to bonfires on the beach.
NOTE: As information is constantly changing due to the pandemic, check the website and social media page of each business before you go. And visit this page of updates and this list of businesses on the Cannon Beach Chamber of Commerce website for the latest details as the summer goes on.
Although the 56th Annual Cannon Beach Sandcastle Contest was not held as planned on June 13, the contest is going virtual this year in order to keep the spirit of the event alive while maintaining physical distancing for public safety. Build a sandcastle this summer any time between June 13 and September 7 and submit a photo or short video of the finished product. You'll be entered to win in one of two categories: With Haystack Rock and Without Haystack Rock. The contest is open to all ages, team sizes and skill levels! Full registration and contest details can be found here.
Stroll Through Downtown
On a sunny summer day, there's just nothing like meandering throughout the quaint main street of Cannon Beach, ducking into gift shops, cafes, galleries and other local businesses. If you need some direction, consider visiting these adorable shops and art galleries along the way. Check the websites to see if they are open and for updated COVID-19 protocol and safety precautions.
The Cannon Beach Farmers' Market is typically open on Tuesdays from mid-June through September, but the 2020 season will look quite different in light of COVID-19. The tentative plan is to begin the season on Tuesday, July 21, but check the market website for the latest update. This year, the market will not have live music and there will be a prepared food vendor with no provision for onsite eating. Additionally, all vendors, volunteers and customers will be required to wear masks. And as always, there will be a variety of vendors selling fresh produce, pasture-raised meat, seafood, organic cheeses and hand-crafted artisan food products. The market takes place in the east public parking lot at the intersection of Hemlock and Gower streets, adjacent to City Hall.
Looking for more fresh produce in the area? Check out these farm stands, markets and other resources along the coast.
Treat Yourself With Ice Cream
The charming main street of Cannon Beach is dotted with a number of ice cream shops and candy stores (loaded with salt water taffy!), each of which offers a dose of nostalgia and childlike fun. Stop for a sweet treat at Osburn's Ice Creamery & Island Coffee Roasters, which is serving ice cream to-go at this time. And don't forget the historic Bruce's Candy Kitchen so you can stock your purse with sweet treats for later!
Walk to Haystack Rock
Considered the most iconic landmark in town — and perhaps one of the most recognized attractions in the state — Haystack Rock is a must-visit while in Cannon Beach. Residents may incorporate a walk to this towering rock formation into their daily exercise routine. At low tide, this 235-foot sea stack is surrounded by a number of tide pools teeming with intertidal animals, including starfish, sea anemone, crabs and more. Take a long walk along the sand, watch kites fly through the air, dip your toes in the freezing water, and of course, be sure to get a family photo with Haystack in the background!
The beautiful stretch of coastline surrounding Haystack Rock is just scratching the surface of all that this region has to offer. In fact, there are four state parks located within 10 minutes of Cannon Beach, offering a wide range of options for outdoor adventure along the coast. Make plans for your next visit to one of these renowned state parks, all of which are open once again (aside from Ecola State Park). Before you go, check the status page for Oregon State Parks to see the latest information for COVID-19.
Taste Regional Wine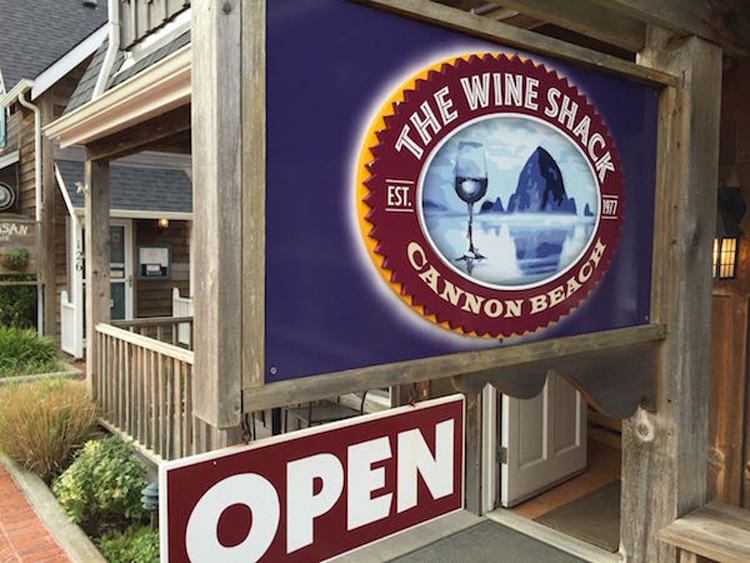 Photo Courtesy of The Wine Shack
If you're a resident of Oregon, you are already well aware of the state's knack for wine — specifically pinot noir. Sample some of the best wines from the region at The Wine Shack, a wine tasting room now open to the public with several safety measures in place. They have installed plexi shields, one-way traffic flow arrows, 6-foot spacing markers and a hand cleansing station. Guests are asked to enter through the tasting room door and exit through the retail door. They are still offering curbside pickup and local delivery if you prefer and the Puffin Wines tasting room is open with a maximum capacity of 11 and outdoor seating on the deck.
Light a Bonfire on the Beach
Every good summer day in Cannon Beach ends with a cozy bonfire on the beach. Get some firewood and s'mores ingredients from Mariner Market and make your way to the beach at sunset. You'll find a number of firepits conveniently left behind from other beachgoers! At this time, beach fires are allowed north of the Umpqua River to the Oregon/Washington border and in day-use area fire rings in coastal parks. But make sure you check here to make sure bonfires are allowed on the beach at this time.
Take a Hike
Photo Courtesy of John Sparks, Trailkeepers of Oregon
Experience the beauty of this region with a hike traveling along the coast — or through a forest or park leading to a viewpoint on the coast. These Oregon Coast hikes vary in length, difficulty and terrain, but all offer breathtaking vistas and an opportunity to breathe in the fresh ocean air and stretch your legs. Plus, all hikes are along the northern portion of the coast, not far from Cannon Beach.
Pick Up Iced Coffee To-Go
Get your morning start or your afternoon pick-me-up with an iced coffee. All three of the coffee shops in Cannon Beach, including Insomnia Coffee, Sleepy Monk, and Sea Level Bakery + Coffee, have protocol in place to provide a safe experience for guests. Take a look at each of their procedures and place your order, whether hot or iced, to be enjoyed on the go!
Enjoy the View at a Restaurant
Photo Courtesy of The Wayfarer Restaurant and Lounge
Dining at restaurants is now a possibility for summer 2020! Take a look at some of the best eateries in Cannon Beach, most of which are open for dine-in at this time. Head to the outdoor patio at Driftwood Restaurant and Lounge to people-watch in the heart of town, The Wayfarer Restaurant and Lounge for unbeatable views of Haystack Rock, and Stephanie Inn & Dining Room for pristine views overlooking the coastal range.
Happy Summer!
Sure, this one might be a tad different, but we know the fresh ocean air, charming local businesses and unbelievable views will make it all the sweeter.