Whether you've worked from home for years or were suddenly thrust into the remote work world, your home office may be due for an upgrade. Besides its aesthetic appeal, improving your work space can make dramatic improvements to your productivity and overall sense of wellbeing.
Don't worry! You don't need a massive budget and professional tools to make some changes to your office. These budget-friendly upgrades simply require some time, creativity and elbow grease — and usually a few supplies for purchase.
Try out one (or several!) of these ideas to take your home office to the next level!
Declutter Your Space
Decluttering is one of the best places to start during a renovation, no matter the scope of the project. Not to mention, it doesn't cost a dime! Spend an hour or two going through your shelves, drawers and desk space to eliminate the objects you no longer have a use for. Create a donation bin for like-new items, a recycling bin for old paperwork, and a bin for items you want to place elsewhere in your house. Eliminating the clutter in your office will allow you to start with a clean slate as you begin updating the space.
Paint an Accent Wall or the Whole Room
A can of paint can go a long way in transforming a space. Go with a sophisticated, dark tone to create a luxurious look that contrasts well with white trim and white doors. Or brighten up the room with a cheerful color or lighter hue. And if you can't commit to either, try an accent wall instead!
Upgrade Your Office Chair
There are items worth splurging on, and a quality, comfortable office chair is one of them! No matter your design style, from mid-century modern to traditional, there are an endless number of chairs to choose from. One of our favorite Portland-based bloggers, Suzannah of Create/Enjoy, put together a list of affordable office chairs — all under $150.
Make a Whiteboard or Chalkboard Wall
Hanging a whiteboard or a chalkboard in an office makes sense, but why not take it to the next level with an entire wall (or portion of a wall) you can write on? Learn how to create a magnetic whiteboard wall or a chalkboard wall, which you can use for writing a to-do list, creating a calendar, brainstorming ideas or just doodling.
Install a Light Fixture or Increase Natural Light
Lighting is so important for improving a space! Increase natural light by eliminating dark window coverings or installing sheer ones to let light pass through. And add some warm, artificial light to (quite literally) brighten up your office, whether it's in the form of a floor lamp, a desk lamp or sconces on the wall. Another one of our favorite Portland bloggers, Amanda of A Crafted Passion, has a tutorial for creating a unique modern DIY Desk Lamp using a vintage Edison bulb.
Add Wall Art or a Clock
Spruce up your walls with a clock and some unique artwork. Budd + Finn in Portland has a wide selection of wall decor, including pennants, plaques, clocks, prints and posters. While their shop is temporarily closed due to COVID-19, you can shop their selection online and have your items shipped straight to your door! The timeless and classic Schoolhouse is another local resource (with a national following!) for art and wall decor, clocks, lighting, and your other office needs.
Looking for DIY options? Amanda of Crafted Passion created a Family Communication Board and a Minimalist Clothespin Memo Board, both of which can store your notes, mementos and other small items. And Kim of Today's Creative Life has a Free Printable 2020 Calendar you can download and display on your wall!
Add Personal Touches With Decor
City Home is another local shop with plenty of unique pieces to add to your bookshelves and desk. including wall art, decorative objects and accents and accessories. Their retail stores are also temporarily closed, but you can get your selections shipped to your door or take advantage of free local delivery in the Portland area for orders over $50!
Here's another way to DIY your own decor! Amanda of Crafted Passion created a Perpetual Desk Calendar you can make, so you always know which day of the week it is.
Paint the Furniture
Whether it's shelving, a desk, a chair or another piece of furniture, adding a coat of paint or wood stain can create a whole new look. You'll feel like you invested in an entire new set of furniture but you'll likely spend less than $50 on supplies!
Add Houseplants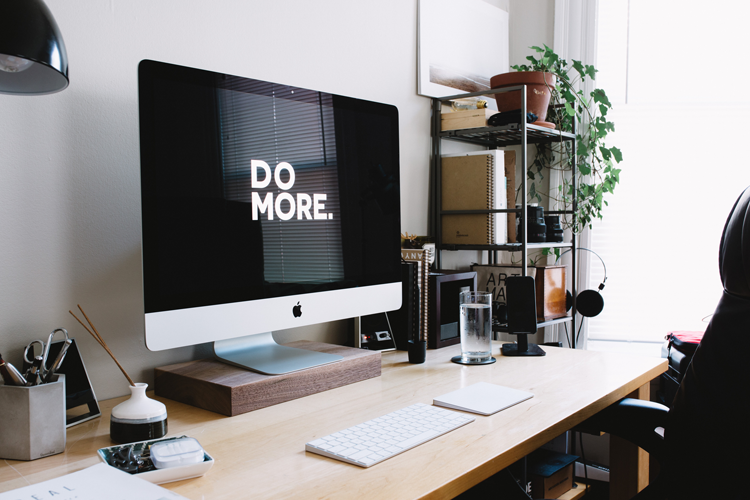 Bring the outdoors into your home with some live plants! Some of the best houseplants for Pacific Northwest conditions include bromeliads, spider plants, palms, snake plants, philodendrons and ferns as they tolerate low light conditions. Add a houseplant (or several!) to create an indoor garden of sorts — all while improving air quality. Suzannah of Create/Enjoy shares some tips for plant care (and how to decorate with them) on her blog post and podcast here.
Add an Accent Rug
While you can't always redo the carpet or refinish the hardwood floors, you can add an accent rug for a pop of color and extra coziness. For a budget-friendly option, check out The Wirecutter's extensive findings on the best area rugs under $300.
Upgrade the Standard Office Essentials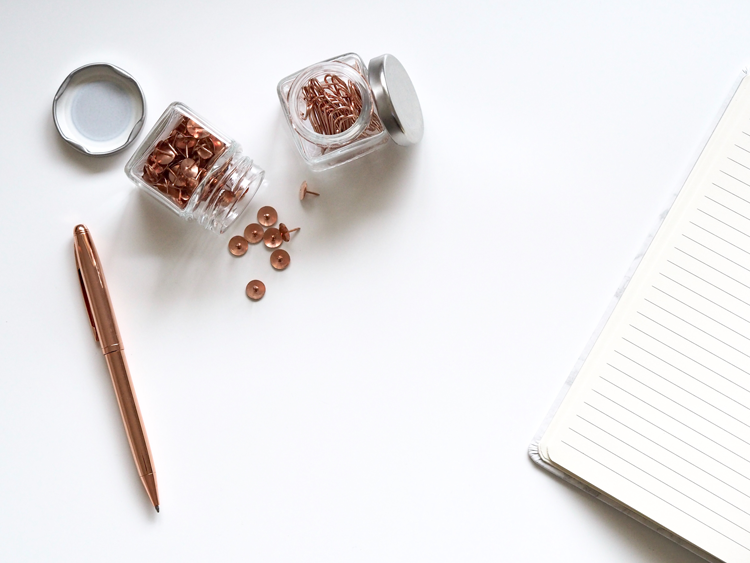 Swap out your everyday office essentials, like ballpoint pens and scissors, for some fancy, artistic supplies you will be proud to display on your desk. Again, look to Canoe and Budd + Finn for artisan supplies worth splurging on to take your office setup to the next level.
Want More?
Looking for more inspiration from local bloggers? Suzannah of Create/Enjoy has plenty of office inspiration and resources to share. Kim of Today's Creative Life has ideas for a farmhouse office makeover and budget-friendly tips as well. And Amanda of A Crafted Passion has some inspiration for an industrial office!