Maybe you're considering a move to Vancouver, Washington — and we don't blame you one bit. The city has a small town feel with access to big city amenities, has relatively affordable housing, and is situated near some of the best outdoor recreation destinations in the country.
Not to mention, the fact that it's located in Washington is reason enough to consider moving here, because the state was ranked the #1 state in the country by U.S. News & World Report in 2019.
From data-driven statistics to attractive lifestyle features, here are just a handful of reasons to consider moving to Vancouver, Washington.
Relatively Affordable Housing
One of the most significant draws to Vancouver living is a purely practical one. The housing in Vancouver (and other Southwest Washington communities) is relatively affordable when compared to housing in nearby Portland and other major Pacific Northwest cities, such as Seattle and Vancouver, B.C. In December 2019, the average sale price in Vancouver was $401,012. Looking back over the last year, this is the first time that number reached over $400,000. It ranged between $341,964 (January 2019) and $382,653 (August 2019) throughout the year.
Comparatively, housing prices in Portland can reach an average of nearly $1 million, depending on how close you go to the center of downtown. Neighborhoods like Hillsdale, Eastmoreland and Sellwood had average sale prices of $900,414, $846,375 and $800,588 in December 2019, respectively.
Outdoor Recreation
Outdoorsmen will feel right at home in Vancouver, which offers an endless amount of hiking trails, rivers, parks and mountains to explore. It's almost as if Washington residents are always ready for a spontaneous hike; just take a look at the amount of outdoor-gear-wearing folks at a coffee shop on any given day. Some of our favorite places to explore throughout the state include the many hiking trails and campsites near Mount Adams and Mount St. Helens, the Olympic Peninsula, the many waterfalls tucked in the Gifford Pinchot National Forest, and of course — the many ski slopes in the Cascades.
No State Income Tax
Not only is Vancouver a great place to live — it's also a great place to work. Washington residents take advantage of no personal state income tax. In fact, the state has never had a personal income tax! There are a few "catches" to this luxury, including high sales taxes and high gas prices, but we are happy to be included amongst just seven states in the country without state income tax. And with no sales tax in Oregon, many cross the river to make significant purchases to get the best of both worlds.
Quick Access to Portland
Many choose to live in Vancouver and work in Portland, which is less than 10 miles south of the city. In fact, Vancouver is technically considered a suburb of Portland, although it is in another state. Whether you're commuting to Portland every weekday for work or you simply want to access the city for more dining options, endless entertainment or large events, it's not far away whatsoever.
…And Many More Places
Vancouver's central location within the Pacific Northwest region means you can easily access a number of small towns, large cities and scenic areas. Looking for a beach vacation? No problem. Cannon Beach is about 2 hours west. Looking to hit the slopes? Bend is only about 3.5 hours away! Not to mention, Seattle, Salem and that other Vancouver in Canada are within reach as well.
Small Town Feel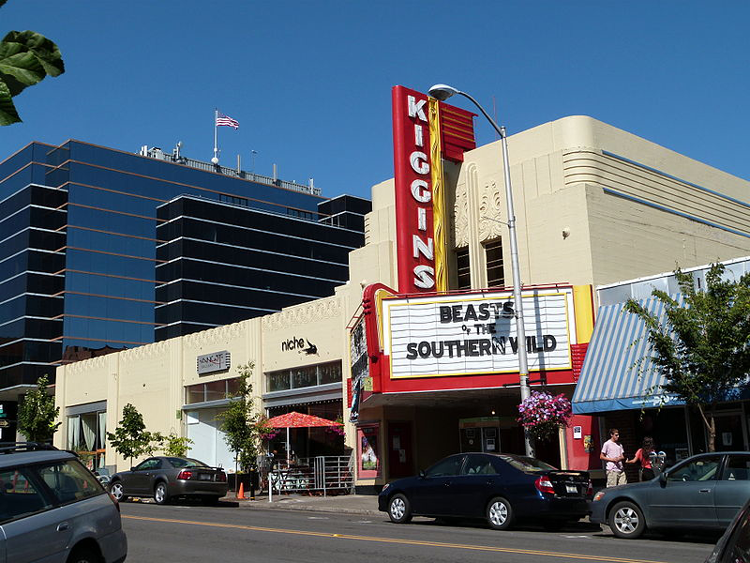 Photo Courtesy of Ian Poellet (User:Werewombat) [CC BY-SA]
One of the main benefits of living in Vancouver is the small town feel the city provides. With an estimated population (2018) of 183,012, Vancouver is not nearly as large as its southern neighbor, Portland, which has an estimated population (2018) of 653,115. In Vancouver, it's easy to feel connected to the pulse of the community, get to know your neighbors, and get that true small town feel.
So Much to Do
This "small town feel" doesn't mean there is nothing fun to do! Vancouver is teeming with activity, from its dining scene to the entertainment options. From coffee shops to brunch spots and theaters to cocktail bars, there are plenty of places to go and things to see in Vancouver. Just take a look at our itinerary for spending a full day in Vancouver or our list of places to take out-of-town guests to see all that's in store in this lively city. Some of the most popular attractions include Esther Short Park, the brand new Waterfront, Fort Vancouver and Uptown Village.
Variety of Housing Options
Vancouver appeals to a variety of lifestyles, whether you prefer to be in the heart of activity or wish to retreat from it all. The Columbia River is lined with several riverfront condos, offering unparalleled views and a low-maintenance city feel for residents. Plus, Vancouver has a variety of new construction homes in quiet neighborhoods, in addition to homes with acreage, especially when you go out of the city to neighboring communities, including Camas, Ridgefield, Battle Ground and Washougal. And as mentioned, homebuyers here may easily access the activity in both Vancouver and Portland without paying the prices that many Portland Metro buyers are paying.
Are you convinced?
If so, let us know how we can make your move to Vancouver a reality! Feel free to contact us to be connected to a local broker. And in the meantime, create an account with Hasson Company to receive up-to-date property alerts for homes you're interested in.
If you already live here, consider yourself lucky! And maybe pass along this list to the friends and family members you're trying to convert into neighbors…