The holiday season is already well underway here in Central Oregon! To help you maximize the next few weeks through the end of the year, we've compiled the most-anticipated holiday events in Bend and surrounding areas.
From tree lightings to festive 5Ks and holiday markets to musical performances, these events are sure to get you in the holiday spirit. Happy Holidays!
November 29–December 14 (Fridays + Saturdays Only) + Daily December 20–26 (Closed December 25) | Varying Times
Sunriver Resort is hosting a special Santa's Workshop throughout the holiday season. Make a trip to Sunriver to create your own hand-crafted holiday keepsake or gift, including fused-glass ornaments, night lights or hand-painted ceramic mugs. Plus, enjoy a hot cocoa bar, which is complimentary for all purchasing participants. The workshop takes place on Fridays from 3–5 p.m. and Saturdays from 1–5 p.m., and daily (except Christmas Day) December 20 through 26 from 12–4 p.m. Projects range from $20–40 for fused-glass projects and $10–30 for ceramic projects.
December 4 | 4–8 p.m.
Head to the beautiful Tetherow Event Pavilion for an evening of inspired holiday shopping. This event features local artisans and businesses presenting one-of-a-kind products and services just in time for the holidays. Shop for friends and family while you enjoy hosted appetizers and beverages available for purchase. This event is open to the public and admission is completely free!
December 6 | 4–7 p.m.
Photo Courtesy of Miguel Edwards Photography via Downtown Bend Business Association
Downtown Bend comes to life at this beloved annual tradition. The community tree lighting at Crow's Feet Commons will start at 4 p.m. with live music, drinks, treats, firepits and games for all ages to enjoy. Plus, enjoy a visit with Santa Claus himself (for free) and take as many photos as you'd like! Mark your calendars so you don't miss the excitement as the large holiday tree is illuminated with over 5,000 lights for the first time this holiday season.
December 6 | 4–8 p.m.
Take a stroll through the streets of downtown Bend and the Old Mill District for the First Friday Art Walk — this time, with a special holiday twist! This free event takes place on the first Friday of each month, and features art exhibit openings, artist talks, live music, wine, food and so much more.
December 6–8
Get whisked away by the enchanting Nutcracker ballet story this holiday season. Set to Tchaikovsky's beautiful score and performed by over 150 talented students from Central Oregon School of Ballet, the show will take place in the Bend High School Auditorium on three evenings (plus one matinee performance!). Get your tickets ranging from $15–45 for adults and $15–30 for children and seniors.
December 6–January 4
Photo Courtesy of Sunriver Resort
This free come-and-go event is a beloved tradition at Sunriver Resort. The 24th Annual Gingerbread Junction will feature an impressive collection of gingerbread houses in the resort's Main Lodge from December 6 through January 4. Admire the outstanding craftsmanship of structures created with just candy and cookies!
December 7 | 12–1 p.m.
The ever-popular Bend Christmas Parade is kicking off the holiday season with festive fun for all ages! Debuting a theme of "Best Christmas Ever," the volunteer-run parade winds through downtown Bend, featuring marching bands, fun floats, and of course — an appearance from Santa himself. The parade starts at 12 p.m. and is free to attend.
December 7 | 10:30 a.m.
Get decked out in holiday gear and participate in a fun and festive holiday race — all while battling the number one cause of disability: arthritis. 100 percent of your registration fee and fundraising will go to support the Arthritis Foundation, a nonprofit that aims to boldly pursue a cure for arthritis, while championing the fight against arthritis with life-changing resources, science, advocacy and community connections. All the activity takes place at Crow's Feet Commons, starting with a holiday costume contest and dog costume contest at 10:30, a 1K kids' fun run at 11, and a 5K run/walk, and 1-mile race at 11:30.
December 7 + 14 | 11 a.m.–5 p.m.
Photo Courtesy of Redmond Chamber of Commerce and Convention Visitor's Bureau
Get your holiday shopping done at the Holiday Village Market at Centennial Park in Redmond. This nostalgic market will feature nine cozy European-style kiosks and numerous pop-up vendors, all selling local arts, crafts and artisan goods. This year, Santa will visit with good little boys and girls from 12–2 p.m. This event is free to attend!
December 7, 14 + 21 | 12–3 p.m.
In addition to parade day (December 6), Santa will be stationed in downtown Bend every Saturday from 12–3 p.m.! Little ones can tell him what they'd like for Christmas and enjoy the festivities happening downtown.
December 7–8 | 3 p.m. (Saturday + Sunday) + 7 p.m. (Saturday)
Holiday Magic returns to Tower Theatre for the 2019 holiday season with three special performances on December 7 and 8. The performance showcases the musical talents of the Cascade Chorale and the matinee performances will also feature the talented Bend Children's Choir. Listen to a wide range of holiday music, including traditional carols like "Silent Night" and light-hearted contemporary tunes like "A Charlie Brown Christmas." Tickets for Holiday Magic range from $15–25.
December 8 | 10 a.m.–5 p.m.
Faith, Hope & Charity Vineyards, Terrebonne
One of our favorite wineries in Central Oregon, Faith, Hope & Charity Vineyards, is hosting their Christmas Marketplace all day on December 8. Grab lunch and enjoy a glass of wine while you stroll through a special Christmas boutique with unique gifts from Central Oregon small businesses and makers. This event is free to attend!
December 11, 13–15 | 6–9 p.m. (Wednesday + Friday) + 5–9 p.m. (Saturday + Sunday)
Bend Seventh-Day Adventist Church, Bend
Take a journey back to the sights, sounds and smells of the very first Christmas Eve in the bustling town of Bethlehem. This live-action walk-through experience features over 100 actors and live animals in a realistic historic setting. No reservations are needed and admission is free! Visit the Journey to Bethlehem from 6–9 p.m. on Wednesday and Friday or 5–9 p.m. on Saturday and Sunday. Dress appropriately for this outdoor, walk-through experience!
December 13 | 4 p.m. (Approximately)
Tumalo Creek Kayak & Canoe, Bend
This annual tradition is so quintessential to the character of Bend. Every year, the area's most dedicated paddling enthusiasts adorn their canoes and kayaks in holiday garb and paddle around the Deschutes River. This exciting event gets paddlers and onlookers alike in the holiday spirit — with a special outdoorsy Bend twist. Paddlers will meet at Tumalo Creek Kayak & Canoe from 2–3:30 p.m. to decorate their kayak or canoe. After a crowd assembles, they will depart from the dock at 4 p.m. and paddle upstream to the Flag Bridge. On the way back, they will assemble in formation, allowing friends and families to take photos of the decorated boats. Spectators should plan on seeing the decorated boats starting at approximately 4:15 p.m. and 6 p.m. After the paddle, everyone is welcome to enjoy warm beverages at Tumalo Creek Kayak & Canoe.
December 13 | 4–9 p.m.
Graphic Courtesy of Downtown Bend Business Association
Slip on your ugliest holiday sweater for the annual Ugly Sweater Pub Crawl Fundraiser in downtown Bend. Check in at Bend Brewing Co. between 4–6 p.m., where you'll pick up your free drink tickets and swag. Then, participate in the pub crawl through downtown from 6–8 p.m., stopping at participating locations, including Deschutes Brewery, The Astro Lounge, Crater Lake Spirits Tasting Room, The Wine Shop And Beer Tasting Bar Bend, Velvet Bend, Duda's Billiards Bar, and more. Meet back at the Capitol at 8 to get ready for the Ugliest Sweater Contest and afterparty! Get your tickets here for this fundraiser that helps support Downtown Bend.
December 14 | 11 a.m.–3 p.m.
Visit the High Desert Museum for a special visit with Father Christmas, who will be waiting for your wish list in the historic ambience of the Hall of Exploration and Settlement. Pose for a photo with this beloved 1880s character and decorate your own cookie for just $1!
December 14 | Time TBD
Back by popular demand, the Gingerbread House Contest in Redmond is a fun and festive contest designed for families, businesses and kids of all ages. Showcase your creativity, humor and holiday spirit as you participate in the contest, competing for the prize in a number of categories, including elementary, middle and high school classroom group, individuals, adult, children, family and professional/business.
December 14 | 2–9 p.m.
GoodLife Brewing Company, Bend
GoodLife Brewing Company is hosting the 7th Annual Central Oregon Winter Beer Festival, a showcase of seasonal and specialty beers brewed in celebration of the holiday season. Sip on seasonal beers while you enjoy delicious eats from local food trucks, which will be parked on site. Proceeds from admission will go to support the Central Oregon Brewers Guild.
December 14 + 15 | 7:30 p.m. (Saturday) + 2 p.m. (Sunday)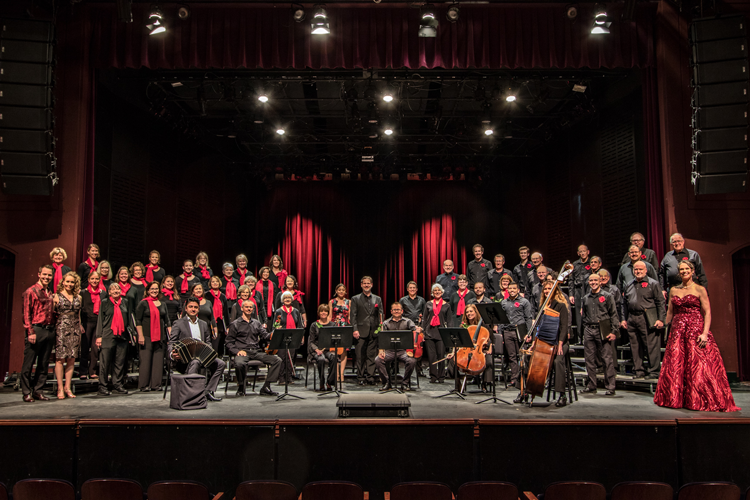 Photo Courtesy of Tower Theatre
Led by artistic director Christian Clark, the Central Oregon Mastersingers' annual holiday concert will feature Daniel Pinkham's monumental Christmas Cantata, majestic works by Baroque composer Giovanni Gabrieli, and your favorite songs of the season including Hark! The Herald Angels Sing and Joy to the World. Don't miss this inspiring performance — on either Saturday night at 7:30 p.m. or Sunday afternoon at 2 p.m.
December 20–22 | Varying Times
End the holiday celebrations with a bang at A Swingin' Tower Christmas at the Tower Theatre. This family-friendly show features songs, stories and dances by Central Oregon's top performers — all backed by a swingin' 18-piece band! Don't miss the show's several performances in the days leading up to Christmas — including December 20 at 7 p.m., December 21 at 3 p.m. and 7 p.m., or December 22 at 3 p.m. Tickets for A Swingin' Tower Christmas range from $17–22.
December 22 | 4:30 p.m.
Photo Courtesy of the Chabad of Central Oregon
Celebrate Chanukah at the annual menorah lighting at the Old Mill District's Center Plaza. Presented by the Chabad of Central Oregon, this year's ceremony will feature a chocolate coin drop, hot drinks, potato latkes, Chanukah music, and more. All faiths and denominations are welcome to attend!
Happy Holidays!
What holiday events in Bend are on your calendar this year? Let us know in the comments below!