Touted for its exceptional seafood, world-renowned apples and its grapes that put it on the map for wine drinkers across the globe, the Pacific Northwest is a great place to eat. But what specific foods should you be on the lookout for?
Let's explore just a handful of the region's most essential foods — extending from the many varieties of apples grown in Central Washington, to the cheese produced in Tillamook along the Oregon Coast, and the unique mushrooms, berries and shellfish in between.
Salmon
There's no denying that salmon is one of the most prominent foods of this region. Just take one trip to Seattle and you'll immediately see (and smell!) this fishy goodness all around you. Salmon is such a versatile fish, as it can be grilled, baked, sautéed and even eaten raw — especially on a bagel with cream cheese. The most common types of salmon you'll catch out of the Pacific include king, sockeye, coho, pink and chum, listed in order of richness.
Chanterelle Mushrooms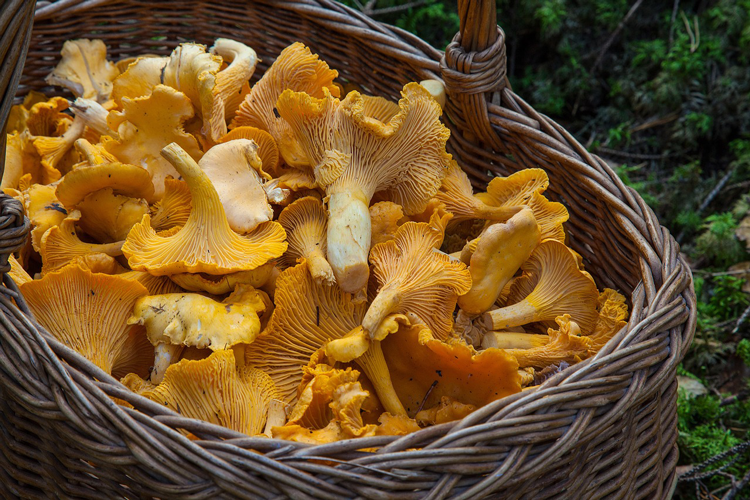 Chanterelle mushrooms love wet and rainy conditions, which definitely includes the mossy old growth forests throughout the Pacific Northwest. These rich, earthy mushrooms can be foraged if you know exactly where to look and what to look for, or found on the menus at local restaurants and in specialty grocery stores throughout the fall and winter. If you're searching on your own, do some research on what characteristics to look for so you don't mistake Chanterelles for Jack o'Lantern mushrooms, which are potentially toxic (but not deadly!).
Washington Apples
Washington's varied climate gives it an advantage for agricultural production. Specifically, the state is known for its impressive apple production, as Washington produces about 58 percent of all apples grown in the country. East of the Cascades in the central areas of the state, you'll find an endless number of apple orchards growing Red Delicious, Golden Delicious, Fuji, Gala, Granny Smith, Braeburn, Pink Lady and more varieties. It's estimated that about 168,500 acres of land in Washington bears apples. And there's a reason Washington supplies so much of the country's apples — once you taste a sweet, flavorful Washington apple, you'll never go back.
Hazelnuts
Did you know the hazelnut is the state nut of Oregon? Did you even know states had a state nut? According to various sources, Oregon grows between 95 and 99 percent of the country's hazelnuts. You'll find them in fistfuls here — thrown into salads, crushed up as a mock flour for baking or as a coating for fish, and sometimes even covered in chocolate! (PS If you're from here, you know to call hazelnuts "filberts" instead, so you don't sound like a tourist!)
Oysters
The Pacific Northwest is undoubtedly one of the best places to get oysters in the country. Many varieties of shellfish thrive in our chilly, nutrient-dense waters, and the oysters found here are typically more plump, sweet, briny and more flavorful than anywhere else in the world. Luckily, there are plenty of places to sample these bivalves, including several Portland eateries. For fans of Rock Points, Deer Creeks and the ever-popular Kumamotos, you'll feel right at home in the Pacific Northwest.
Pinot Noir Grapes
The Pacific Northwest — specifically Oregon's Willamette Valley — has established itself as one of the most renowned wine regions in the world. In fact, the valley is home to over 500 wineries, encompassing over two-thirds of the state's wineries. The region is also known as one of the best producers of pinot noir grapes, producing a dry, fruit-forward wine which can have notes of strawberry, cherry, raspberry, and blackberry. Sample this delicious wine at one of our favorite wineries in the Willamette Valley.
Walla Walla Onions
You may have tried a Walla Walla onion without even realizing it, as this sweet onion is commonly deep-fried and served in the form of onion rings at restaurants throughout the region. Walla Walla Sweet Onions (yes, the crop even has its very own website) has been produced as a specialty vegetable crop in the small community of Walla Walla since 1900. This town in Southeast Washington has an abundance of trees and a moderate climate, receiving nearly 18 inches of rain per year — creating the ideal conditions for the sweet onion to thrive. The crop is such a big deal that the town even hosts a Sweet Onion Festival each summer!
Tillamook Cheese
Photo Courtesy of Tillamook Creamery
We included the Tillamook Creamery as a must-visit stop on our road trip itinerary from Bend to Cannon Beach — for good reason! The newly reimagined Tillamook Creamery offers self-guided tours of the factory, complete with cheese samples, interactive kiosks, a cafe, and of course, lots of ice cream. But no matter where you live throughout the region, you're likely to encounter this iconic cheese at grocery stores and restaurants!
Marionberries
Photo Courtesy of Stahlbush Island Farms
It's likely your friends living across the country have never heard of this household name for Pacific Northwesterners. That's because the marionberry was kind of invented here — regardless of it being something that grows naturally from the earth. Named for Marion County, where they were first introduced, Marionberries are blackberry hybrids that were engineered by a breeding program at Oregon State University in 1945. This large hyper-local berry is in season during July and August, at which point you'll see it everywhere — including in ice cream, pies, syrup and salads.
Rainier Cherries
Another hybrid fruit, rainier cherries are a cross between "Bing" and "Van" cultivars, and were developed in 1952 at Washington State University. This sweet, creamy cherry was named for Mount Rainier, the tallest mountain in the Cascades and one of the most iconic mountains in the area. You'll find these all over the region during their peak season in late June through early July — but about one-third of their crop is typically eaten by birds, and they are very sensitive to temperature, wind and rain.
Dungeness Crab
Named for the port of Dungeness, Washington, Dungeness crab is a popular species that lies along eelgrass beds and water bottoms along the Pacific coasts of British Columbia, Washington and Oregon. In fact, it is the state crustacean of Oregon as of 2009! This is arguably the sweetest and most delicious crab meat there is, whether you're eating it in crab cakes, tossed in a salad or steamed with a dab of butter.
Bon Appétit!
Which Pacific Northwest food is your favorite? Let us know in the comments — whether or not it's on this list!