For some odd reason, it seems like the people who grew up in or live in amazing cities are sometimes the ones who miss out on the area's best attractions. And Portland certainly qualifies as an amazing city! Sure, you might recommend the International Rose Test Garden for its city views, but have you stopped to smell the roses yourself? Or have you stepped inside the museums that most tourists have at the top of their Portland itinerary?
This strange phenomenon ends today! Let's delve into some of the obvious must-do activities and attractions in Portland, whether you've lived here your whole life, you've been here for a decade, or you just unpacked the moving truck.
Photo Courtesy of Pittock Mansion
You've seen the beautiful shots of this historic French Renaissance-style mansion in the West Hills. But have you stepped inside? A visit to the beautiful Pittock Mansion is an excellent way to learn about the area's history in an interactive way. Built in 1914, the mansion museum tells the story of Portland's transformation from pioneertown to a more modern and industrialized city. Discover the history and legacy of the Pittock family, one of the city's most influential families as you explore this historic house museum with either a self-guided or guided tour!
It's time to go back to school! McMenamins Kennedy School opened in 1915 and served as a beloved fixture in Northeast Portland before it was abandoned in the 1990s. It has since been reimagined as a hotel with 57 guest rooms plus a variety of amenities, including a restaurant, multiple small bars, a movie theater, a soaking pool, a gift shop, and a brewery. The possibilities at the Kennedy School are endless — you can have a beer in the classroom, watch a movie in the old auditorium, and sip on aged whiskey in detention.
Many tourists have this iconic Portland institution on their itinerary — but it may take several years for a new resident to make their way to the Portland Art Museum. And it's the perfect thing to do on a rainy day! Not to mention, it is packed with inspired works from both local and international artists. Founded in late 1892, the Portland Art Museum is the seventh-oldest museum in the country and the oldest in the Pacific Northwest. Step inside this historic art museum to see its internationally recognized permanent collection and ambitious special exhibitions. The ever-changing art collections at the Portland Art Museum means you can always revisit again and again!
Photo Courtesy of Blue Star Donut
It's likely you've been to that other doughnut shop, either when you visited Portland or right after you moved here. But the true locals are heading to Blue Star Donut, a relatively new donut shop serving mouth-watering donuts, all made from scratch with fresh fruits, herbs and spices, and even liqueurs. Choose from unique flavors like Blueberry Bourbon Basil, Meyer Lemon & Key Lime Curd, Cointreau Crème Brûlée, Passion Fruit Cocoa Nib, The O.G. (Orxata Glaze), and many more. And don't worry — you can find a Blue Star Donut pretty much anywhere you are in the city, because they have eight locations throughout the region — plus three in California!
Tour a Brewery
A brewery tour is a common activity for out-of-towners, but residents don't always make time for a behind-the-scenes look at their neighborhood brewery. Let's change that! Several of the city's best breweries offer tours, including Ecliptic Brewing, Migration Brewing, Edgefield Brewery, and more. Or if you're completely new to the craft beer scene in Portland, start by visiting one of our favorites in the city.
Take in views of this scenic area from a new perspective by hopping onboard the Willamette Shore Trolley. This vintage trolley travels from Lake Oswego into a dark tunnel, meandering through posh neighborhoods, along the Willamette into Powers Marine Park, and then back to Lake Oswego. With low fares for both adults and children, this makes for an excellent family outing, date night or activity for visiting family and friends!
Photo Courtesy of Powell's City of Books
Head to the Pearl District to peruse the book empire that is Powell's City of Books. It is in fact the largest independent new and used bookstore in the world, as it occupies an entire city block and houses over one million books. Peruse their massive collection throughout nine color-coded rooms with over 3,500 different sections varying in topic. Looking for more bookish things to do in the city? Check out our complete book lover's guide to Portland, featuring bookstores, libraries, book-loving businesses, literary events and programs, and more.
Operating each weekend from March through Christmas Eve, the Portland Saturday Farmers' Market is nationally recognized as the largest continuously operating open-air arts and crafts market in the country. Shop from small businesses from the PNW creating locally handmade arts, crafts and foods at this massive market situated along the Willamette in the historic Old Town/Chinatown neighborhood.
You can't go very far in Portland without encountering a food cart — or a massive collection of them (especially if you're on Fifth or Third Avenue!). But you can go straight to the mecca of Portland food carts with a visit to Cartlandia. This food cart pod in southeast Portland features over 30 international food carts, a family-friendly beer garden, a bar and restaurant, and more. Many of our favorite food carts serving some unique dishes are parked at Cartlandia. Take a look at the wide range of culinary options available at the many carts in this exciting food cart hub!
Some of the best photos of Portland are taken from this beauty-filled viewpoint. The International Rose Test Garden is the oldest continuously operated public rose test garden in the country. Both visitors and residents are invited to stop and smell the roses — all 10,000 of them! — and take in beautiful vistas all the while. The garden is open daily and admission is free.
Considered the largest waterfall in the state, Multnomah Falls measures 620 feet in height, spanning two tiers. Attracting more than two million visitors a year, this year-round waterfall in the Columbia River Gorge is the most-visited natural recreation site in the Pacific Northwest. Visitors may easily access the falls in the Benson State Recreation Area, which includes a bridge spanning across the lower tier. Or you may choose to explore the falls further by traveling along the Multnomah Falls Hike to Multnomah Creek. This 5.5-mile journey will take you to the top of the falls along Multnomah Creek and eventually to Weisendanger and Ecola Falls. Turn your trip to Multnomah Falls into a road trip of sorts by heading to the beautiful Hood River after — or taking it a step further with a road trip all the way to Bend.
Looking for more waterfalls to chase? There are so many jaw-dropping waterfalls worth exploring all throughout the region!
Book a Staycation at the Benson Hotel
A hotel seems like a funny thing to include on a list of must-visit places for locals, but bear with us. The Benson is a gorgeous European-style hotel built in 1913 by millionaire innovator Simon Benson, who hoped to put Portland on the international map. It features Italian marble floors, Austrian crystal chandeliers, and Circassian walnut wood from the imperial forests of Russia. In other words, every inch of this 287-room boutique hotel is filled with historic charm and timeless beauty. Settle down for a romantic dinner, attend an event, or plan an elaborate staycation at the Benson while you enjoy the activity of downtown Portland.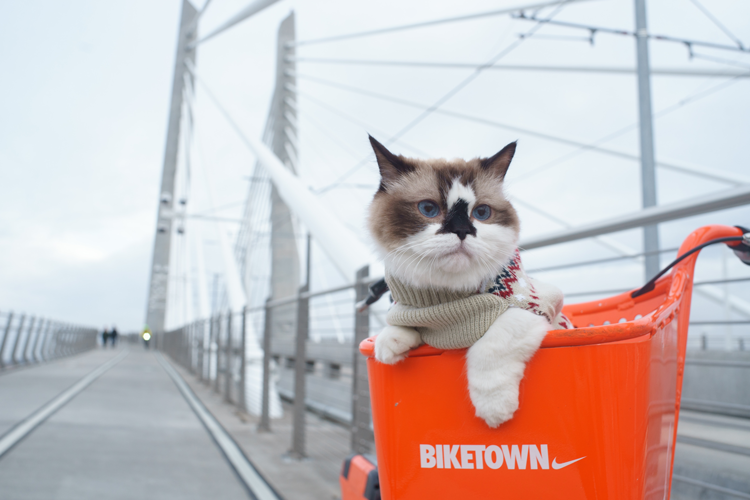 You may have hopped on the many Bird, Lime or Spin scooters lining our streets, but it's time you've tried Portland's unique bike share system. Powered by Nike, Biketown is Portland's unique bike share system, making commuting, running errands, and getting to appointments even more convenient — and fun! You can opt to pay as you go with a $5 start-up fee plus 8 cents per minute, or you can purchase a $19 per month membership fee or a $99 annual membership! Explore the Biketown map to find the bike hub nearest you. With this convenient resource available for visitors and residents, it's no wonder Portland continuously appears on lists of the country's most bike-friendly cities.
Hike to the Witches Castle at Forest Park
It's likely you've heard the legends of murder and mystery about "the Witches Castle" tucked in Forest Park. See this eery, moss-laden structure yourself by making the slightly difficult half-mile hike to see it, starting at the Upper Macleay Parking Lot near the Portland Audubon Society. And while you're at it, take an afternoon to explore the rest of this massive park! The park covers more than 5,000 acres and contains 70 miles of recreational trails, including the Wildwood Trail segment of the city's 40 Mile Loop system. Whether you enjoy walking, running, biking or hiking, there are endless paths to explore at Forest Park.
Escape to a serene oasis in the heart of the city with a visit to Lan Su Chinese Garden, considered the most authentic Chinese garden outside of China. This 40,000-square-foot garden in Chinatown is a window into Chinese culture, history and way of thinking. We recommend stopping by the Teahouse in the Tower of Cosmic Reflections, where you can sit, relax, and enjoy tea while gazing into the lush garden.
No More Excuses!
It's time to check off these activities from your Portland bucket list one by one. What else have you been dying to do since you moved here? Let us know in the comments below!