It's officially fall! While we love living in the Pacific Northwest all year long, this is an especially wonderful time to be here. With cooler temperatures, crisp autumn air, beautiful fall foliage and exciting community events, there are many reasons to fall in love with the Pacific Northwest during the fall.
Discover our favorite qualities of fall in the PNW — and add your own in the comments below!
It's Apple Season
As we all know, this region is known for its impressive apple production — especially in Washington. It is the state fruit, after all! And rightfully so, because the state produces 10–12 billion apples every year, each one harvest by hand. The annual harvest starts in August and continues all the way through November, making fall an extra delicious season for Pacific Northwest residents.
Looking for places to pick apples? Head to Douglas Farm on Sauvie Island, Joe's Place in Vancouver, Mt. View Orchards in Hood River, or Sherwood Orchards in Sherwood.
Fall Foliage is in Full Force
In a region filled with evergreen trees, you may not expect as much fall foliage — but you just have to know where to look! We also happen to think that the contrast of dark green with brilliant pops of yellow, orange and red creates a more colorful and interesting display during the fall. Embark on one of these hikes in the Portland Metro, Southwest Washington or Central Oregon to see some gorgeous foliage this fall!
Mountains Start to Get Covered in Snow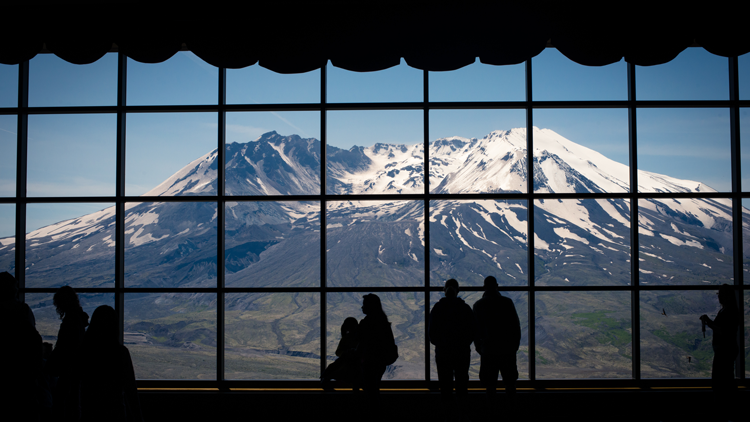 As temperatures start to drop, naturally, so does the snow — in the mountains, that is. The Cascades will start to get whiter as we near November, which only means one thing: ski season is on the horizon! Check out some of the region's most iconic mountains worthy of exploration, whether you're looking for a fall hike or a slope to ski down in the winter. From Mount Baker up north near the Canadian border to Mount Thielsen in Southern Oregon, we have some of the world's most stunning mountains right in our backyard.
The Weather is Perfect for a Waterfall Hike
Speaking of mountains and the great outdoors, there is no shortage of waterfalls in our midst either. Check out one (or several!) of these gorgeous waterfalls sprinkled throughout the region, including the Trail of 10 Falls at Silver Falls State Park just outside of Salem, Falls Creek Falls in Carson, Washington and the iconic Multnomah Falls along the Columbia River Gorge. While these waterfalls offer breathtaking scenery all year long, they are enhanced by fall foliage and cooler temperatures from September through November!
We Have Plenty of Pumpkin Patches
What is fall without a visit to a local pumpkin patch? Thankfully, we have plenty to pick from — and most, if not all, come with an extra dose of endless fall fun. Take a look at the best pumpkin patches in the Portland area, plus several in Southwest Washington and a few in Central Oregon. No matter where you live in the region, you can access a family-friendly farm bursting with pumpkins this season!
It's a Great Time to Go Fishing
Fall is an excellent time to cast a line in the Pacific Northwest, specifically near the lower Columbia River, where Chinook salmon are making their largest pass through the dams. For fishing in the Portland area, use our fishing guide, filled with everything you need to know before you go, where to go, places to learn, and other helpful tips for the ultimate fishing adventure.
…And Camping/Glamping
Cooler temperatures and less visitors make fall an ideal time of year to experience nature to the fullest with a camping trip. Check out this lengthy list of the best campgrounds in Washington, Oregon, and the Pacific Northwest as a whole (including Idado, Alaska and even Canada!) to start planning your next camping trip. And if you're less interested in pitching a tent but still want the camping experience, you might want to consider glamping in a furnished canvas tent, a fancy yurt, or even a vintage trailer. Take a tour of some of our favorite glamping destinations in Oregon and Southwest Washington!
Wine Tastes Better — Especially Pinot Noir
We don't need to consult a wine connoisseur to know that red wine goes best with cooler temperatures. And the Pacific Northwest happens to specialize in red wine — specifically pinot noir. The Willamette Valley is home to some of the world's finest wineries and vineyards, most of which grow pinot noir grapes. Take a look at some of the best wineries in the valley — or venture to one of the many wineries in the region, including English Estate Winery in Vancouver, or Faith, Hope & Charity Vineyards in Central Oregon.
It's the Perfect Time for an Oregon Road Trip
Take in stunning fall foliage and mountain scenery with a road trip in Oregon. If you live in Portland, consider making the reasonable and oh-so-scenic drive to Bend (or vice versa!), making a stop at these landmarks along the way. Then, you might consider heading for the coast from Bend, whether you live there or you're just there for the day. Use our road trip itinerary from Bend to Cannon Beach to enhance your journey.
Our Fall Event Calendar is Packed
From harvest festivals to Oktoberfest celebrations, and every pumpkin-filled event in between, we sure know how to maximize the season here in the Pacific Northwest. Some of the region's most beloved fall events include the West Coast Giant Pumpkin Regatta in Tualatin, the Northwest Food and Wine Festival in Portland, Howloween at the Oregon Zoo, the Hood River Valley Harvest Festival, and the Stormy Weather Arts Festival in Cannon Beach.
We Enjoy Moderate Temperatures + Crisp Air
You can definitely whip out the sweaters and flannel during the fall, because we have pretty ideal temperatures all season long here. In September, we have an average high of 75 degrees and a low of 54. In October, temperatures typically range from 48–63 degrees. And in November, we drop to 42–52 degrees. These moderate yet cooler temperatures make it easy to fully embrace the coziness of the season!
The Coffee is Flowing
All this fall weather is enhanced by coffee shop visits — or brewing local coffee from the comfort of your own home. Thankfully, we have an overwhelming amount of coffee providers in the region, from Seattle (Starbucks was born there, after all) to Portland, home of Stumptown and an ever-growing list of third-wave roasters and coffee shops. To track down the best caffeine destinations in the region, check out these coffee shops in Portland, these Vancouver coffee shops, and these coffee shops and roasters in Bend.
Happy Fall!
What do you love about the Pacific Northwest during the fall? Let us know in the comments below!