Pumpkins, cider, sweaters, falling leaves and cooler temperatures — all of this can only mean one thing. Fall is here! Celebrate this idyllic season at an event in the Portland area, focused on everything from apples and wine to pumpkins and fitness. You'll find a mixture of fall-themed events and non-seasonal events, all designed to help you enjoy the season to the fullest.
Mark your calendars for these fall events in Portland and surrounding areas! Then let us know in the comments below which one you look forward to each year.
SKIP AHEAD TO: September | October | November
SEPTEMBER
September 21 | 12–9 p.m.
McMenamins is kicking off the fall season with their 3rd Annual Oktoberfest Brewfest. Raise a handcrafted German-style craft beer as you dance the polka, indulge in German fare and listen to live music. Get a glass and 10 tokens for a total of $20 or purchase tokens individually for $1.50 each. All ages are welcome to attend this authentic German-style event at the Kennedy School!
September 21 | 1–8 p.m.
After a successful inaugural year, the Taste of Tigard Tualatin is back for their second year of celebrating food and drink! G-Man Brewery in Tualatin is hosting this event on their patio, where you can enjoy local beer, cider, wine, food trucks and music. Plus, join the silent auction for a chance to win some amazing price baskets, including a BBQ-themed golden ticket item! There will also be a safe family-friendly area where minors are allowed. Your entry ticket includes 10 tasting tokens and a souvenir glass, but additional tokens can be purchased on site.
September 27–28 | 5–10 p.m.
If you like food, we've found the perfect event for you. Snack Fest is a food-focused market featuring all your favorite treats from over 135 food vendors. Peruse the offerings from chefs, restaurants and food trucks, partake in popup experiences, and enjoy all things focused on food and beverage along Alder Street.
September 28 | 3–7 p.m.
Photo Courtesy of the Oregon Zoo
Celebrate autumn and excellent craft beer at Oktoberfest at the Oregon Zoo. After you pay a visit to the many wild animals throughout the zoo, enjoy free samples of Oregon beers and a variety of family activities, including live music, dancing, lawn games and fun crafts for kids. Oktoberfest is free with zoo admission, which means it is completely free for zoo members!
September 29 | 10:30 a.m.–6 p.m.
Bloody Mary fans don't want to miss this festival solely focused on this famous brunch cocktail. The Bloody Mary Festival features the craftiest and most delicious Bloody Marys throughout Portland, created by the finest restaurants and bars around. Your ticket includes over two hours of Bloody Mary goodness, plus food and drink samples from local companies, live music, and more.
OCTOBER
October 2–6 | Doors Open at 5 p.m. + Show Starts at 8 p.m.
Taking place at the world-famous Old Church Concert Hall, Portland Fashion Week brings locally, nationally and globally renowned designers to the trend-setting city of Portland for five days of fashion shows. Portland Fashion Week continues to revolutionize the industry through upholding the slow fashion and sustainable fashion mindsets. Take a look at this year's event schedule to plan out your week!
October 3–6 | 10 a.m.–6 p.m. (Thursday–Saturday) + 12–5 p.m. (Sunday)
Founded in 1938, the Beaverton City Library is one of the busiest public libraries in the state — and is packed with over 340,000 items for check-out, from books to magazines and DVDs to CDs. From October 3–6, the library will also be packed with 140 juried and 900 non-juried works from 87 Oregon artists. Don't miss this art-filled weekend in Beaverton!
October 5 | 12–6 p.m.
This farmers' market-style festival aims to celebrate cheese and everything that goes along with it! Purchase a ticket ($20 in advance or $25 at the door) to sample and purchase local artisan cheese, specialty foods, beer, wine and cider. Head to Alder Block, home of the Portland Night Market for an evening of cheese-centered fun.
October 5 + 6 | 10 a.m.–6 p.m. (Saturday) + 11 a.m.–6 p.m. (Sunday)
Portland VegFest is a two-day event celebrating plant-based living with hundreds of free food samples, health and nutrition speakers, chef demonstrations, Fitness Stage workouts, restaurants, films, and activities for kids and teens. Purchase tickets for either of the two days (or both); admission for children 12 and under is free.
October 5–7 | 10 a.m.–10 p.m. (Friday + Saturday) + 11 a.m.–8 p.m. (Sunday)
For the 68th year, the Portland Greek Festival is taking over Northeast 32nd and Glisan for a cultural celebration unlike any other. The festival is considered the largest Greek festival on the West Coast, attracting more than 15,000 people, and has been designated as an Oregon Heritage Tradition by the Oregon Heritage Commission. Over three jam-packed days, attendees enjoy Greek food, music, dancing, shopping and more.
October 6 | 7:10 a.m.
Founded in 1972, the Portland Marathon is the premier marathon and half marathon on the West Coast and consistently ranks amongst the top marathons in the country. Cheer on the runners tackling the half or full marathon along the route or volunteer to hand out water or help runners sign in. And if you're participating in the race, best of luck!
October 11–13 + 18–20 | 10 a.m.–5 p.m.
Photos Courtesy of the Portland Nursery
Head to Portland Nursery for two weekends packed with apple tasting and endless fall fun. Their Annual Apple Tasting Festival features a large variety of apples and pears available for tasting and purchasing, a fresh-pressed cider demonstration and tasting, live music, a scarecrow contest, fall treats and much more.
October 12 | 10 a.m.–5 p.m.
Don't miss the annual AppleFest at Oregon Heritage Farm in Hillsboro, featuring a day of country music, hayrides and plenty of apples. Kids love the apple-shaped bounce house and everyone loves the caramel apples!
October 14–20 | 6–9 p.m.
Filmmakers and film lovers alike will have a blast at the Portland Film Festival, a week-long event featuring director Q&As, networking opportunities, film premieres, workshops and more. The festival focuses on the people, ideas, technology, skills, and artistry behind filmmaking and provides both entertaining and educational opportunities to the public.
October 19 | 10 a.m.–4 p.m.
To witness the most "Pacific Northwest" fall activity we could possibly imagine, head to the Lake at Tualatin Commons for the West Coast Giant Pumpkin Regatta. Watch as costumed paddlers race around the lake in massive 1,000-pound pumpkins in a series of wacky races. While this certainly is the main attraction of this award-winning event, you can also enjoy a pie eating contest, a kids' costume contest, pumpkin golf, pumpkin bowling, clown shows and much more.
October 19 | 10 a.m.–5 p.m.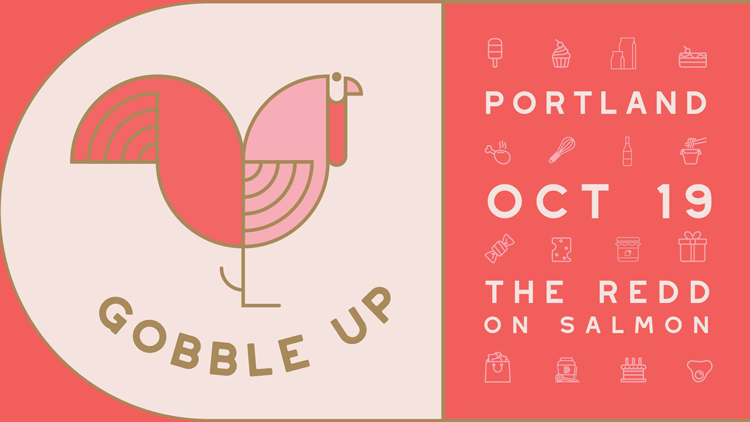 Graphic Courtesy of Gobble Up Portland
Gobble Up is Urban Craft Uprising's premier Northwest food show, featuring local makers and independent businesses from the Portland area and beyond. This specialty food show aims to connect both everyday customers and restaurants/chefs with professionals in the industry focused on craft foods. This free event will take place at the Redd on Salmon Street, a working hub for the regional food economy on the Eastside.
October 26 | 8 a.m.
Run Like Hell Half Marathon is an annual Halloween tradition that should not be missed! This year, the race starts and finishes at McMenamins Edgefield, a destination resort atop 74 acres at the mouth of the Columbia River Gorge Scenic Area. Participate in any of the three races, including the half marathon, 10K or 5K, all of which run through historic downtown Troutdale and along the Historic Columbia River Highway — while wearing a costume, of course!
October 26 | 11:15 p.m.–1:15 a.m.
All aboard for this special Halloween cruise on The Portland Spirit. Enjoy an evening of fright, fun and rock, including music from Generator, three full-service bars and a bistro menu. This event is for ages 21 and over and tickets are available in advance for $45 each. Costumes are encouraged, and you even have a chance to win prizes in the costume contest! The cruise takes off at 11:15 p.m. so be sure to arrive by 10:30 p.m. for boarding.
October 26 | 7–10 p.m.
Dress up in your best Halloween costume and dance the night away at McMenamins Kennedy School. Enjoy live music from Bridgetown Get Down, a local six-piece pop band, and seek out the spirits — both the drinks and the ghost kind. Some say the school is haunted, so keep an eye out for paranormal activity at this all-night dance party!
October 19–20 + 26–27 | 9:30 a.m.–3 p.m.
Photo Courtesy of the Oregon Zoo
During the final two weekends of October, Howloween at the Oregon Zoo provides a fun and safe setting for little ones to go trick-or-treating amongst wildlife. Costumed kids can collect treats and prizes at different stations throughout the zoo, learning about wildlife along the way. This event is free with regular zoo admission.
NOVEMBER
November 9 | 9 a.m.–6 p.m.
Formerly called Wordstock, the Portland Book Festival features over 100 author presentations, pop-up readings and writing workshops. This massive literary event at the Portland Art Museum and surrounding venues is a must-do for all book lovers in Portland — and beyond. This weekend-long festival offers a variety of bookish activities and non-bookish activities, including vendors, local food trucks and partner events.
November 9 | 5–8 p.m.
Celebrating its 14th year, the legendary Northwest Food and Wine Festival is returning to the Oregon Convention Center for an evening dedicated to celebrating the art of food and wine. The festival brings the highest quality wines, spirits, beers and foods from the Northwest region. After receiving a wine glass at the door, guests are free to navigate the floor while they smell, savor and see the bounty of the Northwest and beyond. The festival is for those 21 and over; tickets may be purchased online or at the door.
November 29–December 1 | 11 a.m.–5 p.m.
Celebrate Thanksgiving and the bounty of the region at the 37th Annual Willamette Valley Wine Country Thanksgiving. More than 130 wineries throughout the valley will open their cellars and tasting rooms for special events, tastings, food pairings, live music, discounts and more. Each winery will add its own flair to the weekend, providing their own unique experience for guests. Take a look at the map of participating wineries to plan the perfect Wine Country Thanksgiving.
Happy Fall!
What events are you most looking forward to? Let us know in the comments below!