It only makes sense that an outdoor gear company like Cairn would call Bend, Oregon its home. But Cairn is more than just an outdoor gear company! It is a subscription service for outdoor gear lovers all over the country, offering everything from socks and beanies to energy bars and trail mix.
Cairn also happens to be one of our favorite products made in Bend because of its unique business model, high-quality gear, and general love for the outdoors! Let's get to know this adventurous, creative company and all that is has to offer.
What is Cairn?
Photo Courtesy of Cairn
Cairn is a subscription service offering outdoor gear on a monthly or quarterly basis. Subscribers receive a box filled with expertly curated and tested outdoor products delivered right to their doorstep. They may choose from several subscription options — the original monthly collection, valued up to $50, or the Obsidian collection, valued at over $300.
Cairn was started by outdoor enthusiasts who are passionate about inspiring others to get outside and explore.
"We started Cairn because, like you, we believe that being outside replenishes the soul. And to us, the excitement of holding new gear is like opening a door and letting yourself out. So gather around the campfire, friend, we're all out here together." (From the Cairn Website)
Subscription Options
Photo Courtesy of Fourpoints Bar via Cairn
You can tailor your Cairn subscription to meet your specific needs. The original monthly collection features full-sized curated and tested outdoor products totalling a retail value of up to $50. This provides access to the latest, best-in-class products, none of which are overstock or close-out items. Choose to pay for your box on a monthly basis, every six months, or every year — depending on how long you want to receive a shipment! You'll save a few extra bucks on each box if you opt for the 6-month or annual shipment.
Photo Courtesy of Cairn
The Obsidian collection includes 5–10 premium products delivered on a quarterly basis, valued at a total of over $300. This box is the perfect option for the avid outdoorsman, whether that is you or someone you know!
There is no shipping cost added to either subscription option, as long as you're shipping within the U.S.
What to Expect in Your Box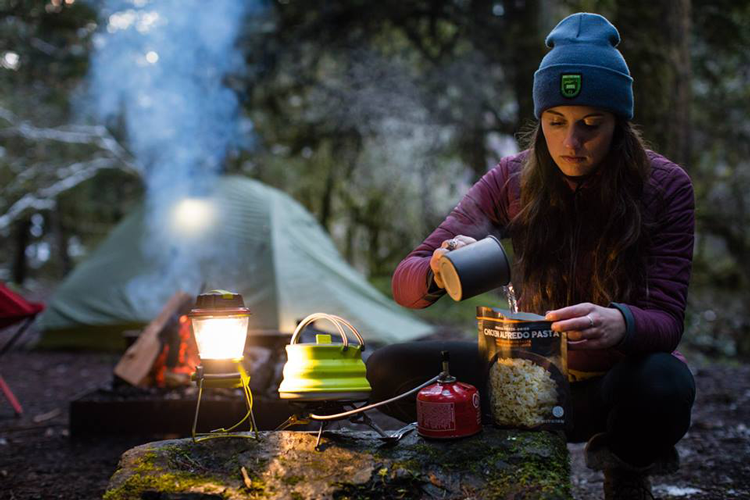 Photo Courtesy of Cairn
While Cairn will not spoil the surprise before your box arrives, check out their subscription page to see some examples of past collections — or the types of products you can expect to find in your Cairn box. You might receive apparel like socks, gloves and beanies, food like energy bars, trail snacks and drink mixes, skin care products like sunscreen, insect repellant and lip balm, and much, much more.
Personalize your box by filling out your subscriber profile so your box is curated with products that best match your outdoor lifestyle.
Gear Up + Give Back
Photo Courtesy of Cairn
Naturally, Cairn is passionate about protecting the planet, which includes reusing and recycling products as much as possible. Their Gear Up Give Back program makes sure your old gear gets a second chance! They'll mail you a bag to fill with your pre-loved gear, which can be dropped off at any UPS location. The Gear Fix will repair your equipment, sell it in their shop, and all the net proceeds will be matched by Cairn and Gear Fix and donated to The Conservation Alliance.
Give the Gift of Cairn
Photo Courtesy of Cairn
If you have an outdoorsy family member or friend who would love Cairn, this makes the ultimate gift idea! Give the gift of Cairn during the holidays, for an upcoming birthday, or just because. Choose the original monthly Cairn collection or the premium Cairn Obsidian collection, and get free shipping in the U.S. for any $50+ order. Or shop from their online shop for some outdoorsy apparel, including hats and t-shirts.
#OptOutside
Photo Courtesy of Cairn
Whether you're going on a leisurely hike or taking on a challenging climb, it's time to explore the great outdoors with Cairn. Visit their website for more information about their subscription options and follow along on Instagram for outdoor inspiration and samples of products you can expect to find in your box!