Because of our famous water amenities here in the Portland area, it's no wonder that fishing is a popular pastime. We have several lakes, ponds and rivers sprinkled throughout our area, all perfect spots to cast a line. So we don't blame you for wanting to get in on that fishing action; that's why we created this guide!
Here you'll find everything you need to know about fishing in the Portland area: what to do before you go, where to cast your line and even a few places where you can learn how to do it. Happy adventuring!
Before You Go
We know, you're anxious to get out and start fishing, but before you head out to embark on your fishing adventures there are a few things you will need.
Your Oregon Fishing License
An Oregon fishing license is required for residents and nonresidents over the age of 12 and must be carried with you at all times while fishing in the state.
The easiest way to purchase your Oregon fishing license is by visiting the online licensing system from the Oregon Department of Fish and Wildlife. But you can also purchase it by mail, via fax or at any Oregon Department of Fish and Wildlife office.
There are several different types of fishing licenses, depending on your age and/or what type of fishing you'll be doing, so make sure to look over all of the options and choose the perfect license for you.
Your Fishing Equipment
Photo courtesy of Jason Osborn via the Portland Fly Shop
Whether you're an old pro and a newcomer to the Portland fishing scene, you'll need the right equipment to help ensure your success. We recommend visiting a local shop and speaking to local fishing guides and experts who have been fishing in the greater Portland area for years.
Portland Fly Shop may be Portland's youngest fly fishing shop, but owner Jason Osborn has over 20 years of fly fishing experience with him. In their brick and mortar shop, you'll find fly fishing gear and fly tying supplies as well as knowledgeable experts who can help you with any fishing questions you may have.
In Tigard, you'll find FISH-FIELD, a tackle maker and retailer that sells a wide range of reels, nets, crabbing gear and bait! So no matter what type of fishing you're looking to do, FISH-FIELD can help you find the right gear to get you started.
Helpful Guides
We can count on the weather to always be changing in Portland, which is why you should always make sure to check out the conditions before you head to the water. Every week, the Oregon Department of Fish and Wildlife puts out the Recreation Report, which outlines the latest information on conditions in the places you want to go. And they even outline a full report of the latest regulation updates, so you can make sure every part of your fishing adventure is completely legal.
Where to Go
There are more than a hundred amazing fishing spots in the Portland area, all featuring plenty of fish to catch and sights to see. To help you get started, we rounded up just a small fraction of our favorite places to fish in the area.
Photo courtesy of Oregon State Parks
Benson Lake is located in the Benson Lake Recreation Area about 30 minutes from Downtown Portland. The lake itself is breathtaking, offering pleasant waters stocked with thousands of trout a few times during the fishing season. After you've spent a relaxed morning fishing, you can walk over and explore the famous Multnomah Falls for a perfect afternoon!
Bethany Lake Park is a 42-acre park that surrounds Bethany Lake. The Oregon Department of Fish and Wildlife stocks the lake with trout, so you can fish to your heart's content! It's also a stunning destination for birdwatchers, who seek out Great Blue Herons, red-tailed hawks and osprey diving for fish.
Located where Clear Creek meets the Clackamas River, this picturesque spot is perfect for bank fishing right along the water. Here you'll find a boat ramp and plenty of scenic views of the historic bridge and lush trees. While there is ample parking space for both you and your boat, be aware that there is a small daily parking fee.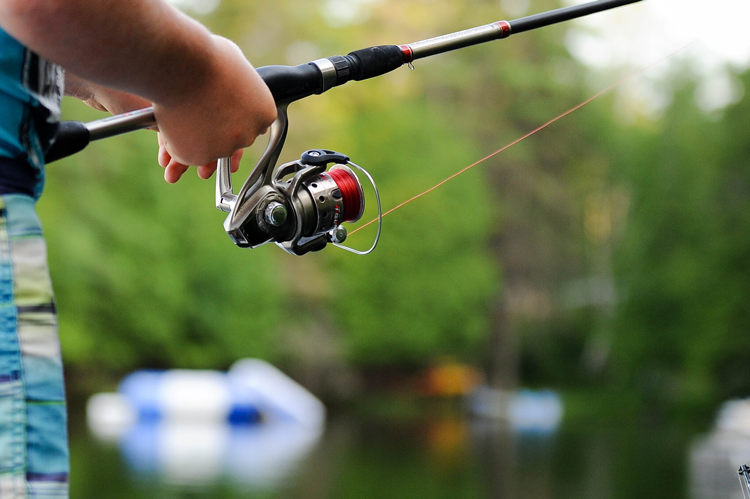 Clackamette Park is at the confluence of the Willamette and Clackamas Rivers in Oregon City offering plenty of opportunities for bank fishing. Here you'll also find a boat launch, restroom facilities, walking paths and everything you need to throw your next get-together, including horseshoe pits and reservable shelters.
Situated on the Willamette River, this downtown Lake Oswego space features 26 acres of community parkland, two baseball/softball fields, a soccer field and much more. The riverfront area is a great spot to fish and also features a historic landmark, the "Iron Furnace" which you can visit after you've finished catching your dinner!
The Gilbert Boat Ramp provides access to the Gilbert River, Sturgeon Lake and the Multnomah Channel. Not only can you launch your boat, canoes and kayaks from it, but it also offers plenty of space for dock fishing!
Photo courtesy of Oregon State Parks
Situated near the mouth of the Sandy River and the Columbia River, the Lewis and Clark State Recreation Site is one of the best, and most beautiful, spots to cast a line in the Portland area. The park itself is a spectacular spot on its own, offering flat, grassy land and plenty of spots to swim. We can't wait to stop by this lovely park this summer!
Mt. Hood Pond | Gresham
While the Mt. Hood Pond, or Mt. Hood Community College Reservoir, is a 40-minute drive from Portland, we promise it's absolutely worth every minute in the car. This fishing hole is one of the most popular fishing spots in the entire state, offering five-acres of beautiful views and plenty of rainbow trout. The pond is located on the main campus of Mt. Hood Community College but is easily accessible from the road. Because of the extreme popularity of this pond, we recommend keeping tabs on the Oregon Department of Fish and Wildlife's trout stocking schedule so you can be one of the first people out on the water!
How to Learn
If you're a beginner when it comes to tying a fly, casting or just fishing in general, a local shop or club is a great place to start your education. Luckily, here in the Portland area, we just happen to be home to several places where you can take a class or a guided tour.
Hook'Em Up specializes in Portland fishing adventures. Whether you're just visiting or want to learn more about the craft with an expert by your side, you can do it with one of Hook'Em Up's very own guides. They work out of a private marina on the Columbia River and provide absolutely everything you'll need to have a fantastic fishing trip!
Not only can you get quality equipment at their full-service fly shop, but Northwest Fly Fishing Outfitters will teach you how to use it at one of their classes taught by top-notch authors, guides and experts. Learn the basics of fly fishing, fly tying and so much more. And if you happen to be an advanced fisher, they've got a few classes for you too!
1149 Southwest Scholls Ferry Road, Beaverton
Whether you're looking for tackle recommendations, travel suggestions, fly tying tools or some special tips from local experts — you can find it at River City Fly Shop in Beaverton. They offer classes for a wide range of skill levels including an introduction to flyfishing course and a fly casting class. You can see their list of classes and register for their events on their website.
21570 Willamette Drive, West Linn
Since opening in 2010, Royal Treatment Flyfishing has been able to help thousands of interested anglers learn how to flyfish and hone their craft. Visit their shop and stock up on the finest tackle, tying materials and high-quality ties.
Are You Hooked?
Did we miss your favorite fishing hole in the Portland area or know a few fishing tips that we should know? Come chat with us in the comments!