We know how picky kids can be. That's why it's so great that plenty of our local eateries have crafted menus and environments that can make even the pickiest of eaters want to dig in.
To make your dinner selection a bit easier, we rounded up the best restaurants in the Portland area that offer specially designed kids menus, specials, fun atmospheres and even a few mocktails!
Photo courtesy of  Alan Weiner via Baker and Spice
If your kiddos are going to eat sweets, they might as well eat some that have been handmade by local professionals. Baker and Spice is a neighborhood bakery located in the heart of Hillsdale that offers a wide range of confectioneries and other baked goods. On their menu, you'll find a famous coconut cream pie that is worth the trip alone, along with other sweet treats and even some savory sandwiches perfect for a quick lunch. Plus their casual ambiance and cozy café tables make for a great spot to hang out with the family.
Breken Kitchen is a family favorite in the area, offering delicious breakfast choices and lunch classics like sandwiches and salads every weekday from 7 a.m. to 5 p.m. The restaurant also happens to feature stunning views of the Fremont Bridge and a play area for children. So take a breather with a cup of their fabulous coffee while your kids have a blast playing — as they won't be itching to leave anytime soon.
We don't know a kid who doesn't love French fries and there's no better place in Portland to get them than at Boise Fry Company. At this casual, Idaho-based eatery, kids can craft a dish of deep-fried goodness from half a dozen different types of potatoes, five different cut types (curly, shoestring and homestyle, just to name a few) and nearly 20 salts and sauces. And of course, mouthwatering beef, bison and vegan burgers are available as a side to your show-stopping fry creation.
Multiple Locations Around Portland
The Northwest's favorite fast food joint, Burgerville is always a great choice when deciding where to take the family out to eat. Burgerville prides themselves on forming links to regional farmers; in fact, in the kid's meals you may find a packet of herb seeds rather than a toy. They use only the freshest ingredients in their tantalizing burgers, fries and shakes (including our favorite, the Fresh Strawberry Milkshake) and strive to offset their environmental impact as much as possible. Plus, they have a full kids menu and several vegan and vegetarian options!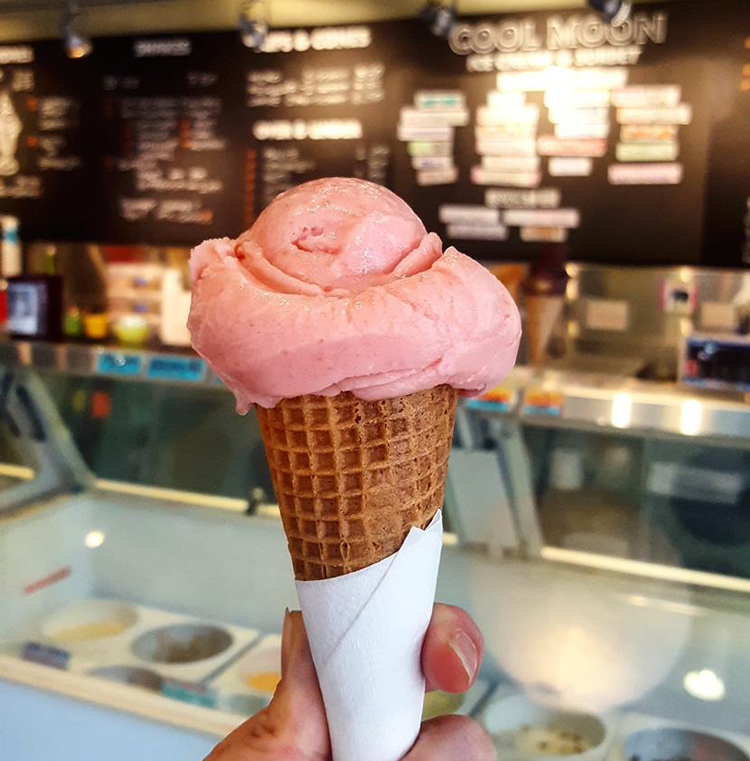 Photo courtesy of Cool Moon Ice Cream
Don't overlook this modern and vibrant shop in the heart of the Pearl District across from Jamison Square because it happens to be home to some of the best ice cream in the Pacific Northwest! Cool Moon Ice Cream offers a wide array of flavors, from your everyday vanilla to rosewater-infused Kulfi and birthday cake. All of their ice cream is made on site in the store kitchen from all natural ingredients. Enjoy your selection while you gaze out of large windows or take a stroll with the family through the park across the street!
Nestled in the Montavilla area in southeast Portland, Country Cat Dinner House and Bar is a neighborhood favorite for seasonally focused comfort food. The restaurant is owned and operated by husband-and-wife duo, Adam and Jackie Sappington, who have created a unique blend of Adam's Southern upbringing balanced with classic Northwest styles. Your kids (and yourself!) will love the buttermilk pancakes smothered in powdered sugar, fried chicken with potatoes, and the to-die-for double cheeseburger. Plus, on Sunday nights, children under 10 eat free from the kids' menu!
Multiple Locations Around Portland
Photo courtesy of Laughing Planet Café
When you think "kid-friendly dining", healthy alternatives don't often come to mind. But Laughing Planet is a fantastic option, proudly combining fast and healthy offerings at several locations throughout the Portland Metro. Their bowls, burritos, salads, soups, pressed juices and smoothies all serve up rich, global flavors made with fresh, local ingredients. Even their extensive kids' menu is chock full of healthy and delicious options, including a mini burrito, rice-n-beans and mini quesadillas.
Located along the North Williams Avenue strip in Portland's Boise neighborhood, Life of Pie Pizza is consistently ranked among the best pizzerias in the city, and we aren't a bit surprised. Their pizza is wood-fired, with a crispy crust and a soft, gooey interior. Not only do they serve up delicious dishes, but they're also quite affordable — offering a $5 happy hour margarita pizza for seven hours every day of the week.
Mother's Bistro & Bar believes that the best meals of a country aren't in its restaurants; they are found in its homes, made with love by mothers cooking for their families. Enjoy refined homemade favorites at this inviting eatery in the heart of downtown along with a kids' menu full of classics like peanut butter and jelly and grilled cheese. Take a look at the Mother of the Month (or M.O.M.), featuring real mothers and their beloved recipes that the restaurant prepares in the kitchen.
5513 NE 30th Avenue, Suite 200
Photo courtesy of Kimberley Hasselbrink via Nonna
While you'll probably need a reservation to get into Nonna, it's definitely worth it. Not only do they offer as a sophisticated, seasonal menu and an upscale cocktail bar, but they're also completely family-friendly! Visit them Wednesday through Sunday in the evening for their "Bambino Hour" which features mocktails and kid classics like spaghetti, meatballs and angel hair pasta tossed with butter.
Pacific Pie Company is a cozy Australian pie shop that serves salads and sandwiches along with hearty meat pies and vegetable pasties. Their kids' menu is full and fabulous, offering different types of pastries and sandwiches, all served with veggies and an Anzac biscuit, Australia's favorite cookie. As an added bonus — their sweet menu features incredible pies that will have you coming back for more.
Photo courtesy of Slappy Cakes
We couldn't make a list of the best kid-approved dining in Portland without including Slappy Cakes! This cool brunch spot mixes Portland's hipster vibes with the popular DIY food concept, which results in an uber-popular restaurant that you have to try at least once. Slappy Cakes gives you and the kids a chance to make pancakes right from your table on a tabletop grill. Pick a batter, choose your sweet or savory fixings and start creating your own pancake works of art!
Tin Shed is a lovely café nestled in the heart of Alberta that serves colorful American-style dishes. There's a little something for everyone on their vast menu from an ooey-gooey and vegetarian heartless artichoke grilled cheese to a kid-approved menu featuring everything from buttered noodles to free-range chicken bites. We recommend taking advantage of their open, dog-friendly patio during your meal so you can bring the whole family!
Where does your little one like to dig in?
Tell us all about your favorite family-friendly dining spots in the comments!