This May, U.S. News & World Report released their annual ranking of the Best States, which ranked Washington as the #1 state in the entire country!
This ranking draws on thousands of data points, taking into consideration criteria such as health care, education, economy, infrastructure, opportunity, fiscal stability, crime and corrections, and natural environment. Some categories are weighted more than others based on an annual survey involving thousands of people to determine which issues are the most important. Specifically, health care and education were weighted most heavily, followed by economy, infrastructure, opportunity and the remaining categories.
Washington did especially well in the first four (and most weighted) categories, including fourth in the country for both health care and education, third in economy, and second in infrastructure.
Let's explore some of the reasons why Washington is considered the best state in the country, including both data-driven statistics and a few of our favorite qualities about the Evergreen State.
Health Care
Health care is a major focus in Washington. In fact, the state is ranked fourth in the entire country for health care. Many of the state's best hospitals are clustered in the Seattle area, including University of Washington Medical Center, Virginia Mason Medical Center, and Evergreen Health in Kirkland. Plus, Legacy Salmon Creek Medical Center in Vancouver made the state's top 10 list!
Education
Another top-ranking category for the state, education here is second-to-none — well, technically second to Massachusetts, New Jersey and Florida, the only states that ranked above Washington in this category. Washington state students maintain some of the nation's best scores in eighth-grade reading and math test scores and receive college degrees with less debt than most students.
While Washington does well across the board, it truly shines in higher education, where it ranks second in the entire country. The University of Washington is a driving force for the state's exceptional education, but there are a number of renowned colleges and universities throughout the state, including Washington State University in Pullman, Gonzaga University and Whitworth University in Spokane, Seattle University in Seattle, Western Washington University in Bellingham, and many more. No matter where you live in the state, access to higher education is obtainable (with the added benefit of in-state tuition!).
Economy
Economy has much to do with a state's ranking in the top 10. After all, four of the 10 states that ranked high in economy also are among the top 10 overall Best States. At the #3 spot, Washington clearly has a strong economy, largely fueled by its booming technology, thriving agriculture, and perhaps most significantly — cheap, climate-friendly electricity. The possibility for further improvement in this subject helped Washington rank #1 in the "growth" subcategory for economy. Plus, venture capital flows more freely in the state, where $56.40 is invested per $1000 of GDP, compared to a national average of just $6.77.
Infrastructure
In the evaluation of a state's infrastructure, U.S. News & World Report looked at the use of renewable energy and the quality of roads and bridges, among other factors. Washington received an impressive second-place ranking in this category, trumped only by our southern neighbor, Oregon. This ranking is largely because of Washington's strength in energy and Internet access. Washington maintains an impressive 45.3 percent of energy consumption from renewable sources, compared to a national average of just 10 percent.
Technology
With tech powerhouses like Amazon, Microsoft, Google and others operating in the Seattle area, plus many more throughout the state, there's no question Washington is a leader in the tech industry. The increasing presence of tech companies in Washington, from major players to creative startups, creates exciting possibility for growth and rising employment rates. Vancouver and other Clark County cities have slowly built an impressive tech base over the years, with companies like DiscoverOrg, Formos, SmartRG, Webfor and more.
Local Focus
Although we just name dropped big names like Amazon and Google, Washington is undeniably passionate about championing the underdog. In general, residents of Washington care about supporting small businesses, independent companies and all things local. This is exemplified by neighborhood farmers' markets, mom-and-pop shops, and other local-focused efforts throughout the state. As a locally owned and operated business ourselves, we are extra thankful for this focus!
Diverse Ecosystems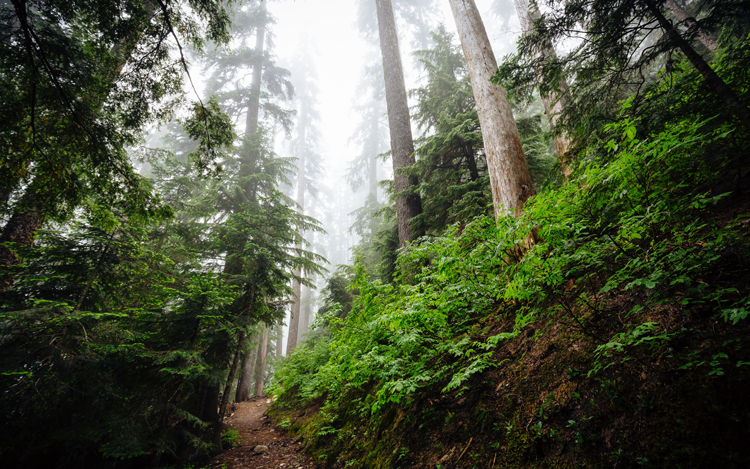 Just take one look at the map of Washington through the satellite view, and it's easy to see the immense diversity of terrain. Washington holds just about every major ecosystem in its boundaries, including marine waters, tidepools, rainforests, dry coniferous forests, subalpine and alpine meadows, grasslands, prairies, freshwater wetlands and many more. There's even a pair found nowhere else in the world: the Olympic rainforest meeting up with the channeled scablands of the Columbia Plateau! This diverse terrain provides unparalleled beauty and endless opportunity for outdoor exploration — whether you're looking for a desert bike ride or a hike through the forest.
Agriculture
Speaking of geography, Washington's varied climate gives it an advantage for agricultural production. Specifically, the state is known for its impressive apple production, as Washington produces about 58 percent of all apples grown in the country. East of the Cascades in the central areas of the state, you'll find an endless number of apple orchards growing Red Delicious, Golden Delicious, Fuji, Gala, Granny Smith, Braeburn, Pink Lady and more varieties. The state also grows a substantial amount of cherries, wheat, hops and grapes — for wine, of course!
Outdoor Recreation
Outdoorsmen will feel right at home in Washington, which offers an endless amount of hiking trails, rivers, parks and mountains to explore. It's almost as if Washington residents are always ready for a spontaneous hike; just take a look at the amount of outdoor-gear-wearing folks at a coffee shop on any given day. Some of our favorite places to explore in Washington include the many hiking trails and campsites near Mount Adams and Mount St. Helens, the Olympic Peninsula, the many waterfalls tucked in the Gifford Pinchot National Forest, and of course — the many ski slopes in the Cascades.
Creativity + Inventive Spirit
As a whole, Washington maintains a creative, inventive and forward-thinking approach to life. It's here that many major companies got their humble starts — like Starbucks, Amazon, Costco, Nordstrom, Boeing, Microsoft and many more. Plus, the state has a thriving arts culture, as exemplified by a lively music industry, jampacked performing arts calendars, and no shortage of arts-related events.
Artstra in Vancouver is an excellent example of the creative spirit of the state. This nonprofit arts advocacy group is focused on elevating the arts, building greater arts awareness, rewarding creative excellence, and expanding arts accessibility.
Environmentally Friendly
While Washington ranked #14 in Wallethub's survey of the Most Environmentally Friendly States, the state was named #7 for "Eco-Friendly Behaviors." The state continually pushes the boundaries of eco-friendliness, through improving conditions for bike commuters, making recycling easier, providing clean energy, and incorporating other green initiatives.
No State Income Tax
Not only is Washington a great place to live — it's also a great place to work. Washington residents take advantage of no personal state income tax. In fact, the state has never had a personal income tax! There are a few "catches" to this luxury, including high sales taxes and high gas prices, but we are happy to be included amongst just seven states in the country without state income tax.
Wineries
Washington is considered one of the best states for wine production, especially in Washington Wine Country — which encompasses the Tri-Cities, Walla Walla Valley and Yakima Valley. The climate conditions here are ideal for growing wine grapes. The state as a whole produces nearly 70 wine grape varieties, especially Riesling, Chardonnay, Cabernet Sauvignon and Merlot, with a ratio of about 36 percent white and 64 percent red.
Real Estate
Washington hosts a diverse selection of homes and the real estate market in this growing state is promising, to say the least. Economic growth and stability has fueled the competitive real estate market throughout the state. Southwest Washington is continuing to grow, with the lively city of Portland situated just a few miles across the Oregon-Washington border. There are a number of beautiful homes for sale in Vancouver, Camas, Ridgefield, Battle Ground, Washougal and other communities. Homebuyers here may easily access the activity in both Vancouver and Portland without paying the prices that many Portland Metro buyers are paying.
You Could Live in This Top-Ranking State!
If you don't already live in Washington, you might consider taking advantage of the many alluring features of the state. If you already live here, consider yourself lucky! And maybe pass along this list to the friends and family members you're trying to convert into neighbors…