The creative city of Bend is filled to the brim with entrepreneurs, artists, makers and pioneers. This innovative mentality means there is no shortage of locally made products to choose from. Whether you're looking for a local gift to show some hometown pride or you're simply curious about the products made in Bend — keep reading.
We compiled some of the best Bend-based companies, ranging from globally known brands to small startups. Consider supporting these excellent companies the next time you're searching for a gift — whether it's for someone else or yourself!
Photo Courtesy of Hydro Flask
Founded in 2009, Hydro Flask is the award-winning leader in high-performance insulated products, ranging from beverage and food flasks to their new Unbound Series Soft Coolers. Hydro Flask is known across the globe for their exceptional products, which keep hot things hot and cold things cold, thanks to their TempShield double-wall vacuum insulation that locks in temperature. Pick from a variety of products, shapes and colors to personalize your vessel — designed for water, coffee, beer, wine, food and more.
Humm Kombucha began with a conversation at a kitchen table in Bend in 2008. Founders Michelle and Jamie were sipping on Michelle's delicious homebrewed kombucha when Jamie proclaimed that this should be shared with the masses. Shortly after, Kombucha Mama was formed, which was eventually rebranded to Humm Kombucha. And the rest is history. Today, you can find Humm in all 50 states — plus Sweden and Guam!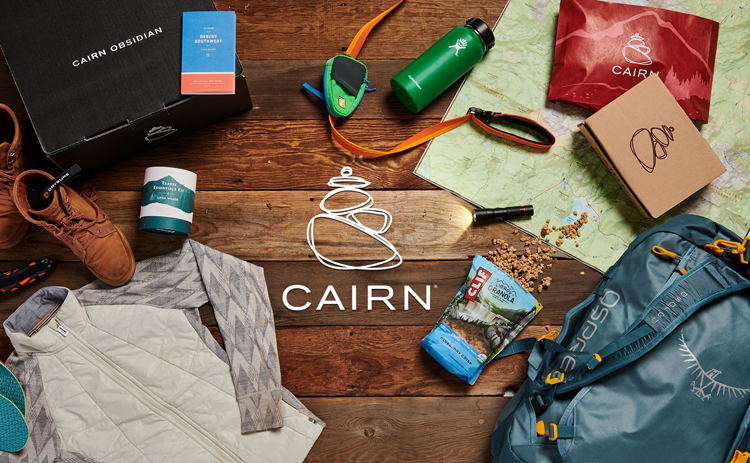 Photo Courtesy of Cairn
Cairn is a subscription service for outdoor gear headquartered in Bend, the perfect location for an outdoorsy company to reside. Each month, subscribers receive a box filled with expertly curated and tested outdoor products valued up to $50. Choose from the variety of subscriptions — the original monthly collection (paid by the month, every six months, or once every year) or the Obsidian collection, which includes 5–10 premium products delivered quarterly.
Founded in 2013 in the craft-beer-obsessed town of Bend, DrinkTanks creates premium stainless steel, double-walled, vacuum-insulated beverage growlers and cups, plus a variety of accessories. DrinkTanks is passionate about encouraging the use of reusable vessels instead of cans and bottles that typically end up in landfills. Their durable products are perfect for enjoying a cup of beer (that will stay very cold!) on your next outdoor adventure.
Photo Courtesy of Ruffwear
Bend is a haven for dogs — especially dogs that love exploring the outdoors. Ruffwear capitalizes on the large population of dogs in the city by creating gear for dogs, including collapsible bowls, boots, coats, harnesses, packs, flotation devices, leashes and more. Ruffwear products are built to last as they have been thoroughly tested and thoughtfully designed to endure the elements — and your dog's sharp teeth!
Silipint is an innovative and fun company doing something truly unique — and brilliant, if you ask us. They create a variety of versatile, unbreakable and sustainable drinkware and other products made with silicone. Shop from their wide selection of products, including drinkware, tableware, petware and accessories, in just about every color imaginable. Your investment in these durable products (that can withstand both intense heat and cold!) means you can help reduce the number of single-use products that end up in landfills.
Photo Courtesy of Danny Van Dyke via Jem Organic Nut Butters
Jem Organic Nut Butters offers a collection of sweet and savory nut butters made with clean and natural ingredients. The small and health-conscious team behind Jem believes in the power of food to not only sustain, but to nourish, inspire and build community. And they've done just that with their USDA Certified Organic, vegan, gluten-free and kosher nut butters. You can taste their delicious flavors — from cinnamon maca almond butter to coffee cashew almond butter — by ordering online or tracking them down at a store near you.
Launched in 1990, Breedlove Guitar Company has made a name for themselves in the music industry over the last few decades. Breedlove designs and builds guitars, mandolins and ukuleles, using exclusive design elements, including their three signature body shapes, the Concertina, the Conert, and the Concerto. Musicians all over the world trust Breedlove to produce excellent guitars for a variety of playing styles, applications, sounds and tones.
DANI Naturals, All-Natural Products for Bath, Body, & Home
Photo Courtesy of DANI Naturals
DANI Naturals started back in 1996 with one simple product, a handmade all-natural soap, and one goal, to nourish people's skin, naturally. Today, the goal remains the same. But they've added a number of products to the lineup, including lotion, body wash, shampoo, conditioner, body scrubs, bath bombs, candles, diffusers and so much more. All of their bath and body products are made with organic ingredients, and they use 100 percent vegetable oil bases, essential oil blends to add scents, and 100 percent soy wax for their candles. 
Spindrift produces some of the strongest dog gear around, including collars, leashes, harnesses and the unique Sprindrifter Dog Disc. The company was inspired by the owner's work in the climbing equipment world, as he discovered the flexibility and strength of bungee cords and tubular nylon webbing used to make his first products. You can trust the durability of Spindrift products — as the original Spindrifter still lives on in the owner's backyard after a decade of use.
Photo Courtesy of Adam McKibben Photography via Free Range Equipment
In the summer of 2012, native Bendite, Tosch, returned to Bend with a decision to either stay in school or sew backpacks. Thankfully, for Free Range Equipment fans everywhere, Tosch chose the latter — thus creating this trusted and successful backpack company. At their "pactory" in Bend, Free Range creates two series of backpacks, including the Canvas series which supports local artists and the Vertical series designed for specific sports.
University of Oregon graduate, Megan, started Dog Pack Collars because of seven dogs, including two dogs from her childhood and two dogs from her husband's childhood. She wanted to create washable and durable products for her favorite dogs — and dogs everywhere! Dog Pack Collars sells a variety of collars and bandanas, all of which are handmade and built to last.
Photo Courtesy of J Paige & Co.
J Paige & Co. is a leather goods company creating beautiful products designed to last a lifetime. They make an excellent selection of purses and totes, plus several home goods items, like placemats and a few accessories. These quality, timeless pieces are built to endure for years and hold up during your next adventure in Bend — and beyond!
What Bend-based businesses did we miss?
Let us know in the comments below!