Whether you've been in the Hood River area for a day or a decade, it's likely you've heard of the Fruit Loop. And no, we're not talking about your favorite childhood cereal! The Hood River Fruit Loop is a scenic 35-mile drive through the valley featuring 29 member stands offering a variety of wines, fruits, vegetables, flowers, ciders, food and more.
While many wineries are open all year, most stands operate on a seasonal basis that changes each year. Let's take a virtual tour of the Hood River Fruit Loop, getting to know the various stops along the way! As each destination is subject to change its opening dates and hours, be sure to check the Hood River Fruit Loop website and Facebook page for the most current information. Most stands are open by June but some are not open until July.
Stay on track by consulting a map along the way! You can download the 2019 Fruit Loop Map or check out our interactive map, featuring all 29 member stands. We've also listed the stands in order, so you can pick your favorites and visit them in consecutive order, starting just south of Hood River, traveling south to complete the loop that runs clockwise through the valley.
Hood River Fruit Loop Stands:
1. Pearl's Place: Fruit stand with many varieties of locally grown farm-fresh fruits, including apples, pears, cherries, peaches, berries, nectarines, plums and more — plus hand-crafted bags, wild honey, Oregon-grown nuts and dried fruit. Open July–October.
Photo Courtesy of Pearl's Place
2. The Gorge White House Fruit Stand & Winery: Fourth-generation family-owned and -operated farm with you-pick and we-pick fruit and flowers, their own wines and hard ciders, craft beers, regional wines and farm-fresh cuisine. Open Mid-June–Mid-September.
3. Mt Hood Winery: Winery and tasting room at the Bickford Family Century Farm and Van Horn Vineyards, offering stunning double mountain views and award-winning wines, including estate-grown Chardonnay, Gewürztraminer, Pinot Gris, Pinot Noir and Riesling. Open March–November.
4. The Fruit Company: Produce market known for their gifting operation offering orchard-fresh fruits and gourmet goodies at wholesale prices. Open Mid-April–September.
5. Smiley's Red Barn: Family-owned produce market with many varieties of cherries, peaches, pears, apples and more, adorned with old farm relics and six generations of family photos in the valley. Open Mid-June–October.
6. Fox-Tail Cider & Distillery: Family farm offering crisp hard ciders and spirits made on site with fresh, delicious fruits. Open June–October.
Photo Courtesy of Fox-Tail Cider & Distillery
7. Packer Orchards & Farm Place: Working family farm with sweet orchard fruits and farm-fresh vegetables, you-pick gardens, a pumpkin patch and corn maze in September, sunflower fields in the summer, baked goods and more seasonal fun. Open May–December.
8. Wy'East Vineyards: Family-owned vineyard growing Pinot Noir, Pinot Gris, and Chardonnay grapes, accompanied by a family- and dog-friendly tasting room with scenic patios and two bocce courts. Open Year-Round.
9. Packer Orchards & Bakery: Bakery offering fresh fruits, including cherries, peaches, pears, and apples, plus a variety of baked goods and fruit jams. Open April–December.
10. Hood River Lavender Farms: 100 percent natural lavender farm offering the purest, chemical-free lavender in the Gorge, plus a variety of handcrafted items for sale, including bath and body products, culinary items, and pure lavender essential oil. Open Mid-April–October.
11. Stave & Stone Winery at the Vineyard: Winery with award-winning wines, which can be sampled in the tasting room, the large covered patio, or the grassy terraced lawn in the vineyard. Open Year-Round.
Photo Courtesy of Brooke Martinez via Stave & Stone Winery at the Vineyard
12. Draper Girls Country Farm & U-pick Orchards: Third-generation family farm and orchard with non-pasteurized apple, cherry and pear ciders, over 80 you-pick or we-pick cherries, peaches, nectarines, berries, pears and apples, you-cut dahlias, plus a country market with a variety of goods. Open Year-Round.
13. Draper Girls Cider Company: Farm-to-table cidery making non-pasteurized, small-batch hard apple, cherry and pear ciders. Open Year-Round.
14. Aubert Fruit Company: Family-owned farm and market with fresh in-season local fruits and vegetables, their own USDA certified beef, local arts and crafts, jam, honey, wine and Blue Mountain Hard Cider. Open Late June–October.
15. Kiyokawa Family Orchards & Fruit Stand: Orchard and fruit stand growing over 120 varieties of apples and more than two dozen varieties of Asian and European pears, plus jams, fresh cider and local honey. Open July–December.
16. Mt View Orchards Cidery & Fruit Stand: 50-acre third-generation family farm and fruit stand with you-pick fruits, including apples and pears, plus hard ciders, hayrides in October, and other seasonal activities. Open June–Early November.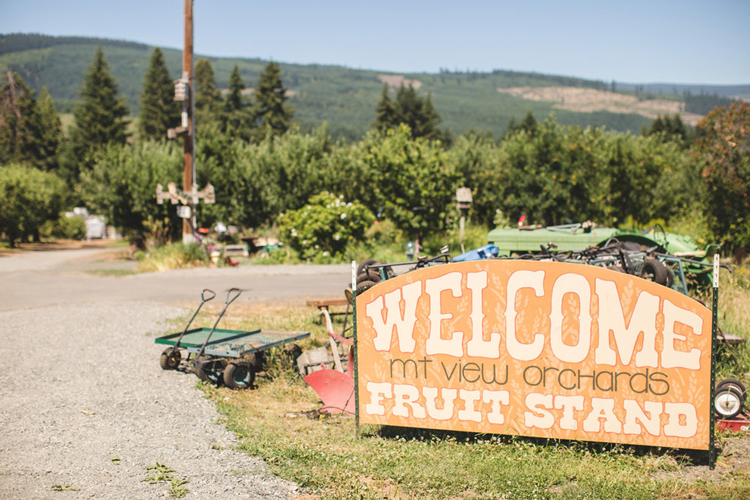 Photo Courtesy of Mt View Orchards Cidery & Fruit Stand
17. Grateful Vineyard: Small family winery with a tasting room overlooking Mt. Hood, where you can enjoy wine, cider and beer, plus farm-to-table charcuterie boards, wood-fired pizzas, and other bites. Open Year-Round.
18. Lavender Valley: Lavender farm with you-cut flowers, plus a farm stand selling a variety of hand-crafted lavender products made on site. Open May–September.
19. Montavon's Berries: Berry farm with you-pick and we-pick blueberries, cherries and raspberries, with the option for special orders at odd hours (with a call ahead!). Open July–August.
20. Browning Blueberries: Blueberry farm with exceptional you-pick blueberries available for a short season. Open Mid-July–Mid-August.
21. Hood River Organic: Orchard producing a variety of organic crops, including apples, peaches, blueberries, plums, strawberries, and more, available for you-pick during each season, plus gardens with basil, tomatoes, spicy greens, peppers, garlic, winter squash and more. Open May–October.
Photo Courtesy of Hood River Organic
22. The Old Trunk: Antique store featuring unique antiques, books, vinyl, repurposed art, gifts, and a kids' area, plus a market, fruit stand, espresso bar and soda fountain for a complete old-fashioned experience. Open Year-Round (with limited hours November–April).
23. Apple Valley Country Store & Bakery: Country store and bakery offering small-batch jams, syrups, pie fillings, pepper jellies, pies, milkshakes, ice cream and more, using locally sourced fruits. Open Year-Round.
24. Hood Crest Winery & Vineyards: Family-owned and -operated winery and vineyard with award-winning wines, spectacular mountain views, food and music. Open February–November.
25. Hood River U-Pick Organic: Certified organic family farm with you-pick organic cherries, raspberries, honeycrisp apples, and flowers, plus pre-picked heirloom tomatoes and greens. Open Late June–October.
26. Phelps Creek Vineyards: Small boutique winery on the beautiful Hood River Golf Course focused on estate-grown Pinot Noir and Chardonnay varietals, producing 5,000 cases of wine each year. Open Year-Round.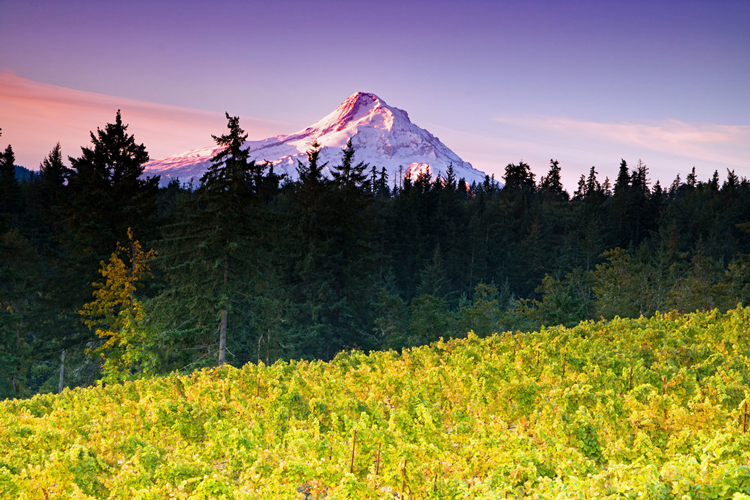 Photo Courtesy of Sara Heinrichs Portraiture via Phelps Creek Vineyards
27. Marchesi Vineyards and Winery: Small boutique winery with a tasting room specializing in Italian grape varieties, including Barbera, Dolcetto, Pinot Nero and Pinot Grigio. Open Year-Round.
28. Cathedral Ridge Winery: Award-winning winery and tasting room creating 25 wines, from big, bold reds to delicately nuanced whites, using grapes from 13 local vineyards with distinct microclimates. Open Year-Round.
29. Hood River Vineyards & Winery: Sunny hillside vineyard and orchard producing a broad selection of wines, including reds, whites, dessert wines, fruit wines and port-style wines, for over 40 years — making it the Gorge's oldest winery. Open Year-Round.
Get a Free Market Bag
Pick up a Hood River Fruit Loop brochure, visit 14 farm stands, get stamped at each location, and submit your stamped brochure in order to receive a free beautiful market bag in the mail! That way, you can use your market bag on your next trip along the Fruit Loop. Get more details about how to submit your stamped brochure on the Hood River Fruit Loop website.
Which is your favorite stop?
Let us know your must-visit stops along the Fruit Loop! Comment below with your suggestions.