Portland sure knows how to celebrate holidays — and that certainly includes Independence Day! This year, there are several Fourth of July events in Portland and surrounding communities, focused on everything from craft beer to music, all with a patriotic twist.
Plus, most events have a fireworks show planned, which means you can end the holiday with a bang! Mark your calendars for these essential Independence Day events in Portland to maximize the holiday.
July 4 | Varying Race Times
The Pumpkin Patch, Sauvie Island
Start your day of celebration by getting your heart racing at the Sauvie Island Foot Traffic Flat — featuring a full marathon, half marathon, 10K and 5K. Race through the scenic, flat farmland in Sauvie Island, enjoying views of Mt. Hood, Mount St. Helens and Mt. Adams along the way. All races start at the Pumpkin Patch, complete with a petting zoo, produce market, gift shop, espresso cart and acres of lush farmland, which can all be enjoyed before or after the race. Take advantage of the strawberry-themed aid stations along each route and indulge in a refreshing and scrumptious island-fresh strawberry shortcake, hot dogs, veggie dogs and other snacks and fruit after the race! Register to take part in this active and fun Fourth of July tradition.
July 4 | 10 a.m.–1 p.m.
Millennium Plaza Park, Lake Oswego
Photo Courtesy of the City of Lake Oswego
The Star Spangled Parade & Celebration is one of the most anticipated annual events in Lake Oswego. Delight in festive floats, musical entertainment, vibrant vehicles and costumed canines as they march down A Avenue towards Millennium Plaza Park. Continue the Fourth of July celebration at the park with live music, a Presentation of Colors, face painting, balloon animals, a pie eating contest, local food vendors and much more.
July 4–7 | Gates Open at 11 a.m. Each Day
Tom McCall Waterfront Park, Portland
Kick off your Fourth of July celebration with the Waterfront Blues Festival, the largest celebration of blues, soul, funk, and rhythm and blues this side of the Mississippi. This long weekend is filled with amazing performances across four stages, lots of food, local vendors, river boat cruises and more! Single-day tickets cost $20 in advance or $25 at the gate. Or opt for the Blues Fan Pass to receive admission for all four days of the festival!
July 4 | 12 p.m.–12 a.m.
Each year, Oaks Amusement Park throws an incredible party on the Fourth, filled with rides, games, mini golf, live entertainment, roller skating and a spectacular fireworks show. All picnic areas operate on a first come, first served basis, and no outside alcohol or fireworks are allowed. Gate admission applies — $6 for ages 16–61, $3 for ages 15 and under, and $4 for ages 62 and older — and attractions are sold separately.
July 4–7 | Varying Hours
Sip local at the Portland Craft Beer Festival, back for its fifth year with all the craft beer your heart desires. This four-day festival at the Fields Neighborhood Park will feature the widest selection of beers, ciders and wine, originating from Portland breweries, cideries and wineries. Purchase tickets in advance to be a part of this hyper-local beer event. The festival takes place Thursday, Friday and Saturday from noon to 10 p.m. only for guests 21 and over, and Sunday is an all-ages family day from noon to 5 p.m.!
July 4 | 5–10:30 p.m.
Clark County Event Center at the Fairgrounds, Ridgefield
Don't miss the inaugural Clark County 4th of July Celebration taking place at the fairgrounds in Ridgefield! This free event will feature live music, entertainment, food, vendors, and of course — an impressive fireworks show. The Clark County Event Center, ilani and the greater Clark County community are partnering up to create this massive 4th of July event that will be a community tradition for years to come.
July 4 | 9:30 p.m.
Tigard High School Football Field, Tigard
While the activities usually held at Tigard High School on the Fourth have been cancelled this year (due to construction) there will still be a fireworks show starting around 9:30 p.m., depending on darkness. Check back next year for a variety of activities, which typically includes live music, kids' games, police and fire vehicles, and a concession stand offering light snacks.
July 4 | 7:30–10 p.m.
Salmon Street Springs, Portland
Photo Courtesy of Aaron Greene via Portland Spirit
Embark on a relaxing dinner cruise on board the Portland Spirit, followed by a viewing of the annual downtown Portland fireworks display from the best possible location: on the river just a couple hundred yards from the fireworks barges. Cruise prices start at $104 per passenger, which includes dinner, entertainment, and service gratuity. Boarding begins at 7 p.m. and the cruise extends from 7:30 to 10 p.m.
July 4 | 10:05–10:25 p.m.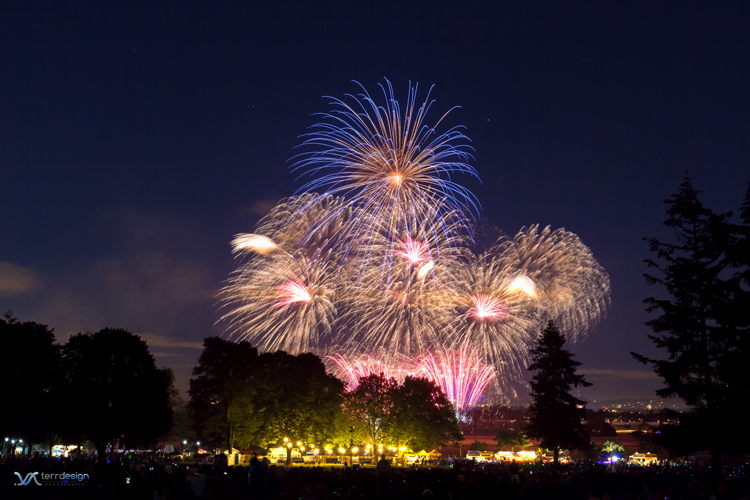 Photo Courtesy of The Historic Trust
Head to Fort Vancouver for the 56th Annual Vancouver's Fireworks Spectacular. Get there early and grab a spot with your blanket and enjoy food, fun and entertainment while you wait for the largest fireworks show in the region. This year is promised to be bigger and brighter than ever before! Gates open at 8 a.m. but suggested arrival is after 4 p.m.
Star Spangled 4th of July Celebration
July 4
Each year, the community in West Linn gathers for a day of live music, food and drinks, endless activities for all ages, and an exceptional fireworks show. The Star Spangled 4th of July Celebration is free to the public thanks to generous sponsor donations and a devoted volunteer team. Show up early to reserve your spot, bring your picnic blanket or lawn chairs, and enjoy an evening commemorating our great nation.
Happy Fourth of July!
We hope you have a fun and safe Fourth of July! What community events are you looking forward to this year? Let us know in the comments below — whether or not they are on this list.