Summer is here! Boasting warmer temperatures, lots of sunshine, longer days and that no-school feeling, summer offers so many reasons to celebrate. Take your celebration to the next level at one (or several!) of these exciting summer festivals in the Portland area, focused on everything from beer to art, flowers to music, and everything in between.
And, because we couldn't wait until the official start of summer in late June, we went ahead and got the party started in early June. After all, Memorial Day might as well be the first day of summer!
SKIP AHEAD TO: June | July | August
JUNE
May 22–June 4
Pioneer Courthouse Square, Portland
Taking place in the central Pioneer Square, Festival of Flowers is one of the city's most innovative and beloved annual festivals. For over 30 years, the Square's non-profit management organization collaborates with regional growers to create a one-of-a-kind, large-scale design of vibrant color using over 20,000 flowers and plants. Be one of the first to see this magnificent display on the first weekend of the festival — and enjoy it all month long!
May 24–June 9
Various Locations
Each summer, the community comes together at the Portland Rose Festival, a civic celebration dating all the way back to 1907. From May 24 through June 9, attend a number of exciting events, from the opening night fireworks display to the second-largest floral parade in the country, and every festivity in between. Tickets may be purchased in advance for the many events taking place throughout the festival!
June 1–30
Various Locations
Cyclists rejoice! Pedalpalooza is an annual month-long festival featuring hundreds of free volunteer-organized events open to the general public throughout the month of June. Kick off the month of bike-centric fun at the Pedalpalooza Kickoff Ride, one of the largest of the month, and make plans for the other smaller events planned throughout June.
June 7–16
Various Locations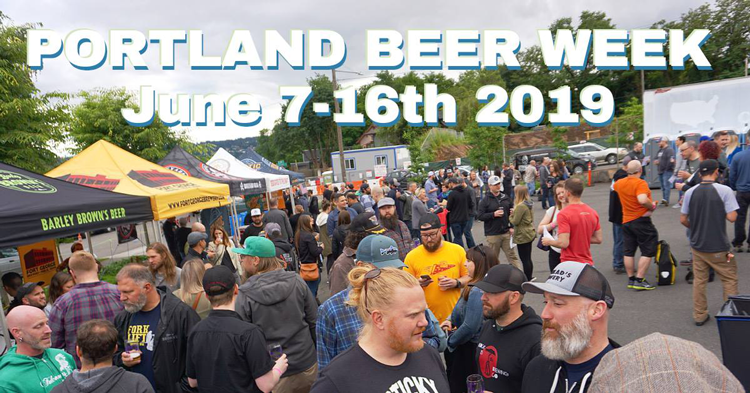 Photo Courtesy of © pdxbeerweek.com
Enjoy 10 days filled with fun, educational, eye- and palate-opening, eating and drinking events in the craft beer mecca that is Portland. PDX Beer Week is a celebration of craft beer culture and all of its tangents from food pairings to beer ice cream, artwork and design, film and science. Experience some of the best beers from around the world in addition to several local brands and companies. There will be dozens of events at locations citywide, from intimate tastings and beer dinners to large festivals, games, screenings and enlightening beer and food pairing events.
June 8
After Christmas, Midsummer is the most celebrated occasion in Scandinavia. Nordic Northwest is throwing the spectacular Portland Scandinavian Midsummer Festival, a family-friendly day with centuries-old traditions open to all. Enjoy traditional fare and crafts from local Nordic clubs, vendors and artists. There will be endless entertainment, including live music and dancing, and a beer garden, all with a unique Nordic flair. Awards and honors, including The Scandinavian of the Year Award, will be distributed, and the Midsummer Pole will be raised with much excitement and pomp. Tickets for the Nordic Northwest Midsummer Festival are $8 for adults, $7 for seniors and students, $17 for families, and free for children ages 11 and under.
June 15–16
Tom McCall Waterfront Park, Portland
Each year since 1994, Pride Northwest, Inc. hosts this two-day celebration promoting acceptance and pride for the LGBTQ community at Tom McCall Waterfront Park. The Portland Pride Waterfront Festival & Parade is the single largest visibility avenue for our region's LGBTQ community organizations and businesses, where they can attract new supporters and clients, increase their volunteer base, and raise much-needed funds. Portland Pride takes place on Saturday from 12–8 p.m. and Sunday from 11:30 a.m. to 6 p.m. with a spectacular parade starting at 11 a.m. on Sunday.
June 21–22
Photo Courtesy of Cider Summit NW
The Northwest Cider Association presents the ninth annual Cider Summit PDX, a celebration of all things cider, on June 21 and 22. General admission tickets include a souvenir tasting glass and 12 tasting tickets you may exchange for a taste of ciders from the region and across the globe. VIP tickets include a souvenir tasting glass, 16 tasting tickets, and early admission starting at 2 p.m. on Friday!
June 21–23
George Rogers Park, Lake Oswego
Hosted by the Lakewood Center for the Arts each summer, the Lake Oswego Festival of the Arts is a major regional arts event presenting the creative endeavors of both recognized and emerging artists. Enjoy art-filled fun at this three-day art festival at George Rogers Park in Lake Oswego, complete with art exhibits, food vendors, music, and a craft fair.
June 24–July 28
Various Locations
From late June through the month of July, Chamber Music Northwest is hosting a series of concerts held at various venues throughout Portland, including Reed College, PSU and the Alberta Rose Theatre. Since its start in 1971, the festival has grown into one of the most successful chamber music events in the nation. Enjoy five weeks of extraordinary concerts celebrating the evolution of chamber music.
June 26
The Oregon Convention Center, Portland
Head to the Oregon Convention Center for this one-of-a-kind event celebrating all things saké. Saké Fest PDX will showcase the finest Japanese and US saké brands, with even some rare and premium saké varieties. Learn to pair saké with a variety of foods, including cheese, desserts and chocolate, plus a wide range of fusion, Asian, and continental cuisines. Tickets for Saké Fest PDX range in price from $45 to $79.
June 28–30
Portland International Beer Festival is a three-day specialty beer festival held in the Pearl District North Park Blocks. Discover hard-to-find beers and ciders from all over the world as you sample everything from classic styles, like pilsners and pales, to exotic New World hybrids, like barrel-aged hoppy farmhouse sours. View the full beer lineup and purchase tickets for this amazing beer event in the Pearl District!
JULY
July 4–7
Sip local at the Portland Craft Beer Festival, back for its fifth year with all the craft beer your heart desires. This four-day festival at the Fields Neighborhood Park will feature the widest selection of beers, ciders and wine, originating from Portland breweries, cideries and wineries. Purchase tickets in advance to be a part of this hyper-local beer event!
July 4–7
Tom McCall Waterfront Park, Portland
Photo Courtesy of Tom Dellinger via Waterfront Blues Festival
Kick off your Fourth of July celebration with the Waterfront Blues Festival, the largest celebration of blues, soul, funk, and rhythm and blues this side of the Mississippi. This long weekend is filled with amazing performances across four stages, lots of food, local vendors, river boat cruises and more! Single-day tickets cost $20 in advance or $25 at the gate. Or opt for the Blues Fan Pass to receive admission for all four days of the festival!
July 13
Tom McCall Waterfront Park, Portland
Photo Courtesy of The Big Float
Float atop the Willamette River at The Big Float, an annual fundraiser event for the Human Access Project. After the event opens with a grand parade, join the flotilla in the river atop a floatation device, then paddle down river to land on the west bank at the Tom McCall Bowl. It is there that Portland's grandest downtown beach party will be held, complete with live music, food carts, a beer and wine garden, sponsor booths, and a kids' activities area. Tickets for The Big Float are $10 in advance and $15 the day of. Participants must bring their own float vessel and life jacket.
July 19–21
The Jazz Society's Cathedral Park Jazz Festival is a free three-day concert series taking place in the Cathedral Park neighborhood at the base of the St. John's bridge. Now in its 39th year, the festival is the longest-running jazz and blues festival west of the Mississippi. The Cathedral Park Jazz Festival will showcase the region's best local jazz and blues musicians while recognizing and promoting the many local businesses in this vibrant neighborhood. The festival kicks off on Friday with dynamic blues, R&B, and soul music, followed by multiple styles of jazz on Saturday and Sunday.
July 19–20
Photo Courtesy of Madeline Garland Photography via Sherwood Robin Hood Festival
The historic and picturesque town of Sherwood invites you to take part in one of the oldest and most unique community events in Oregon. Established in 1954, the Sherwood Robin Hood Festival features a parade with Maid Marian and her Court, Robin Hood and his merry men, and over 70 parade entries from far and wide. Celebrating its 65th year, the festival will feature dancing in the streets, a beer and wine garden, live music performances, a family stage with interactive performances, a vendor village, and much more. Festival admission is completely free! Continue the fun at the International Archery Match on Saturday and Sunday at Edy Ridge Elementary School.
July 20–21
PDX Pop Now! is a must for all music lovers in the city. It's arguably the best annual event for discovering Portland's finest up-and-coming artists. Plus, PDX Pop Now! is completely free and open to all ages. This volunteer-run festival takes place July 20 and 21 at AudioCinema.
July 24–27
Tom McCall Waterfront Park, Portland
Considered a craft beer destination across the nation, the Oregon Brewers Festival is one of the longest-running craft beer festivals in the country. About 60,000 people attend this four-day event on an annual basis! Sample handcrafted brews from 80 independent craft breweries serving a variety of beers — including Belgians and blondes, pales and pilsners, and saisons and sours. The festival features 100 percent Oregon craft beers and ciders, more than 85 of which are first-release products debuting exclusively at the event!
AUGUST
August 2–4
Photo Courtesy of Erin Riddle via Pickathon
Considered one of Portland's most renowned music festivals, Pickathon is a three-day celebration of talented artists from both near and far. In fact, the festival is so "Portland" that season six of Portlandia kicks off with an episode taking place at Pickathon. This exciting celebration of music covers a wide variety of musical genres and is open for all ages. Check out this year's lineup and get your single-day or weekend tickets. Tickets for the whole weekend are $325 for adults, $165 for teens (ages 13–16), and free for children 12 and under.
August 11
Pioneer Courthouse Square, Portland
Head to Pioneer Courthouse Square for a celebration of Indian culture! The India Festival features a day filled with back-to-back dances, musical performances, and food from Portland's finest Indian eateries. This free and fun-filled event draws crowds from all over the West Coast each year — and this year is no exception!
August 17
Since 1997, the community has gathered atop Mount Tabor for the annual PDX Adult Soapbox Derby on the third Saturday of August each year. A crowd of 7,000–10,000 people watch as home-built creations and their owners race down the side of the hill three times, followed by championship rounds. Winners receive awards for speed, engineering, art and other categories after racers cross the finish line!
Happy Summer!
How are you celebrating this glorious season this year? Let us know in the comments below.