It's no secret. Portland has one of the finest culinary and cocktail bar scenes in the country. Yet, you may not realize that the city hosts a myriad of lesser-known hotspots, many of which are completely hidden from view. Let's take a behind-the-scenes look at some of the mysterious speakeasies in Portland, from a bar hidden behind a bookshelf to an underground botanical gin bar.
While their accessibility may vary, each speakeasy possesses a certain secretive vibe that will transcend you to another era completely.
Photo Courtesy of Rabbit Hole Photo/Jordan Fox via Nomad.PDX
Did you know that the swanky and romantic Nomad has a hidden bar tucked away from the main dining room? Ash Bar is a quiet, intimate and cozy horseshoe-shaped bar serving an à la carte dinner menu and a variety of handcrafted cocktails. The bright and airy feel of the space is a welcomed rarity in the speakeasy world, where dark windowless walls and dim lighting reign supreme. Ash Bar is known for their exceptional drinks, including cocktails like the Death Note, made with toki suntory whiskey, braulio, atxa blanc, maurin dry vermouth, and citrus bitters. Pair your selection with a bite to eat with a variety of quirky options, such as "The Best Queso in PDX," "A Broccoli Dish That Doesn't Suck" or "The Salad of the '90s is Alive in Portland." Ash Bar is open Wednesday through Sunday from 5 p.m. to midnight.
Photo Courtesy of Kimo Easterwood via Bible Club
Travel back to the Prohibition Era with a visit to the Bible Club, a relatively new addition to the Westmoreland neighborhood. This unmarked yellow house is filled with century-old relics, including antique bar stools, vintage goblets, historic photos, and copper ceiling tiles. The Bible Club has an impressive list of inventive cocktails and an array of smile bites to snack on. Keep in mind that this secretive bar only offers walk-in seating on a first-come, first-served basis beginning at 5 p.m. They are happy to waitlist patrons seeking a table or bar seat but are not able to accommodate parties larger than six.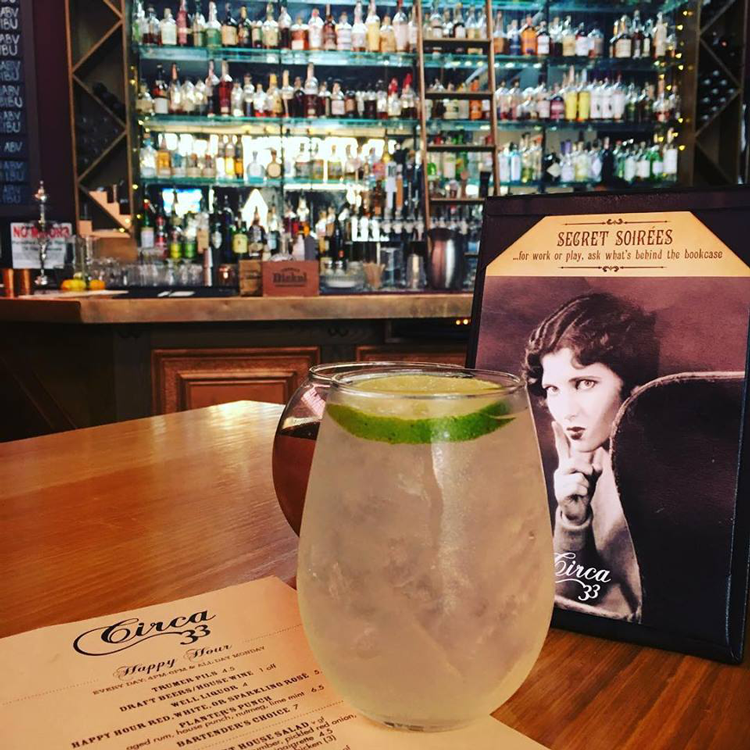 Photo Courtesy of Brady Kennedy via Circa 33
At first glance, this bar along Belmont Street will seem anything but "hidden" or "secretive." But take a closer look, and you'll realize why this one made the cut. Named for the year 1933, Circa 33 has a suspicious bookcase in the back, and if you find the right book to move, a door will swing open to reveal a hidden bar with its own dedicated bartender. Retreat to this cozy spot and choose from a selection of Prohibition-era cocktails. Each of their cocktails follows a specific "classic formula" combining a spirit, sugar, citrus and bitters. The space is equipped with shuffleboard, piano, and beautiful leather chairs to enhance the historic vibes.
Photo Courtesy of Dina Avila Photography via Multnomah Whiskey Library
Calling whiskey aficionados and casual whiskey-sippers alike. Multnomah Whiskey Library is a cozy upstairs lounge with brick walls, an elegant chandelier, and an impressive wall filled with whiskey bottles. This unmarked bar downtown holds an exhaustive collection representing all major and lesser known styles of distilled spirits known to the modern world. To take the exclusivity to the next level, the Multnomah Whiskey Library offers a membership program, allowing members to make reservations, skip the line, and access a variety of perks. All are welcome to skip the line by opting for the downstairs Green Room, a more relaxed environment with the same commitment to excellence.
Photo Courtesy of Secret Society Lounge
While you're waiting to see a show at the Wonder Ballroom or waiting for your table to open up at Toro Bravo, consider sneaking away to this Old World bar housed in the same Victorian building. This cozy, classic lounge encourages you to step back in time with vintage lighting, two intimate seating areas, 20th century artwork, and a swanky absinthe bar. Pair your drink of choice with a bite to eat from their Americana menu, and relax in this intimate and comfortable setting.
Photo Courtesy of Pépé le Moko
While this hotspot is well-known enough that it may not qualify as a true speakeasy, it has all the other necessary elements, like an easy-to-miss entrance, a mysterious staircase, and a hip, dimly lit interior. Upon entering a kitchen, you'll be greeted by a host, who will check your IDs and lead you down some dark steps. Here, you'll enter a different era — which could be described as more '70s- and '80s-inspired than the Prohibition era. Pépé le Moko is known for their incredible selection of fresh oysters and inventive house cocktails. The space feels moody, cozy — and dare we say — exclusive.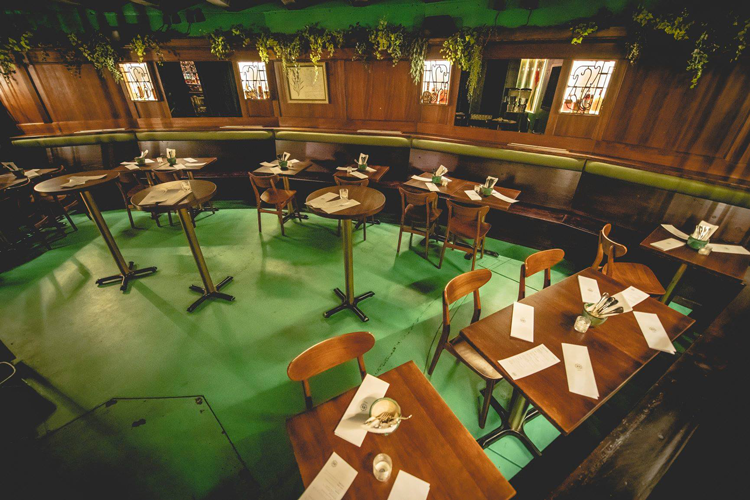 Photo Courtesy of Botanist Bar PDX
Don't miss the subtle green door near the corner of Lovejoy and 13th Avenue in the Pearl District. Behind it, you'll find one of the city's newest additions to the speakeasy scene — Botanist Bar, a gin bar from Urban Farmer's Robbie Wilson. This underground bar has a refreshing botanical theme, as can be expected from the name. But the gin-forward drink menu and the seafood-heavy food menu is what brings locals back again and again. Botanist Bar is giving deserved attention to gin, an often-overlooked spirit, and even serves build-your-own negroni and martinis.
Psssst…
What secret hotspots have you uncovered? Let us know what speakeasies in Portland we're missing out on.