It's almost time for the luckiest day of the year! That's right — St. Patrick's Day is just around the corner and we know just where to celebrate. From kid-friendly parades to adults-only pub crawls, here are the best St. Patrick's Day events in Portland this year! Mark your calendars, buy your tickets, get your green outfit ready, and mentally prepare for a fun-filled weekend.
March 15–17
Kells Irish Pub, Portland + Kells Brewery, Portland
Photo Courtesy of Kells Irish Pub
Enjoy live music, traditional Irish dancing, food and libations at the 28th annual Kells Irish Festival, considered the largest St. Patrick's Day Festival in the Northwest. This year's festivities will take place March 15–17 at two locations: at the original downtown pub on 2nd Avenue and Kells Brewery on Northwest 21st. Kells knows how to celebrate any occasion — especially St. Patrick's Day! Take a look at the music lineup and purchase a weekend pass to get unlimited access to both locations all weekend long.
March 15 + 16 | 11am-7pm (Friday) + 9am-3pm (Saturday)
Oregon Convention Center, Portland
Gear up for the iconic Shamrock Run on Sunday with a visit to the Shamrock Fitness Fair at the Oregon Convention Center on Friday and Saturday. This two-day event precedes the Shamrock Run, and participants must pick up their t-shirts and bibs at the fitness fair as there will be no race day packet pick-up. However, admission to the fitness fair is free and open to the public. There will be more than 60 exhibitors and 80 booths featuring fitness products, sampling, games and contests. Plus, there will plenty of family-friendly activities in Leprechaun Lane and a special happy hour on Friday from 4:30–6 p.m., featuring live music, Widmer Beer and appetizers.
March 17 | 8 a.m. Start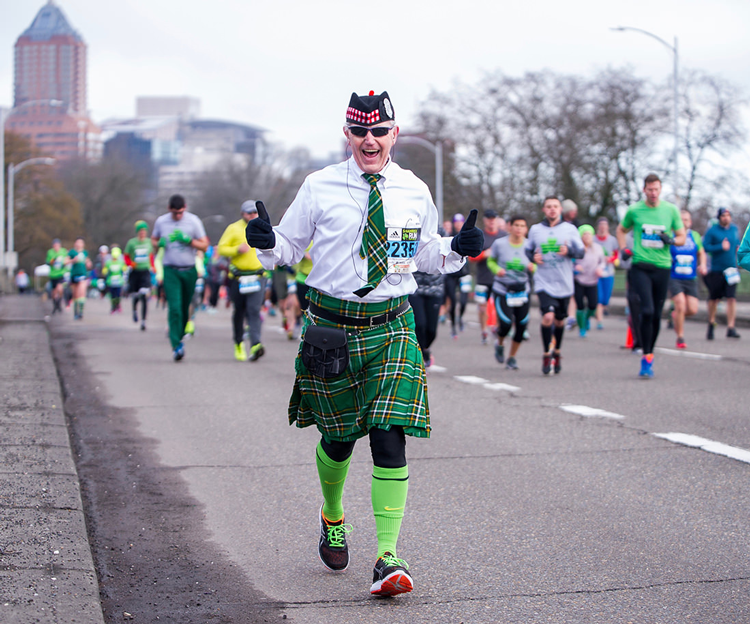 Photo Courtesy of Diego Diaz via The Shamrock Run
The Shamrock Run will attract nearly 20,000 people to downtown Portland for the largest run/walk event in Portland. Choose from a variety of races, including a 5K, 8K, 15K, and a half-marathon. Plus, there's even a 1K Kids Leprechaun Lap and a 4-mile Shamrock Stride! All of Shamrock's iconic courses begin at Waterfront Park at Southwest Pine and Naito Parkway. Register for any of the many races taking place at the Shamrock Run!
March 15–17 | Varying Times
Various McMenamins Locations
The iconic McMenamins is celebrating St. Patrick's Day all weekend long at their many locations throughout the Pacific Northwest — from the Kennedy School Hotel in Portland to the Old St. Francis School in Bend, and everywhere in between. You'll find food and drink specials, including Irish stout, Irish coffee, Irish reuben, Irish stew, and corned beef and cabbage. Irish or not, you are invited to the party of lifetime at McMenamins!
March 16 | 12–5 p.m.
St. Agatha Catholic School, Portland
Photo Courtesy of David Shenson via St. Agatha Catholic School
Back in 1998, the St. Patrick's Day Parade and Festival at St. Agatha Catholic School was a small event for the school and parish. Today, it has evolved into a major community event welcoming the entire Sellwood/Moreland community and beyond. This family-friendly day features a parade, a carnival, live entertainment, and plenty of Irish food and beer. Don't miss the parade starting at noon and stick around for a full day of activities at St. Agatha Catholic School.
March 16 | 9 a.m.–12 p.m.
Downtown Hillsboro (Start + End at Hare Field)
The Murphy's St. Patrick's Day Parade has been a beloved tradition for Hillsboro residents since 1979. The parade originated as a Hillsboro Chamber project to promote retail trade and has brought the community together each St. Patrick's Day since. On March 16, downtown Hillsboro comes to life with a variety of floats traveling from Hare Field east to Cornell Road, south toward Main Street, west to 2nd Avenue, north to Grant Street, and back east towards Hare Field. Admire the colorful parade floats or sign up to be a part of the parade! 100 percent of the $20 parade entry fee will benefit the Hillsboro Boys and Girls Club.
March 16 | 2 p.m.
Take part in the ultimate costumed pub crawl in the heart of Old Town Chinatown this St. Patrick's Day! Adorn yourself in your most extravagant St. Patrick's Day costume and head to the Kells Irish Festival to sign in and pick up your wristband. The crawl will feature stops at various pubs in Ankeny Alley and Old Town, where you'll encounter various food and drink specials. Participants are encouraged to travel by foot between each stop and to drink responsibly! Proceeds from Stumptown LepreCon will benefit the Portland Police Bureau Sunshine Division.
March 16–17 | 1–10 p.m.
National event company Joonbug has a jam-packed weekend planned in Portland. The festivities kick off at the Lucky Hour party on Friday night from 5–10 p.m., featuring non-stop dancing and drinks. The evening is followed by a two-day stroll, which gets you into all the hotspots with no admission fee — plus a variety of drink specials. Take advantage of the group special available for groups of 4-10 people and purchase a multi-day pass if you want to party all weekend long!
March 16–17 | Varying Times
Photo Courtesy of Paddy's Bar & Grill
There's no better place to celebrate St. Patrick's Day than Paddy's Bar & Grill, the oldest Irish pub in Portland. Their 10th Annual St. Patrick's Day Festival Fundraiser is a two-day tented street festival with live Irish music, bagpipers, Irish dancers, and traditional Irish food and drinks. Enjoy pub favorites, including Guinness and Kilbeggan specials, and sip on house cocktails, their signature Irish coffee, or a premium whiskey. There will be over 1,000 pounds of corned beef and cabbage in addition to other Irish classics like Guinness lamb stew, shepherd's pie, and fish and chips. A portion of the net proceeds from this event will be donated directly to The Children's Cancer Association. The pub opens at 11 a.m. on Saturday and 8 a.m. on Sunday and the tent opens at 4 p.m. on Saturday and 9 a.m. on Sunday. The tent is family-friendly until 6 p.m., and kids 12 and under may get in for free!
March 17 | 2–7 p.m.
The All-Ireland Cultural Society is hosting the 78th Annual St. Patrick's Day Celebration, an iconic Irish tradition in Portland. Enjoy continuous entertainment from 2:30 to 7 p.m. at Aquinas Hall, including authentic Irish music, song and dance. Plus, there will be a special puppet show and face painting for children! Admission is $12 for ages 19 and older, $4 for children ages 3–18, and free for children 2 and under. Food and drink will be available for purchase.
March 17 | 7 p.m.
Photo Courtesy of Suzie Heide via Possibly Irish
Head to Oregon City for an Irish celebration you won't forget! Feckin Brewery is hosting their annual St. Patrick's Day party featuring all things Irish — beer included. This small brewery brews traditional Irish beers with Northwest influences and serves mouth-watering BBQ food smoked daily. Enjoy great food, foot-stomping Irish pub music from Possibly Irish, and lots of Irish-style beers. The band will be playing a variety of instruments, including bagpipes, an Irish whistle, an Irish flute, a banjo, a mandolin, and more.
Happy St. Patrick's Day!
What Irish festivities are you looking forward to? Let us know in the comments below!