Just take a quick stroll or drive through the streets of Portland and it will soon be clear that the city has a knack for craft beer. With over 60 breweries in the city (and counting!), there is no shortage of hand-crafted brews to sample — whether you prefer sours, IPAs, lagers, stouts or porters.
Let's embark on a craft beer adventure through Portland, uncovering some of the city's most well-known and lesser-known breweries. From spacious industrial settings with 20+ brews to smaller operations with a handful of tried-and-true options, these are some of the best breweries in Portland.
Photo Courtesy of Ex Novo Brewing Co.
This exceptional brewery in the Eliot neighborhood is not just brewing up delicious craft beers — they're brewing up change in their community. Ex Novo gives away 100 percent of their profits to organizations and causes building a better world and bringing hope to places where it is scarce. It is so clear that the brewery is passionate about social justice and helping others on both a local and global scale. Ex Novo makes some tasty brews, too — including a few year-round flagship beers on tap and an abundance of seasonal and one-off brews. You'll always find something fresh, new and interesting to enjoy at Ex Novo, no matter your taste preferences!
Photo Courtesy of Breakside Brewery
Experience something new and exciting at Breakside Brewery, a creative brewery always striving to push the boundaries of technique and flavor while maintaining a delicious profile with each creation. Breakside has three locations in the area, including the original space in Northeast Portland, a taproom in Milwaukie, and their newest location in the Slabtown district. Each has its own distinct atmosphere, but you'll find the same commitment to excellence and innovation no matter where you are. Year-round favorites include the Breakside IPA, Stay West, the Passionfruit Sour, Lunch Break, the Breakside Pilsner and the Wanderlust IPA.
Photo Courtesy of Upright Brewing
Just down the street from Ex Novo in Eliot is this intimate and casual microbrewery that has attracted a loyal following since opening in 2009. Upright Brewing specializes in farmhouse-inspired beers rooted in France and Belgium, made with a Pacific Northwest twist. The name "Upright" references the primary instrument of Charles Mingus, an excellent musician whose compositions defied categorization. The brewery aims to do the same by utilizing recipes and processes beyond boundaries, yielding an end result that aligns with Mingus' spirit of creativity and experimentation. Sample a wide selection of year-round and seasonal brews in their cozy tasting room, which is open Thursday and Friday from 4:30–9 p.m. and Saturday and Sunday from 1–8 p.m.
While Deschutes Brewery originally opened in Bend (and remains one of the best breweries in Central Oregon!), this powerhouse brewery is one of the best breweries in the state — and should certainly be mentioned here. It is, in fact, the eighth-largest craft brewery in the country! Taste a wide selection of beers brewed on site and enjoy hearty pub grub at this auto-body-shop-turned-brew-pub in the heart of the Pearl District. The Portland location features 26 taps of Deschutes mainstays plus a selection of seasonal and experimental beers developed and brewed on site. Deschutes also offers an extensive menu, featuring small plates, salads, sandwiches, entrees and desserts!
Photo Courtesy of Culmination Brewing
Tucked away in an industrial warehouse area in Kerns, you'll find this vibrant and popular brewery pouring a wide range of delicious brews — from their popular American IPA to a creamy Choco Mountain Milk Stout on Nitro. Culmination Brewing is built around the idea that sustainable manufacturing and building practices can and will lead to superior products and customer satisfaction. What a unique and important mission for a brewery! They believe great beer, good food and valuable community can be brought together in one concept, under one roof. And that has certainly been achieved at Culmination Brewing! Cozy up to the bar in the industrial-chic interior or relax on the patio to enjoy conversation with one of their top-notch beers in hand.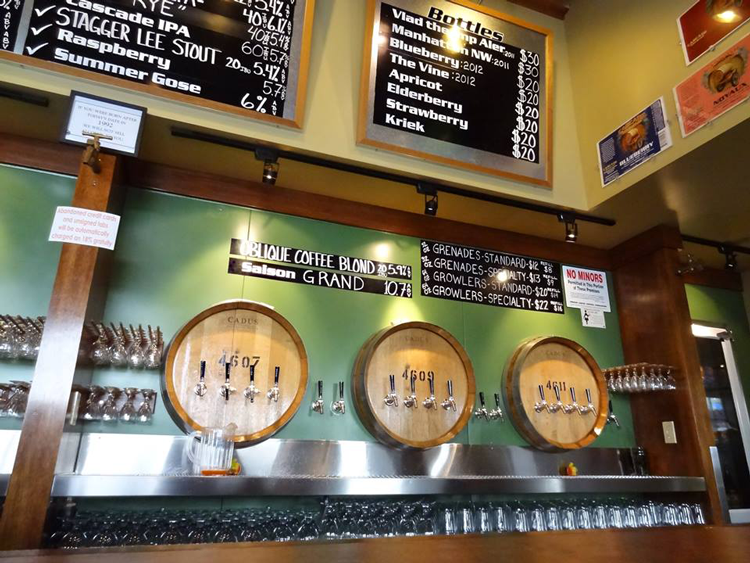 Photo Courtesy of Cascade Brewing
Cascade Brewing is pioneering the emerging Northwest-style sour beer movement. This specialty brewery is not defined by stylistic guidelines but instead follows their own imagination, incorporating the ingredients they can access. The Cascade Brewing blending house has more than 1,600 French oak, Kentucky bourbon and Northwest wine barrels, in addition to nine foudres filled with wheats, blondes, quads, reds, browns and porters that are aged and blended into magical elixirs. The result is aggressive tart notes balanced by residual sugars, fruits, spices, and oak. Sample these concoctions at the Lodge at Cascade Brewing in Southwest Portland or at the Cascade Barrel House in Southeast Portland, featuring more than 24 rotating taps with a heavy focus on sours.
This relatively new but already oh-so-popular brewery is focused on creating juicy, hazy IPAs and culinary-inspired sours and stouts. Great Notion operates a seven-barrel brewpub along Alberta Street in addition to a 30-barrel production brewery in Northwest Portland, which is not currently open to the public — but is expected to be open in late 2018! Great Notion's barrel program offers award-winning American sour ales aged for 9–24 months in oak barrels. A portion of the sour ales are blended with summer Oregon fruit, such as peaches, apricots, strawberries and cherries. Freshly emptied bourbon barrels age their imperial stouts on ingredients like roasted coffee, vanilla beans, chocolate and maple syrup. Taste the great brews at Great Notion in their rustic and cozy interior or out on the patio in the sunshine or shade!
Photo Courtesy of Jeff Alworth via Hair of the Dog Brewing Company 
Founded in 1993, Hair of the Dog Brewing Company is a mainstay in the evolving craft beer culture of Portland. Since the beginning, the brewery has focused on providing beer lovers with new and unusual styles in creative and original ways. Each beer has its own name and unique identity, much like the people who have inspired them. The list of classics reads like a list of friends, rather than beers. Beers like Adam, Bob, Fred, Greg, Lila, Matt, Michael and Ruth each have a distinct story involving family members and friends. This family-owned and -operated brewery in Buckman should not be missed.
Photo Courtesy of Ecliptic Brewing
From Oregon craft brewing icon, John Harris, comes the new and exciting venture of Ecliptic Brewing. After brewing at McMenamins, Deschutes Brewing and Full Sail, John has united two of his passions with Ecliptic — brewing and astronomy. The brewery focuses on the ecliptic, which is the earth's yearly path around the sun, through its branding and decor (including a massive light structure in the shape of the Analemma), and food and beer menus changing on a seasonal basis. The menu at Ecliptic rotates every six weeks, to reflect the Old World calendar: Samhain, Winter Solstice, Brighid, Spring Equinox, Beltaine, Summer Solstice, Lammas and the Autumnal Equinox. Ecliptic has an exceptional atmosphere — from the bright and modern interior to the airy outdoor patio with plenty of seating. Make your visit even happier by stopping by for happy hour all day Monday, or Tuesday–Friday from 3–6 p.m.
Photo Courtesy of Orion Landau via Wayfinder Beer
This brand new brewery project in Portland is a must-visit if you haven't been already. A 8,900-square-foot century-old brick warehouse in Portland's central eastside is home to Wayfinder, a popular brewery already making waves in the industry. Enjoy any of their beers on tap — from a refreshing Helles Radler to a comforting coffee pilsner — in their expansive taphall or out on the 2,000-square foot deck complete with a fire pit. Wayfinder uses their four-vessel, 10-barrel brewhouse to create world-class lagers and ales for both onsite enjoyment and wholesale distribution.
Base Camp Brewing Company is a small brewery producing innovative lagers and ales for the adventurous palate since opening their doors in 2012. They have fully embraced the culture of the beautiful Pacific Northwest, with both their outdoor-focused brewery (complete with a canoe hanging from the ceiling!) to the activities the staff enjoys in their spare time, like camping, skiing, fishing, hiking and more outdoor activities in the Portland area. Visit their brewhouse and taproom to see Base Camp's beautifully designed space and to sample their delicious beers designed for the outdoorsman! Their beers are available in bottles, six-packs of 12-ounce cans, and on draft.
Cheers to Craft Beer!
Which brewery in Portland serves your favorite beers? Let us know in the comments below!