Life in Bend is truly unique. It has a creative, outdoorsy and laid-back feel (with lots of craft breweries!), making it an ideal destination for visitors and an exceptional place to call home. Plus, this charming city in Central Oregon offers both city and country living, which is a rare combination you don't see too often. In a matter of minutes, you can go from city surroundings in the heart of Bend to a rugged trail with trees towering overhead.
If you currently live in Bend, you're most likely aware of the four distinct quadrants that make up this diversified city. Each has its own character, allure and attractions, varying significantly from quadrant to quadrant.
Residents living near the center of Bend experience a more city feel with many amenities within walking distance or a short drive, whereas the outskirts of the city remain relatively untouched and serene, providing a desirable sense of laid-back, country living. However, the spectacular natural beauty and scenery surrounding Bend provides an idyllic backdrop, whether you're living in a townhome in the heart of the city or a country estate nestled on a farm.
Take a look at the variety of attractions and activities to enjoy in Bend, whether you prefer faster-paced city living or a laid-back country lifestyle.
City Living in Bend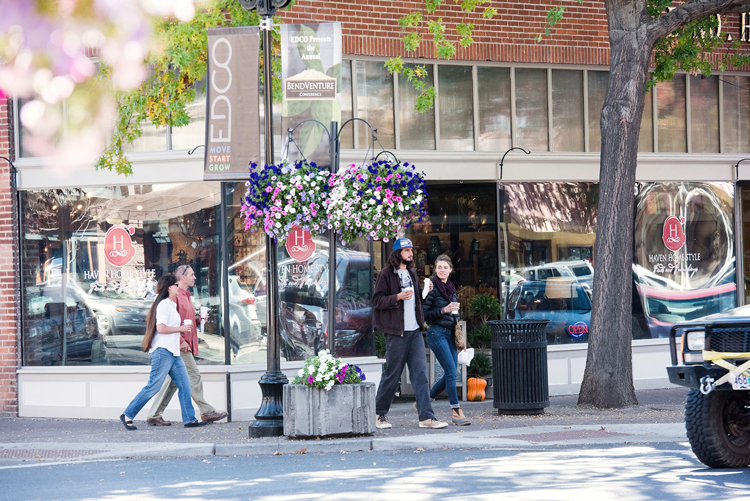 Grab a Cup of Coffee
There are so many exceptional coffee shops in town! Just take a look at some of our favorite coffee shops and roasters in Bend. Local favorites include Megaphone Coffee Co., Thump Coffee, Companion Coffeehouse, Backporch Coffee Roasters and many more.
Enjoy Lunch or Dinner
Bend has an array of local restaurants to choose from, whether you're looking for a light bite to eat or a hearty meal. A handful of local favorites include Barrio, Ariana, McKay Cottage, Spork, Pine Tavern, Zydeco Kitchen & Cocktails, Chow, The Sparrow Bakery, Drake, and 5 Fusion and Sushi Bar.
Visit a Brewery
This city doesn't just have a great selection of craft breweries. It's actually known for its incredible craft beer culture! Peruse some of the best craft breweries in Bend and Central Oregon, with favorites like Deschutes Brewery and Crux Fermentation Project, and smaller operations like Ale Apothecary and Boneyard Beer.
See a Show
Step inside the gorgeous Tower Theatre to see an exciting concert, film, or show! We are particularly passionate about supporting the arts and the efforts of this historic theatre. In fact, it is one of the many organizations the Hasson Company is supporting in 2018!
Go Shopping
Photo Courtesy of the City of Bend
Downtown Bend is bustling with activity, hosting a myriad of locally owned shops worth popping into. There are plenty of places to peruse, whether you're looking for clothing, accessories, antiques, electronics, eyewear, gifts, books, home decor or jewelry!
Visit McMenamins
The McMenamins Old St. Francis School in Bend has so much in store — including a hotel, a pub, a brewery, a movie theater, an event space, a hidden bar and even a soaking pool! This is an exciting all-in-one destination, especially for a jam-packed date night or staycation.
Admire Artwork at a Gallery
Take one look at the many art galleries in the city and it's clear that Bend is an artistic place. Residents and visitors alike gather at First Friday Art Walk, where they hop from gallery to gallery, sip wine, and admire the work of talented local artists. Popular art galleries in Bend include The Workhouse, Lubbesmeyer Fiber Studio & Gallery, Red Chair Gallery, Mary Medrano Gallery, Tumalo Art Co., Mockingbird Gallery, and more.
Go to the Old Mill District
The Old Mill District is filled with everything you might need in terms of dining, shopping, entertainment and relaxation. This massive collection of retail shops, restaurants and venues is a popular place to be for residents and visitors alike — to sip wine, grab a bite to eat, enjoy an event, take a walk along the river, go shopping and much more.
Hop on Board the Cycle Pub
Experience that craft beer culture we talked about from a new perspective — atop the Cycle Pub, a passenger "bike" resembling a trolley or cable car that takes you to some of Bend's best beer destinations. The Cycle Pub provides a driver so you can sip and snack while you pedal, while still providing the horsepower for the bike to move forward. This is an action-packed, hilarious experience so quintessential to Bend!
Country Living in Bend

Float Down the Deschutes River
The Deschutes River runs straight through Bend, offering endless opportunities for river activities, such as rafting, tubing, kayaking and more! Grab your own supplies for a relaxing kayaking trip, or opt for an action-packed adventure by booking a river rafting trip with Sun Country Tours. One of their most popular tours is the Big Eddy Thriller, featuring exhilarating Class III rapids. The company provides transportation to and from the river, all equipment needed, and expert guiding to make your adventure more enjoyable and safe.
Hit the Slopes
Mt. Bachelor is situated right in Bend's backyard. The mountain is a popular destination for a myriad of activities all year long, including skiing, snowboarding, tubing and snowshoeing in the winter, and mountain biking, hiking and disc golfing in the summer. Not to mention, this massive mountain is quite easy on the eyes and offers endless views of surrounding scenery from the top.
Stand Up on a Paddle Board
There are so many ways to enjoy this trendy sport in the Bend area. If you're new to stand-up paddle boarding, sign up with Tumalo Creek Kayak & Canoe, Sun Country Tours, Stand Up Paddle Bend, and Stand On Liquid for either private or group lessons. Or go solo at Riverbend Park in the Deschutes River or the Elk Lake Marina, where you can rent paddle boards by the hour!
Take a Hike
Hiking is one of the most common ways Bendites enjoy the great outdoors of Central Oregon. From short hikes to lengthy journeys, there are so many trails worth exploring in and around Bend. Popular hikes in the area include Pilot Butte State Park, the Upper Deschutes River Trail, Tumalo Falls, Sparks Lake, Dry River Gorge and Mirror Lake Loop Trail.
Cast a Line
There is no shortage of fishing holes in and around Bend, whether you prefer to cast your line in a river, lake, or a stream. Popular fishing spots include the Deschutes River, Crooked River, East Lake, Lava Lakes and more.
Go Golfing
Bend is a haven for golfers, who enjoy the area's plentiful sunshine and overall dry climate. The town has even been nicknamed "the Palm Springs of the North" due to its incredible golf culture! Check out River's Edge Golf Course, Tetherow Golf Club, Sunriver Resort or Widgi Creek Golf Club.
Chase Waterfalls
Along many of the area's hikes, it's likely you will encounter a breathtaking waterfall or two! In fact, some of the most stunning waterfalls in the state exist in Bend's backyard. Beautiful falls in the region include Tumalo Falls, Sahalie and Koosah Falls and Salt Creek Falls.
Go Biking
Bend has some of the best mountain biking trails and conditions in the state, so it's only right to take advantage of them! Mt. Bachelor turns into an oasis for mountain bikers during the summer, as the Mt. Bachelor Bike Park features a variety of popular ski runs transformed into daredevil dirt routes for bikers. Other popular mountain biking trails in the area include the McKenzie River Trail, Phil's Trail, Lower Whoops Trail and more.
Pitch a Tent
Experience all of these outdoor adventures (and more!) by completely immersing yourself in nature with a camping trip. There are so many wonderful campgrounds in the Bend area, including Tumalo State Park, Cove Palisades State Park, Paulina Lake Campground and Camp Sherman.
Let's Find Your Dream Home in Bend
Photo Courtesy of the City of Bend
If you're considering a move to Bend, let us know how we can help with the transition! Whether your preferred morning commute includes a trip to a nearby coffee shop or a walk around your expansive property, we can help you find your dream home in Bend.
Or better yet, create an account with Hasson to receive real-time property alerts for homes in Central Oregon that match your size preferences, desired location and other specifications.