You may have mastered your ABCs back in kindergarten, but it's time to revisit this age-old practice. Let's explore an entirely different alphabet, trading "dog" for Deschutes Brewery, and "violin" for Voodoo Doughnut. We're talking about the ABCs of Portland!
We're going back to elementary school with a lesson about local landmarks, hotspots, and various city features unique to Portland. Don't worry — this lesson won't end with a test!
Alphabet District
The Alphabet District is perhaps the most appropriate way to begin a list of ABCs. The district was given its name because of the blocks named alphabetically from south to north. This vibrant and artsy neighborhood is one of the most diverse and exciting areas in Portland, hosting an eclectic mix of businesses, historic homes, and other unique attractions. One of the more popular sections of the district is the NW 21st and 23rd Avenue neighborhoods, which host a collection of small and large businesses offering shopping, food, galleries, entertainment, and more.
Biketown
Powered by Nike, Biketown is Portland's unique bike share system, making commuting, running errands, and getting to appointments even more convenient — and fun! You can opt to pay as you go with a $5 start-up fee plus 8 cents per minute, or you can purchase a $19 per month membership fee or a $99 annual membership! Explore the Biketown map to find the bike hub nearest you.
Cartlandia
Portland is known for its incredible food carts, parked all throughout the city. Cartlandia is a one-stop-shop "pod" with over 30 carts to choose from. Take a look at some of the many unique dishes you can find at Cartlandia — and all throughout the Portland area.
Deschutes Brewery
Photo Courtesy of Deschutes Brewery
While it has made an impression in Portland, Deschutes Brewery opened its doors in Bend in 1988. And the brewery is known throughout the country, as it is the eighth-largest craft brewery in the nation! At each location, Deschutes firmly believes that "good beer brings people together" and they craft their brews accordingly, with the simple purpose of helping people spend meaningful time together.
Eliot
Located just across the river from downtown between Northeast Fremont and Northeast Broadway, Eliot is a vibrant and well-connected neighborhood. Eliot is considered one of the best residential areas for those commuting to work in other parts of the city. It's central, yet still a bit removed. Plus, you can venture into downtown for shopping, dining and entertainment, but you don't have to leave the neighborhood either, as Eliot holds its own as an entertainment destination.
Forest Park

Bordering the Northwest District to the west, Forest Park is one of the largest urban forest reserves in the country, spanning more than 5,100 acres of land. This lush park in the heart of the city is a popular place for residents and visitors to retreat and explore over 80 miles of trails!
Grotto
Surrounded by fir trees, colorful rhododendrons and other native plants, The Grotto is a 62-acre Catholic sanctuary welcoming more than 350,000 guests of all faiths each year. Visitors may see the marble replica of Michelangelo's famous Pietà carved into the base of a 110-foot cliff, or ride the elevator (for a small fee) to the top of the bluff for a breathtaking, panoramic view of the area. The low prices of admission at The Grotto make it one of our favorite things to do in the Portland area for less than $10!
Hoyt Arboretum

Hoyt Arboretum is another beautiful sanctuary in the heart of the city. It was founded in 1928 to conserve endangered species and educate the community. Explore the beautiful 190 ridge-top acres via 12 miles of hiking trails winding throughout the arboretum. You will encounter more than 2,300 plant species, 63 of which are vulnerable or endangered.
International Rose Test Garden
Not only is it a popular place to take guests visiting from out of town, but the International Rose Test Garden also offers one of the best views of the city and Mount Hood. The garden is the oldest continuously operated public rose test garden in the country. Stop and smell the roses — all 10,000 of them! — and take in beautiful vistas all the while. The garden is open daily and admission is free.
Jacqueline
Photo Courtesy of Christine Dong via Jacqueline
The Pacific Northwest is known for its exceptional fresh seafood, which means there is no shortage of oyster bars in Portland! Jacqueline is one of the best places to get inexpensive oysters, as their happy hour menu, offered Monday–Saturday from 5–7 p.m., has $1 oysters and $2 Rainier tall boys. Jacqueline is also an idyllic date night destination in the city!
Keep Portland Weird
Considered the unofficial mantra of the city, "Keep Portland Weird" can be seen on bumper stickers, murals, and signs all throughout Portland. It so accurately encompasses the quirkiness, individuality, creativity, and eclectic nature of our unapologetically free-spirited city.
Lake Oswego
Situated just south of the city, Lake Oswego is an affluent suburb of Portland with a strong sense of community and some of the most stunning luxury homes in the region. The city surrounds the sparkling Oswego Lake, a popular destination for swimming, boating and fishing. Lake Oswego is also home to Hasson Company's main office!
Mill Ends Park
You may have passed by Mill Ends Park a thousand times without realizing it. That's because the "park" measures 2 feet in diameter, making it the "World's Smallest Park". This tiny urban park is located on the median of Southwest Naito Parkway near Tom McCall Park and the Willamette River.
Nomad.PDX
Photo Courtesy of Jordan Fox/Rabbit Hole Photo via Nomad.PDX
Although it opened its doors just last year, Nomad.PDX has already become one of our favorite date night restaurants in Portland. This high-end, farm-to-table eatery boasts an eclectic, romantic and chic interior, providing the perfect atmosphere to indulge in the creative dishes crafted by executive chef Ryan Fox.
OMSI
The Oregon Museum of Science and Industry, or OMSI, is a science and technology museum with three auditoriums, a large-screen theatre, a planetarium, and a number of exhibition halls. The many hands-on exhibits at OMSI focus on natural sciences, industry, and technology. This is an exciting destination for all ages to explore, learn, and think outside the box!
Powell's City of Books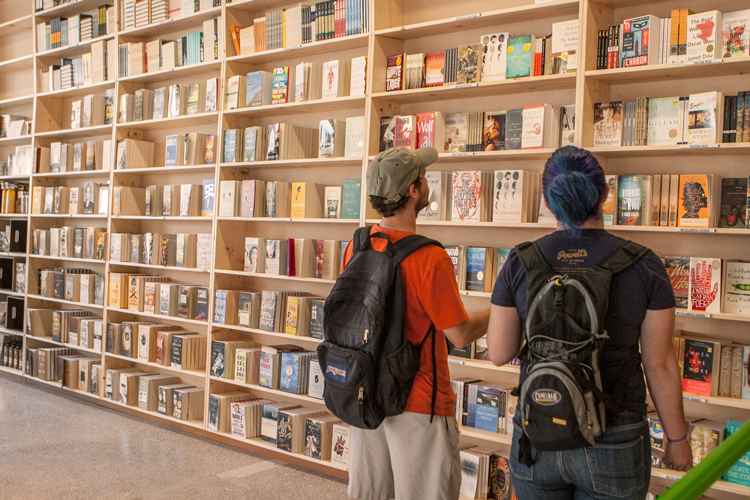 Photo Courtesy of Powell's City of Books
With over one million books in the store, Powell's City of Books is accurately called a "city", as this massive bookstore takes up an entire city block in the heart of the Pearl District. It's the perfect place to search for books both old and new, shop for unique gifts, or sit down with a cup of coffee at the cafe. It's also a great place to take out-of-town guests!
Q
Don't worry — we didn't forget to fill in this letter! Q is actually the name of an upscale and well-respected restaurant in the heart of downtown. The chefs at Q specialize in hyper-seasonal food, sourced locally. The menu draws inspiration from the staff's diverse backgrounds, which translates to an ever-changing and unique menu. Step into this stylish and romantic eatery for a culinary tour you won't soon forget.
Rivers (Columbia + Willamette)
Portland has not just one — but two — iconic rivers passing through it. The Columbia River, which separates Oregon from Washington before emptying into the Pacific Ocean, is the largest river in the Pacific Northwest. The Willamette is a major tributary of the Columbia and passes straight through the heart of the city. These iconic bodies of water are popular for boating, swimming, and fishing, and not to mention, they are pretty easy on the eye!
Salt & Straw
This Portland-based ice cream shop was launched in 2011 by cousins Kim and Tyler Malek, and has since expanded to several locations in Portland, and other cities along the coast, including Los Angeles, San Diego, San Francisco and Seattle. Salt & Straw serves up an exciting collection of exotic ice cream flavors, such as Strawberry Honey Balsamic with Black Pepper, Roasted Strawberry Coconut, Pear & Blue Cheese, Honey Lavender, and more.
Tusk
Photo Courtesy of A.J. Meeker via Tusk
Between the tasty food and the vibrant decor, dining at Tusk is an experience you need to have. From the team that created Portland's beloved Ava Gene's comes this bright and popular restaurant known for their incredible brunch. Their vegetable-driven Middle Eastern menu has critics raving. In fact, Food & Wine named Tusk the Restaurant of the Year for Portland in 2017!
University
With its vibrant arts culture, abundance of restaurants and bars, and overall hip vibe, Portland is an excellent city for college students and young professionals. Located in the heart of downtown, Portland State University is the only public urban university in the state located in a major metropolitan city. The four-year public research university has over 27,000 students, who benefit from the incredible programs, campus life, and central location of PSU.
Voodoo Doughnut
Photo Courtesy of Kevin Waterman via Voodoo Doughnut
Voodoo Doughnut is a quirky staple of our city. This eclectic doughnut shop serves up some interesting (and delicious!) doughnut flavors at all of their locations in Portland — and its outposts in other cities. In fact, there are over 50 unique creations on their roster, including Voodoo Bubble, Mango Tango, the infamous Voodoo Doll, and more.
Washington Park
Encompassing more than 410 acres of land just west of the city, Washington Park has it all. This expansive urban park is home to the Oregon Zoo, the Portland Children's Museum, the World Forestry Center, Hoyt Arboretum, the Portland Japanese Garden, and the International Rose Test Garden. The park also has 15 miles of trails winding through it. With all these attractions, it's easy to get lost! Get more details about Washington Park to orient yourself and make your visit more enjoyable.
pdX
Originally the three-letter airport code for the Portland International Airport, PDX has become the accepted abbreviation for the city. Other nicknames for Portland include City of Roses, Little Beirut, P-Town, City of Churches, Rip City, Stumptown, Bridge City, and more.
Yoga
The undeniable hippie vibe of Portland means there is no shortage of yoga studios in and around the city. There are plenty of opportunities to get connected to a yogi community at a studio or with a number of casual groups meeting throughout Portland. With over 5,000 members, the Free Community Yoga Meetup group offers free classes for all skill levels!
Zoo
Photo Courtesy of the Oregon Zoo
Founded in 1888, the Oregon Zoo is the oldest zoo west of the Mississippi River. The zoo holds more than 1,800 animals of more than 230 species, including 19 endangered species and nine threatened species. Exhibits are filled with lush greenery and specialized gardens, making it a peaceful and beautiful place for both animal residents and visitors. Admission to the Oregon Zoo is $17.95 for adults, $15.95 for seniors and military, $12.95 for youth, and free for members and children under 2.
…Now you know your ABCs!
Have no fear — there won't be a test over this lesson.