Let's be honest — sometimes gearing up for a camping trip can be a little exhausting. There are so many factors to take into account, such as the long list of essential gear, the campsite setup, and questionable weather conditions. But if you still want to escape to a beautiful setting and enjoy the great outdoors (without all the hassle!), "glamping", or glamorous camping, just might be the answer. Common glamping setups in the area include furnished canvas tents, yurts, treehouses, cabins, vintage trailers and more unique options.
Take a look at these desirable glamping destinations in Oregon and Southwest Washington, which provide unique accommodations, luxurious amenities and just enough rustic elements to make you feel immersed in nature. We've got you covered — whether you're looking for a getaway in the Portland area, Southwest Washington Central Oregon, and anywhere in between.
Photo Courtesy of The Vintages
Located in the heart of Willamette Valley, The Vintages Trailer Resort is a unique collection of restored vintage trailers available for rental. The trailers are grouped together in a neighborhood of sorts within a 14-acre RV park. Amenities include gourmet pour-over coffee from Caravan Coffee, luxurious terry cloth robes, comfortable mattresses and fine hotel-quality lines. Plus, each trailer comes equipped with a propane grill and all the tableware and utensils you might need for a complete meal.
Enjoy views of neighboring vineyards, cool off in the pool, play some yard games, or hop on the park's cruiser bikes to explore the nearby town of Dayton and surrounding areas. Take a look at all of the unique trailers available and plan an unforgettable glamping trip to The Vintages!
Photo Courtesy of Panacea at the Canyon
Unplug and unwind at Panacea at the Canyon, a signal-free 40-acre glamping resort and spa with an eco-conscious focus. This luxurious getaway invites visitors to relax in their holistic natural spa setting, where raw nature meets civilized luxury. Panacea is situated on 40 acres in the high desert of Central Oregon, about 45 minutes north of Bend. Book your stay in their luxury tents, complete with a plush pillowtop king or queen bed, a down comforter, an ensuite bathroom, hardwood floors, local organic bath products, organic linens and towels, plush robes, gas fireplaces, private decks with adirondack chairs, and footbaths.
Panacea has an opulent spa on site, offering massage therapy, a myriad of treatments, yoga and more. This is the perfect place to retreat after an active day spent exploring all of the activity that Central Oregon has to offer.
Situated just across the street from the Mt. St. Helens Visitor Center, Seaquest State Park is an excellent choice for those visiting this renowned volcano. The scenic, forested park offers plenty of trails for hiking and biking, plus more than a mile of shoreline on Silver Lake, a shallow wetland lake. Stay in one of the charming yurts situated in the wooded area of the park. Each yurt measures 16 feet in diameter and 10 feet high, and comes equipped with a queen-size futon, a bunk bed, a small end table and a heater. Just outside, you'll find a picnic table and a fire pit with a grate. All yurts are heated but be sure to bring blankets and warm clothing, as evenings at Seaquest State Park can be cool.
Photo Courtesy of Tyson Gillard via Outdoor Project
This 88-acre camping park along the East Fork Lewis River in Ridgefield boasts over 6,000 feet of freshwater shoreline. It is conveniently located near I-5, making it easily accessible for visitors who will still feel completely immersed in nature. The park has a number of yurts available for rent, providing a less rustic option for campers and travelers. Each yurt is 16 feet in diameter and 10 feet tall, and can accommodate up to five people. They come furnished with bunk beds that sleep three and a queen-sized futon for two. The yurts have one overhead light, an outlet, and a heater, and just outside, a picnic table, a fire grill, and a small deck. Plus, bathrooms and showers are conveniently located nearby. Yurt camping is a wonderful alternative to traditional tent camping, allowing you to experience nature while not worrying as much about campsite setup.
Photo Courtesy of Out 'n' About Treehouse Treesort
Travel off the beaten path with a visit to Out 'n About Treehouses, nestled in a peaceful valley in Southern Oregon. This village of treehouses is only part of a total of 36 private acres of pasture and woods, located alongside the Siskiyou National Forest. Each of the unique treehouses has a varying list of features and amenities, including private balconies, king and queen-sized beds, cozy lofts and more. Some sleep 2–4 people and some sleep 5–8 people, and all treehouses have electricity, mini fridges, and heaters for the winter months.
All guests enjoy a full breakfast each morning, which may include generous helpings of coffee, juice, fruit, fresh waffles or homemade pastries, cereal, quiche, scrambled eggs or omelets, and more. There are a number of activities to enjoy nearby, including horseback riding, zip lining, river rafting, hiking and more.
Photo Courtesy of Elk Lake Resort
Nestled along Elk Lake just west of Bend, Elk Lake Resort is located near city amenities, yet provides a rustic setting to get away from it all. The resort offers unique "glamping tents" providing the luxury and comfort of home in a beautiful wooded setting. Each tent comes equipped with everything you might need for an enjoyable stay, including a dining table, a picnic table, a lantern, bedding, linens, pillows and comforters. They even come with two futons to sleep a total of four people. You can even take a shower in the lodge using their complimentary shampoo, conditioner and soap. Set up your base camp at Elk Lake Resort to explore the many hiking trails, mountains, lakes, rivers and attractions throughout Central Oregon.
This collection of deluxe cabins, spacious lofts and unique coastal homes is closer to "glamorous" than it is "camping" when it comes to glamping. However, we had to include an option in Manzanita, one of our favorite coastal towns. The cottage at Coast Cabins provides a cozy tiny home feel, offering 440 square feet of space to comfortably accommodate two people. The cabin features a queen bed, a stone fireplace, two flat-screen TVs, luxurious towels and robes, a compact kitchen, a private outdoor hot tub, and much more.
If you love your visit to Manzanita enough, you might even consider calling it home! You can permanently live in Manzanita in this rare, charming 952-square-foot home nestled along the Oregon coast.
Central Oregon residents and visitors in search of a unique adventure — look no further than Bend Westy. This Bend-based company offers a complete DIY adventure experience by providing a fleet of rentals, including Westfalia camper vans, teardrop trailers and a myriad of helpful add-ons to complete your glamping experience. And better yet, whatever vehicle you rent can be driven to the destination of your choice!
The inside of the vans are meticulously designed to accommodate up to four people, and each rental comes equipped with a Drive Kit, Eat Kit, a hitch rack receiver, and a basic roof rack. The trailers can accommodate two people and comes equipped with an Eat Kit. These vintage-meets-luxury camping alternatives are an excellent way to explore Oregon in retro style.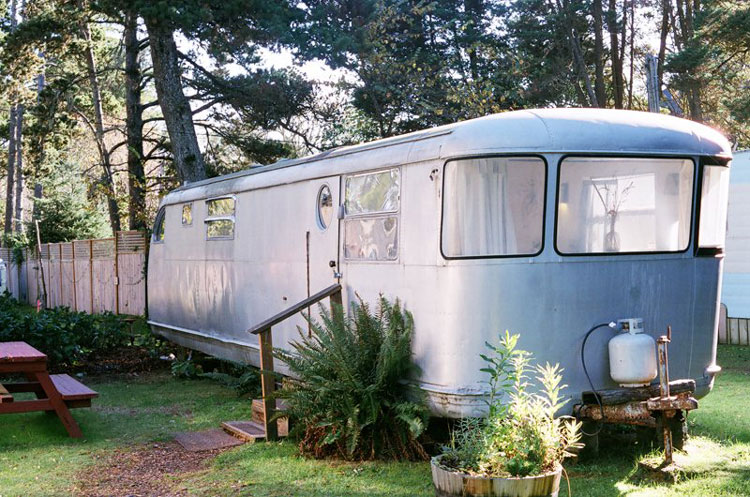 Photo Courtesy of Kate Rutter via Sou'wester Historic Lodge and Vintage Travel Trailer Resort
Nestled along the scenic Pacific coast in Seaview, the Sou'wester Historic Lodge and Vintage Travel Trailer Resort includes a unique blend of accommodation types, including private suites, cabins, vintage travel trailers, RV spaces and campsites. The fleet of over 20 renovated travel trailers from the '50s and '60s vary in size and list of amenities. But none lack an intense amount of character and vintage charm! Some are more simple and rustic, while others come fully equipped, sometimes with a kitchen, a full living room, multiple bedrooms, and a full bathroom.
Explore their collection of unique travel trailers for an unforgettable experience staying in this adorable coastal town. Sou'wester is situated a few blocks from the beach and just 15 miles from Astoria, providing an ideal location for exploring the rich history, renowned attractions and natural beauty of the Pacific coast.
Are you a happy glamper?
Which unique glamping spot are you excited to try out? Let us know in the comments below!