Portland's food cart scene is unlike any other. There is an overwhelming number of carts parked throughout the region, serving everything from your basic chicken tacos to a burger that has traded in buns for two grilled cheese sandwiches. Let's take a look at some of the more unique offerings you can find at the many food carts in Portland.
If you are new to the food cart scene here, you might want to head to one of the various food cart pods in the region as well. You can window shop from several (sometimes up to 30!) food carts before you make your pick. Popular food cart pods in and around Portland include Cartlandia, Happy Valley Station, BG's Food Cartel, Cartopia, Portland Mercado, and the Alder Street Food Cart Pod.
Where to Find the Cart: Cartlandia
Photo Courtesy of Pancake Underground
We've all had pancakes — but none quite like these. Pancake Underground serves a unique selection of both sweet and savory pancakes. Some of the more notable offerings include the P-Rex, a cheeseburger pancake slider with cheese and an apple BBQ sauce; the Iggy Pancake, a seared pork belly pancake slider with apple-jalapeño coleslaw and bourbon maple syrup; and the Eazy-P, a grilled cheese pancake served with housemade tomato basil soup. This relatively new concept is already making substantial waves on Portland's food cart scene!
Where to Find the Cart: Cartlandia
It's not every day that you hear about this culinary combo! Poco India is Portland's first Mexican-Indian fusion cart, serving innovative dishes all made with local, organic, non-GMO ingredients. They also provide a variety of vegetarian and vegan options as well. Dig into the Cubano Sandwich, served with savory pork, sweet ham, Swiss cheese, a thin-sliced pickle, and your choice of Makhani Mayo or Chipotle Tikka Masala Ranch. The Bacon Bites are created with cheddar and pepper jack cheese rolled in bacon and hand-dipped in homemade seasoned batter, fried to perfection, and served with sauce.
Where to Find the Cart: Cartlandia
Photo Courtesy of Voodoo Doughnut
You've most likely tried Voodoo Doughnut, whether you've only visited Portland once or have lived here for quite some time. This infamous doughnut shop is a quirky staple of our city. They certainly serve some unique doughnut creations at each of their locations, including their cart in Cartlandia. Voodoo has over 50 doughnuts on their roster, from Oh, Captain, My Captain topped with Captain Crunch, to the Bacon Maple Bar, a simple maple bar topped with an actual piece of bacon. You will find a curated selection of delicious offerings to choose from at their cart!
Where to Find the Cart: Corner of SE Foster Road & SE 52nd Avenue
Breakfast lovers, rejoice! The Egg Carton serves a fantastic selection of breakfast food and drinks on the corner of Foster and 52nd in Southeast Portland. They have been named one of the top food carts in the area, and people are raving about their FoPo Cristo, which includes a fried egg, two kinds of bacon, cheddar cheese, two kinds of mustard, and strawberry jam — all between two pieces of French toast.
Where to Find the Cart: Northeast PDX (NE 11th & NE Alberta Street) + Alder Street Food Cart Pod
Photo Courtesy of Grilled Cheese Grill
With two somewhat-permanent locations in the city (and the option to bring the bus to you with their catering services!), The Grilled Cheese Grill is delivering some of the most mind-blowing and unique grilled cheese creations around. Some of their more surprising offerings include the Jalapeño Popper, which includes grilled jalapeños, pepper jack, cream cheese, and corn tortilla chips on sourdough. The Cheesus Burger is an enormous burger with no buns. Instead, the buns are replaced with two grilled cheese sandwiches filled with Tillamook cheddar and American cheese, chopped pickles and grilled onions. As the menu states, "You won't need to eat again for two days."
Where to Find the Cart: 427 SW Stark Street, Portland + 13551 SE 145th Avenue, Happy Valley
You may not expect to find authentic Mauritian fare in the heart of Portland! Chez Dodo is bringing the street food of Mauritius to the tables of Portland and Happy Valley, with dishes like Mine Frire, which consists of pan-fried yakisoba noodles with mixed vegetables, and Dholl Puri, an island-style flatbread with crushed lentils and spices. The food is largely inspired by African, French, Indian, Chinese and Creole cuisines. Sample their creations at either of their two cart locations — in downtown Portland or Happy Valley!
Where to Find the Cart: The Bite on Belmont
Photo Courtesy of Viking Soul Food
Have you ever tried lefse? Do you know what it is? Delicious with both sweet and savory fillings, Norwegian potato lefse is a thin flatbread, rolled by hand and baked on a griddle. The finished product looks similar to a tortilla, but has a lighter texture and toasted potato flavor. You will find this delicious and authentic dish at Viking Soul Food, a Streamline Duchess aluminum silver trailer serving Scandinavian-inspired dishes that adhere to the philosophies and comforting qualities of the quintessential American "soul food."
Where to Find the Cart: 432 SW 3rd Avenue
When you combine the beloved taco bowl with Japanese food, you get the unique offerings at Richi's Modern Japanese Cuisine, a popular cart serving modern Japanese comfort food. Richi's serves bowls of miso chicken or ginger beef topped with American taco toppings over rice. They also have an exceptional ramen, plus a variety of vegetarian and gluten-free options.
Where to Find the Cart: Happy Valley Station
Photo Courtesy of Puffle Waffle
Inside the Happy Valley Station food cart pod, you'll find Puffle Waffle, a unique concept serving both sweet and savory sandwich-style waffles. Their offerings include sweet treats like Queen of Matcha with green tea ice cream, white chocolate, rainbow mochi, and matcha pocky with condensed milk. They also offer savory sandwich-style waffles if you're looking for something slightly less sweet, plus Italian sodas and milkshakes.
Where to Find the Cart: Cartlandia
This Airstream coffee shop on wheels serves a variety of breakfast pastries, sweets and other desserts. Bee's Cakes & Coffee specializes in special order cakes for birthdays and weddings, but the owner, Rebecca, is a trained pastry chef with a passion for coffee and providing excellent customer service. Get your coffee and a sweet bite to eat from this unexpected coffee shop on-the-go!
Where to Find the Cart: Portland Mercado
Mathilde's Kitchen is the only dedicated Haitian food cart in Portland. Owner Mathilde Aurelien Wilson is passionate about creating and serving authentic Haitian food, which draws influence from French, Spanish, Taino and African cuisines. Expect to be greeted with a warm smile at this incredible food cart in Portland Mercado, and of course — some delicious Haitian and Caribbean meals, including riots, bannann pesé, pikliz, goat, oxtail, beef stew, and a number of vegan/vegetarian dishes.
Where to Find the Cart: Piknik Park Food Cart Pod
Village Patisserie is a food cart nestled in the Piknik Park food cart pod in the Sellwood neighborhood, next door to New Seasons. The cart is accompanied by covered outdoor seating and an ATM (although they do accept debit and credit cards), and they are both bike- and dog-friendly. This mini pastry shop on wheels serves sweet and savory pastries, including everything from cupcakes to cream puffs. Everything is made by hand from scratch in small batches, which means they do sell out on busy days!
Where to Find the Cart: NE Alberta Street and 23rd Avenue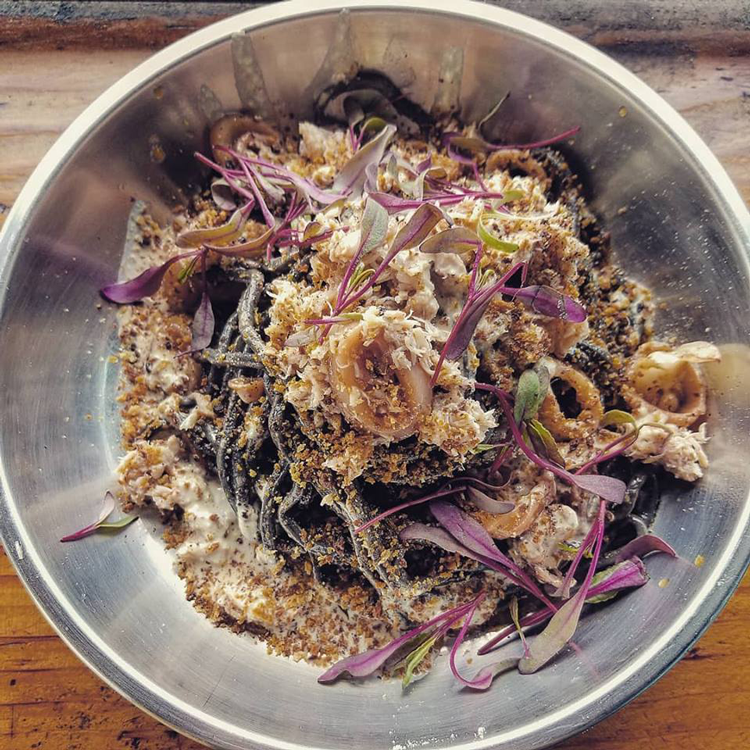 Photo Courtesy of Gumba
There's pasta. And then there's Gumba pasta. This exceptional food cart is serving some of the best pasta around, with a beautiful presentation you don't often see with mobile food. Their rich and firm pasta is served with burrata, fried shallots and sumac under flowers and fennel fronds. The "pizza frita" is another favorite. This Neapolitan-style elephant ear filled with porchetta, sage, peppers, pickled golden raisins, mozzarella, artichoke hearts, cascabel chile pesto, and salsa rossa.
Where to Find the Cart: Happy Valley Station + BG's Food Cartel
As you can imply from their name, it's all about avocado at Urban Avocado. They make a number of creative dishes using this versatile fruit as a staple ingredient. The Super Bowl is made Spanish rice, black beans, all-natural chicken breast, pico de gallo, cotija cheese, cilantro, sliced avocado, and a side of gluten-free chips.
Where to Find the Cart: Alder Street Food Cart Pod
No list about food carts in Portland is complete without mention of Nong's Khao Man Gai. After all, this is arguably the most well-loved cart in the city! At both the cart and the new brick-and-mortar restaurant location, Nong's Khao Man Gai is serving one of the most mind-blowing Thai delicacies, the Khao Man Gai. In fact, it's the only dish on the food cart menu. Khao Man Gai consists of chicken poached at sub-boiling temperatures. The broth is then cooked with rice and a variety of Thai herbs to enhance the flavor. The chicken is served with a pungeon sauce made from fermented soy bean puree mix with garlic, ginger, thai chilies, vinegar and sugar, plus a few vegetables and a light soup.
Where to Find the Cart: BG's Food Cartel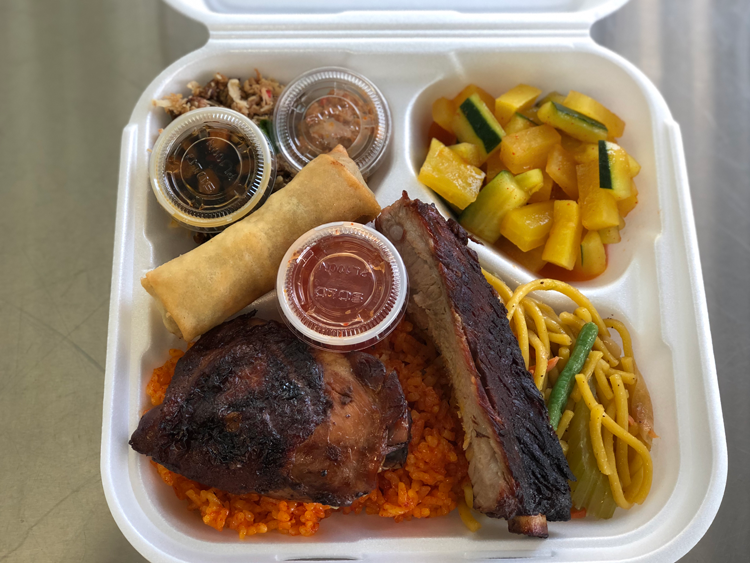 Photo Courtesy of Mariana's Food Cart
Few people have had the opportunity to taste the unique flavors and dishes from Guam. Taste authentic dishes from this island in the Western Pacific without a plane or boat. Mariana's Food Cart is serving a number of plates and sides providing a well-rounded taste of Guam, from the Fiesta Plate with a little bit of everything to the BBQ Plate with two delicious BBQ spare ribs.
Happy Food Cart Hunting!
Which unique food cart dishes in the Portland area are your favorite? Let us know in the comments below!