Mother's Day is this weekend! This special holiday is designed to celebrate moms and the immense joy they bring to our lives all year long. While this should be a constant practice, Mother's Day provides an excuse to pause and say thanks for their sacrifice, service and endless love.
There are so many ways you can celebrate mom in Lake Oswego this Mother's Day (and beyond!). Select one or two of these activities to celebrate and honor your mom, wife, mother-in-law or mother figure this Sunday!
Start With Coffee
Because any good day starts with a cup of coffee (or tea!), we had to steer you in the direction of some of our favorite local coffee shops. Sit down with mom and savor fancy lattes or sweet pastries together. Chuck's Place has a modern and fun interior plus an airy outdoor patio, providing the perfect atmosphere for enjoying coffee and any of their various baked goods. Blue Moon Coffee recently moved to a new location, and has remained a popular coffee shop in Lake Oswego. They operate out of the Washington Federal Bank branch lobby in downtown, providing the perfect pit-stop before you spend the day in Lake Oswego! Boasting a bright and spacious interior and outdoor patio, Ava Roasteria is a local shop with several locations throughout the region.
Go to Brunch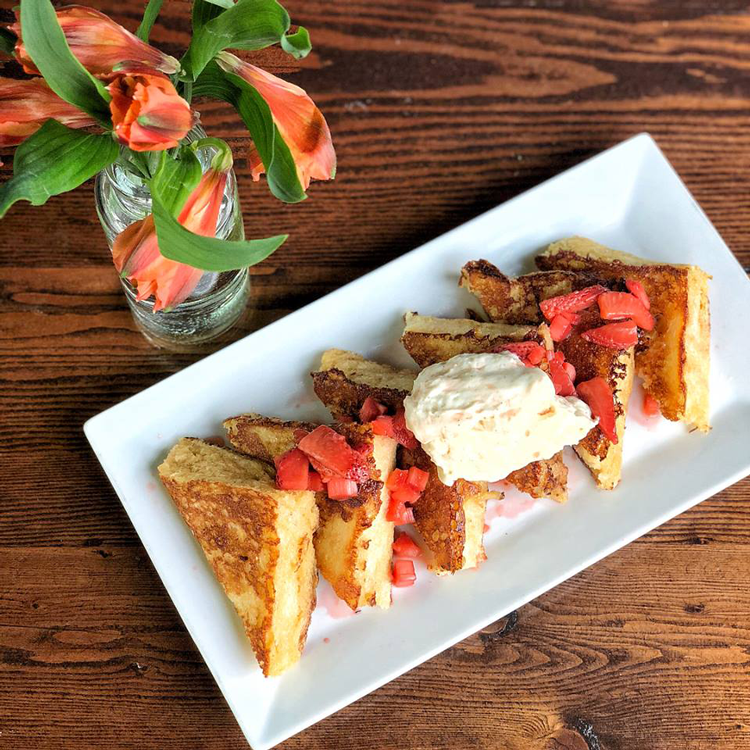 Photo Courtesy of Tavern on Kruse
Brunch is a quintessential Mother's Day activity. Thankfully, there is no shortage of brunch hotspots in Lake Oswego! Tavern on Kruse is serving a special Mother's Day brunch, and Stanford's and Manzana are serving both a Mother's Day brunch and dinner, if you would prefer to celebrate with mom at a special dinner. Make your reservations for any of these special dining experiences, as Mother's Day is a popular day for dining out!
Visit a Garden
Admire the inspiring natural beauty of the area at the Elk Rock Garden at the Bishop's Close, located on a hillside estate overlooking the Willamette River. The gardens sprang up in 1916 on a 13-acre estate owned by Peter Kerr, who passed the property along to the Episcopal Diocese of Oregon after his death in 1957. The beautiful gardens are dotted with a manor house and various structures throughout. The gardens are open to the public every day from 8 a.m. to 5 p.m.
Grab Lunch
Photo Courtesy of Nicoletta's Table and Marketplace
Nicoletta's Table and Marketplace is an excellent destination for a quick lunch stop on Mother's Day. This authentic Italian restaurant, deli and marketplace serves homemade pastas, pizzas and salads. Plus, the marketplace on site offers fresh cut-to-order pasta, a variety of antipasti, and Italian meats and cheeses. The restaurant combines Italy's rustic charm and the Pacific Northwest's vibrancy while serving authentic Italian food. Enjoy a delicious, fresh and hearty meal celebrating mom, and you can even spoil her with a few gifts (including a floral arrangement) in the marketplace on the way out!
Sample Wine
If little ones are not a part of the agenda, sipping on wine is the perfect Mother's Day activity. The Harvest Wine Bar is an intimate cafe and bistro in the heart of the Westlake community serving an extensive selection of wines from around the world. Cozy up inside or relax on the gorgeous shaded patio to enjoy their wide variety of regional and global wines in addition to food from their full lunch and dinner menus. This is a wonderful option for celebrating mom either before or after Mother's Day, as The Harvest Wine Bar is closed on Sundays and open from 4–9 p.m. on Saturdays!
Or travel just up the road to the rural and scenic Oswego Hills Vineyard and Winery in West Linn. Every Sunday, Oswego Hills Vineyard and Winery offers tastings during the afternoon. Plus, this Mother's Day, they are serving a special Mother's Day Luncheon in their new event center from 12–4 p.m. Reservations are required with seating times available from 12–2:30 p.m. Call 503-655-2599 or email help@oswegohills.com to make a reservation.
Sip on Tea
Photo Courtesy of La Provence Boulangerie & Patisserie
What is Mother's Day without a good old-fashioned tea time? La Provence Boulangerie & Patisserie is a French-style bakery and bistro serving an array of cuisine, from breakfast to dinner, in addition to a wide selection of baked goods and pastries. La Provence also serves a great selection of coffee and tea, whether you prefer your tea served hot or over ice! Duck into their cozy interior for a quiet pause in the day.
Grab a Sweet Treat
Photo Courtesy of Studio Christy via NOLA Doughnuts
It's always a good idea to spoil mom with a special sweet treat.
Take mom to New Orleans without the expensive airfare with a trip to NOLA Doughnuts. All their dough is handcrafted over a three-day process using a layering technique commonly found in French pastry making. However, their delicious signature NOLA-style beignets are made to order!
Even gluten-free moms can indulge their sweet tooth at Kyra's Bake Shop, an entirely gluten-free bakery serving a wide variety of cupcakes, cookies, bar treats, pretzel dogs, and more.
With three locations in Portland and one in Lake Oswego, St. Honoré Bakery is a cozy, rustic boulangerie. Order a savory snack at this French cafe or go straight to the dessert menu with a number of delectable cakes and sweet treats.
See a Show
Photo Courtesy of Lake Theater and Cafe
Enjoy a movie, lake views, a meal, and drinks all in one setting at Lake Theater and Cafe. This historic theater serves a variety of food and drinks to enjoy while watching a movie in one of their two theaters, or simply taking in lake vistas on the airy patio. The main auditorium features plush seats in a stadium-riser setting, and the event space features cabaret-style seating with tables and chairs on the main floor and traditional theater seating in the balcony. Guests may eat and drink in both venues! Take a look at upcoming showtimes to plan your visit to Lake Theater and Cafe.
Or see a live-action performance at Lakewood Center for the Arts, a two-stage venue with an upscale thrift shop, local art gallery and snack bar on site. Take a look at the current season to see upcoming shows (if you are celebrating Mother's Day on a day other than the holiday). On May 13, you can see Sister Act at 7 p.m.!
Happy Mother's Day!
No matter how you are celebrating, we wish you a happy Mother's Day filled with love, relaxation, and all things sweet.