Perfecting a margarita is certainly an admirable trait. Thankfully, there are plenty of eateries in and around Portland that have mastered the art of margarita making. Over the years, these Mexican restaurants in Portland have received accolades and attention for their delicious tacos, burritos, quesadillas and of course — their unparalleled margaritas.
Whether you prefer yours on the rocks, frozen or straight up, these margaritas in Portland are sure to please.
Photo Courtesy of Marika Tomkins via Santa Fe Taqueria
For over 20 years, Santa Fe Taqueria has been serving up authentic Mexican food derived from traditional recipes passed down from owner Danny Cardosa's mother. The restaurant is the perfect destination for both on-the-go diners or those who wish to sit down with a hearty meal accompanied by a margarita. The selection of margaritas at Santa Fe Taqueria ranges from the classic Santa Fe Margarita to the floral Elderflower Margarita, and everything in between.
2135 Southeast Division Street
Photo Courtesy of Nuestra Cocina
Nuestra Cocina is a local favorite — for the exceptional Mexican fare, delicious margaritas and overall inviting atmosphere. The restaurant is a collaboration of two renowned restaurateurs and chefs, Benjamin Gonzales & Shannon Dooley-Gonzales, who also happen to be husband and wife! The cuisine style at Nuestra Cocina can be described as old peasant style Mexican cooking, with items like handmade tortillas, Cochinita Pibil, Gorditas, and Camarones con Tamarindo on the menu. The bar features a wide selection of tequilas, including house-infused tequilas, used to make their unrivaled margaritas. Choose the basic Margarita de la Casa or venture into the Margarita de Granada, made with ginger-infused silver tequila, pomegranate and lime.
The Conquistador Lounge in Portland's Buckman neighborhood is an eclectic spot for a couple of reasons — the retro, cozy interior and the entirely vegetarian menu. This vibrant hotspot is frequented for its superb margarita selection and daily happy hour from 4–7 p.m. Choose from an array of margarita flavors, including prickly pear, mango, passion fruit, lime, strawberry, jalapeño, coconut, hibiscus and more.
16360 Boones Ferry Road, Lake Oswego
This modern Mexican restaurant recently opened its doors in Lake Oswego in March 2012. The chef dishes a distinct flare on traditional recipes, blending indigenous and Spanish influences to create something beautiful. Jefe Mexican Restaurant has a large liquor and wine selection, but their Casa Margarita is certainly a fan favorite. Spice things up with their Agave Abloom Margarita, made with Lunazul Blanco, fresh lemon and St. Germain Elderflower Liqueur with a cinnamon sugar rim.
3524 North Mississippi Avenue + 4635 Southeast Hawthorne Boulevard
Photo Courtesy of ¿Por Qué No?
As you may know, ¿Por Qué No? means "why not?" This phrase so perfectly describes the spirit of this forward-thinking eatery, which focuses on supporting the local economy and community, and making Portland and the world a better place. This casual order-at-the-counter cafe has two locations in Portland, both of which are consistently packed. Don't miss the happy hour menu at ¿Por Qué No? available every day from 3–6 p.m. and 3 p.m. to close on Tuesdays. You can get $1.50 off their margaritas, which are considered some of the best in the city. The classic margarita is a great place to start, but ¿Por Qué No? offers an array of creative concoctions, like the Mezcal Margarita served with a chile salt rim and an orange wedge.
727 Southeast Washington Street
Photo Courtesy of dlreamer via Taqueria Nueve
There was a gaping hole in the Portland dining scene when Taqueria Nueve closed its doors in 2000, but thankfully, this vibrant and colorful eatery opened once again in 2008. It now occupies an industrial-chic space in the heart of Southeast Portland, where you will find their infamous signature dishes and some of the best margaritas around. The standard T9 Margarita can't be missed.
2940 Northeast Alberta Street + 3060 Southeast Division Street
At each of their locations, Stella Taco is serving up a myriad of delicious tacos and tasty margaritas to match. This Mexican-meets-Texan-inspired eatery is the perfect place to grab a quick bite to eat during a busy day, or to linger a bit longer with friends over margaritas at large family-style tables. Stella Taco's dine-in happy hour takes place every weekday from 3–6 p.m., which includes $2 select tacos and $1 off margaritas and draft beer. Their margaritas are already fairly reasonable at $5–8, so this is a great deal!
16305 Southwest Barrows Road #100, Beaverton
Photo Courtesy of Casa Lola
Casa Lola is an excellent Mexican eatery in the heart of Beaverton. In addition to their popular weekend brunch and creative yet authentic dishes, Casa Lola has a mean bar menu. The classic Casa Lola margarita can be made plain or with strawberry or passion fruit flavoring. Or opt for their Top Shelf margarita, made with Don Julio Añejo, orange liqueur, citrus and agave nectar. Enjoy Casa Lola's happy hour menu every day from 2–5 p.m. and 8 p.m. to close!
3715 Southeast Division Street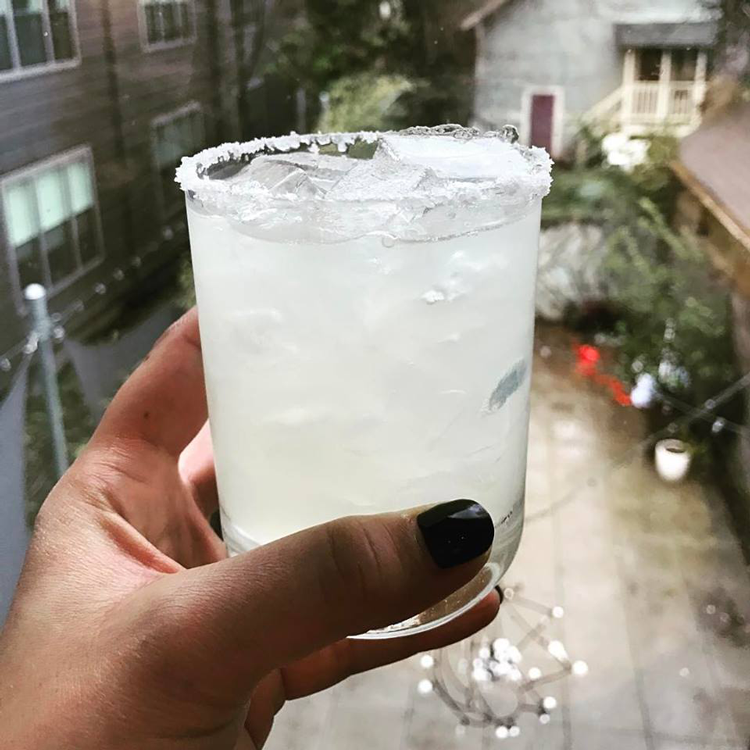 Photo Courtesy of Xico
We can't decide whether we like the interior or the outdoor patio of Xico better — both are inviting, fun and full of character. Wherever you're seated, you'll enjoy the refreshing, creative and handmade Oaxacan fare at the stylish Xico in East Portland. You can't go wrong with any of their margaritas, including the Xico Margarita or the Cadillac Margarita, made with Reposado tequila, Combier, lime, sugar and Grand Marnier float, served on the rocks with salt.
1438 Northwest 23rd Avenue + 2424 East Burnside Street
Photo Courtesy of The Matador
With a location in both Northwest Portland and East Portland, The Matador is a vibrant 21+ eatery with a focus on fresh Mexican cuisine and specialty margaritas. Each location offers outdoor seating and a daily happy hour from 4–6 p.m. and 10 p.m. to 1 a.m. Choose from the robust selection of margaritas at The Matador, from the basic House Margarita to specialties such as the famous Tamarind Margarita with a cinnamon sugar rim or the Cucumber-Jalapeño Margarita with chipotle salt rim.
Photos Courtesy of Ashley Johnson via Holy Taco
Tucked away in Lake Oswego's Lake View Village is this Mexican food gem. Holy Taco serves an array of authentic Mexican dishes for breakfast, lunch and dinner, accompanied by an exceptional drink menu. Their happy hour menu is served from 2–6 p.m. and 8 p.m. close, which includes drinks for just $7 — whether you're craving the Holy Margarita or a classic Sangria.
Both the plates and drinks at The Goose are bursting with color and flavor. This Kerns hotspot serves Southwestern fare paired with handcrafted cocktails made from scratch, including a seasonally rotating margarita menu. There is a creative margarita to please any palate at The Goose, from the Classic to the Prickly Pear, and just about everything in between (like the Pineapple-Jalapeño margarita!).
Photos Courtesy of Que Pasa Cantina
This quaint and cozy eatery has received lots of attention for its authentic Mexican dishes and out-of-this-world margaritas. Que Pasa Cantina serves a variety of traditional dishes in addition to items with a modern twist, including their popular chicken enchilada casserole, fish tacos, goat cheese stuffed jalapeños, and tres leches cake. Select a margarita from their lengthy drink menu and relax on the outdoor patio or inside the eclectic dining room at Que Pasa.
Cheers!
Who serves your favorite margarita in the Portland area? We'd love to know your favorite hotspots! Let us know in the comments below.