Whether or not you're sticking to a budget, it's always nice to save a few bucks while exploring a city and all that it has to offer. Thankfully, there are so many wonderful things to do, see and taste in the Portland area that won't break the bank. In fact, many, if not most, of these options are completely free!
Take a look at the many things to do in the Portland area for less than $10. This list may just save you some time, money and stress!
$2–4
The historic Mission Theater in Northwest Portland offers special movie screenings, live music, engaging talks, select sports event screenings, and other fun experiences. Order food and drinks at the full bar and concession stand, and sit back, relax and enjoy the show at this restored historic theater. The best part? Admission is just $2 for adults and children for shows starting before 5 p.m., and $4 for adults and $3 for children after 5 p.m., unless stated otherwise.
FREE
Photo Courtesy of Powell's City of Books
This Portland staple is enjoyable for both locals and visitors alike! Explore the wide selection of books — all one million of them! — housed in the legendary Powell's City of Books, which takes up an entire city block. Unless you find a book or two to take home, exploring the bookstore is of course completely free!
FREE
Head to the historic Old Town/Chinatown neighborhood for this lovely weekend tradition dating back to 1974. The weekly Portland Saturday Market is nationally recognized as the largest continuously operating open-air arts and crafts market in the country. Shop from small businesses from the PNW creating locally handmade arts, crafts and foods at this massive market operating every weekend through December 24 on Saturdays from 10 a.m. to 5 p.m. and Sundays from 11 a.m. to 4:30 p.m.
$6–9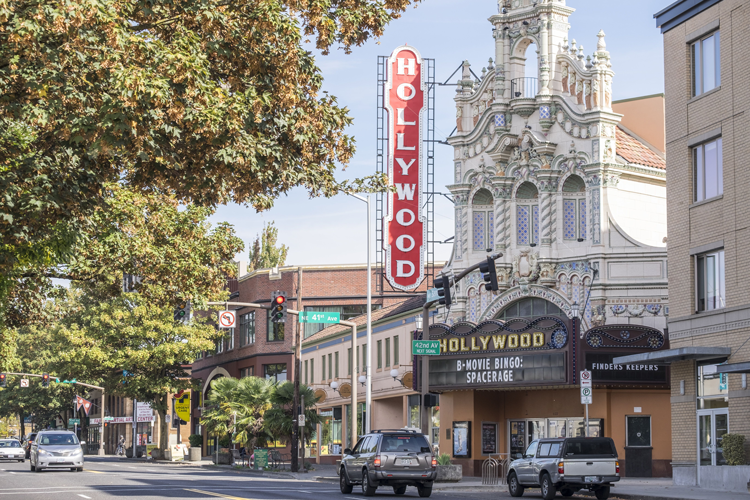 This Portland landmark theatre has a national reputation for award-winning film programming, innovative educational programs, and providing fiscal support for local filmmakers. Head to the Hollywood Theatre to see classic and contemporary films, live performances and more in a nostalgic setting. Tickets are typically $6 for matinees and $9 for night showings.
Sample Exotic Ice Cream Flavors at Salt & Straw
Varying
It's likely you've visited Salt & Straw if you've lived in the area for awhile (or in other major West Coast cities!). It's always wise to revisit this unique ice cream shop, as they are always reinventing their collection of unique and exotic flavors, such as Strawberry Honey Balsamic with Black Pepper, Roasted Strawberry Coconut, Pear & Blue Cheese, Honey Lavender, and more. This Portland-based ice cream shop was launched in 2011 by cousins Kim and Tyler Malek, and has since expanded to several locations in Portland, and other cities along the coast, including Los Angeles, San Diego, San Francisco and Seattle.
Embark on a Brewery Tour
FREE
Get a sneak peek behind the scenes of some of the city's best brewers, as they reveal their brewing techniques and practices. There are a number of local breweries offering tours — a couple of which are completely free! Hopworks Urban Brewery offers free brewery tours every Saturday at 3 p.m. and Portland Brewing Company offers free brewery tours every Saturday from 12–6 p.m. (no tours offered between 2:30 and 3 p.m.). The tour includes three samples of your choice of current tapped beers.
FREE
The view at the Portland Rose Garden is always spectacular, and constantly changing, as new roses and plants are planted, blooming and growing. Portland's International Rose Test Garden is the oldest continuously operated public rose test garden in the country. Stop and smell the roses — all 10,000 of them! — and take in one of the most spectacular views of the city and Mount Hood in the distance. The garden is open daily and admission is free.
Varying
Photo Courtesy of Voodoo Doughnut
No Portland-centric list would be complete without mention of this staple sweet treat shop. With two locations in the city (and a food cart!), you have many opportunities to track down Voodoo's delicious doughnuts. Choose from their unique doughnut options, including Oh Captain, My Captain loaded with Cap'n Crunch, a Bacon Maple Bar, and the infamous Voodoo Doll.
Stroll Through the Park
FREE
Visiting a local park is of course one of the easiest things to do for free, no matter where you are! The Portland area is packed with parks, from small community parks with playground equipment to massive green space spanning several acres. Forest Park is one of the largest urban forest reserves, covering more than 5,100 acres, and Washington Park features a number of attractions, including the Oregon Zoo, the Portland Rose Garden, the Portland Japanese Garden, and 15 miles of hiking trails.
Upper Garden: $6 General Admission, $5 Seniors/Military + $3 Ages 6–12
Photo Courtesy of Larry Kirby via The Grotto
Surrounded by fir trees, colorful rhododendrons and other native plants, The Grotto is an inviting destination for all. This 62-acre Catholic sanctuary welcomes more than 175,000 guests of all faiths each year. Visitors may see the marble replica of Michelangelo's famous Pietà carved into the base of a 110-foot cliff, or ride the elevator (for a small fee) to the top of the bluff for a breathtaking, panoramic view of the area. Admission to the lower garden, the Grotto, the chapel, the visitor center and gift shop are free. A visit to the Upper Level Garden requires admission costing $6 for adults, $5 for seniors and military, and $3 for children ages 6–12.
FREE
Learn about area history — particularly the history of Lake Oswego — at the Oswego Heritage House and Museum. The museum serves as an historic resource and focal point for local history, with both permanent and rotating exhibits. Plus, explore the beautiful rose garden located on the east side of the house and take note of the iron ore cart from the time Oswego was "Pittsburgh of the West." Admission to the Oswego Heritage House is free and open to the public Monday, Tuesday and Thursday from 10 a.m. to 3 p.m. or by appointment.
$6 For Adults, $5 For Seniors + $3 For Children 3–12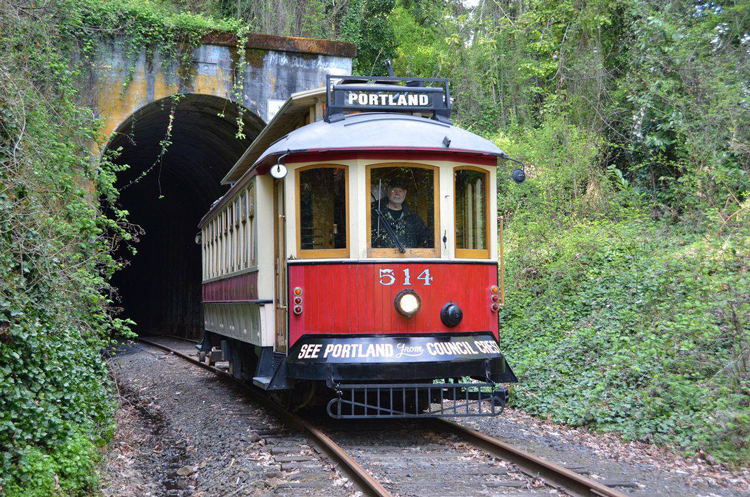 Photo Courtesy of Wayne Jones via Willamette Shore Trolley
Take in the scenic views of the Willamette and surrounding features with a ride aboard the Willamette Shore Trolley. This vintage trolley travels from Lake Oswego into a dark tunnel, meandering through posh neighborhoods, along the Willamette into Powers Marine Park, and then back to Lake Oswego. With low fares for both adults and children, this makes for an excellent family outing, date night or activity for visiting family and friends!
FREE
Photo Courtesy of the Portland Farmers' Market
There is an abundance of farmers' markets scattered throughout the Portland Metro, no matter what day of the week it is! Explore the seven farmers' markets in Portland and the others throughout the area, including the Beaverton Farmers' Market, Hillsboro Farmers' Market, Lake Oswego Farmers' Market, and more.
FREE
Photo by Heidi Hoffman, Courtesy of Portland Central Library
This historic library built in 1913 is the oldest public library on the West Coast. Portland Central Library hosts more than 17 miles of bookshelves and artwork in a beautiful building with ornate stairs and a 14-foot bronze tree in the children's area. This historic three-story library is both an architectural wonder and an excellent literary resource.
FREE
There is so much to do and see at the Oregon Rail Heritage Center, open Thursday and Friday from 1–5 p.m. and weekends from 12–5 p.m. Explore their latest exhibit, receive a guided tour of their engines, or browse the gift shop. You can even hop on board the Oregon Pacific Railroad for a short trip to the Oaks Bottom Wildlife Refuge on Saturdays! Admission to the Oregon Rail Heritage Center is free and donations are greatly appreciated.
FREE
There are several wonderful yoga studios in the Portland area, providing an idyllic setting for enjoying this rejuvenating practice. Joining the Free Community Yoga group is an alternative way to be a part of an empowering yoga community. This Meetup group is open for all levels of yogis, and admission is always free. This group makes everyone feel comfortable and safe within their skill level and individual abilities. Become a part of this inspiring community (with nearly 5,000 members!) to improve and inspire your practice.
Admire Natural Beauty at the Hoyt Arboretum
FREE
Hoyt Arboretum encompasses 190 ridge-top acres accessible by 12 miles of hiking trails. It is a source of beauty and serenity during all seasons. The arboretum hosts more than 6,000 specimens from around the world, including more than 2,300 species, 63 of which are vulnerable or endangered. Hoyt Arboretum serves as a living laboratory where everyone can enjoy trees and plants, both familiar and unexpected. The arboretum grounds are open and free to the public from 5 a.m. to 9:30 p.m. daily.
What affordable activities do you love in the Portland area?
Share your favorites in the comments below!