Showcasing our beloved city to guests can be a daunting task, as you attempt to provide an adequate sample of the culture, cuisine and unique attractions. There needs to be a healthy balance of touristy must-dos and local hotspots for a well-rounded experience!
No matter how long you've lived in the Portland area, you may draw a blank when giving suggestions for visitors or creating an itinerary as you become their personal tour guide of the city. As you get into your routine, which includes work, kids' activities, grocery store visits and the like, you may forget what it's like to visit the city for the first time!
Thankfully, we collected some suggestions for places to take out-of-town guests in Portland to spark some ideas during their visit. Consult this list for the ultimate tour of the City of Roses!
Photo Courtesy of Powell's Books
No trip to Portland is complete without a visit to Powell's City of Books, the largest independent new and used bookstore in the world. This book empire in the Pearl District occupies an entire city block and houses over one million books. Peruse their massive collection throughout nine color-coded rooms with over 3,500 different sections varying in topic. This is an excellent rainy day option for visitors!
Photo Courtesy of Jim Fullan via Travel Portland
No matter how many times you've been to the Portland Rose Garden, the view never gets old. Portland's International Rose Test Garden is the oldest continuously operated public rose test garden in the country. Stop and smell the roses — all 10,000 of them! — and take in one of the most spectacular views of the city and Mount Hood in the distance. The garden is open daily and admission is free.
Photo Courtesy of A.J. Meeker via Tusk
Portland has some exceptional brunch options. We put together a list of 13 top-notch brunch spots in the Portland area so you can spend less time searching on Google Maps and more time deciding, "Mimosa or Bloody Mary?" Tusk boasts one of the most beautiful interiors in the city, Hunnymilk is a unique pop-up brunch concept, and Bröder has three locations in the area serving unique Nordic fare.
See Mill Ends Park, the World's Smallest Park
By atul666 from Portland, USA (Mill Ends Park) CC BY-SA 2.0, via Wikimedia Commons
You may have driven past this iconic park and not even noticed it. Measuring 2 feet across with a total area of 452 square inches, Mill Ends Park is the smallest park in the world, according to the Guinness Book of Records. This tiny urban park is situated in the median of Naito Parkway near the river. Stop by and share with your guests the fascinating history about this miniature park!
Stop for a Snack at One of Portland's Food Carts
As you know, Portland is known for its fleets of food trucks that reside throughout the city, often in the same central location. Grab a midday snack or an entire meal at one of the many food carts lining the streets. Head toward 10th and Alder, where you'll find a large collection of Portland's famed food carts parked between Southwest Alder and Washington Streets. But check out this map to discover all of the food trucks throughout the city! Most carts are open for extended lunch hours on weekday afternoons.
Guests simply must visit this eclectic doughnut shop that is so quintessentially "Portland". Read them the shop's history as you stand in the inevitably long line, then choose from their unique doughnut options, including Oh Captain, My Captain loaded with Cap'n Crunch, a Bacon Maple Bar, and the infamous Voodoo Doll. The original location is situated in the heart of downtown, but they have since expanded to the east side, a food cart, and in other cities throughout the country!
Learn About Portland's History at the Pittock Mansion
Photo Courtesy of Pittock Mansion
A visit to the beautiful Pittock Mansion is an excellent way to learn about the area's history in an interactive way. Built in 1914, the mansion museum tells the story of Portland's transformation from pioneertown to a more modern and industrialized city. Discover the history and legacy of the Pittock family, one of the city's most influential families as you explore this historic house museum with either a self-guided or guided tour!
Snap Photos For Instagram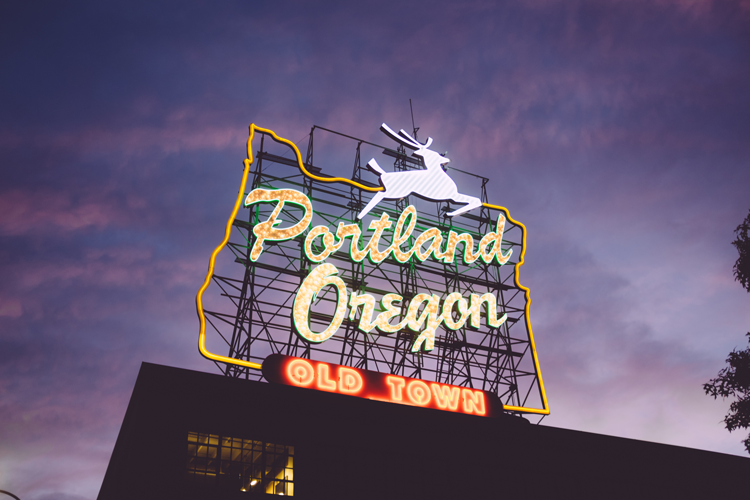 If your guests are active on Instagram, they may just want to pause for some photos throughout their visit. After all, did the trip even happen if it wasn't documented on Instagram? There are plenty of iconic Instagram-worthy spots throughout town, including restaurants, murals, parks, and more. Speaking of Instagram, make sure you're following Hasson to stay up-to-speed on the latest happenings in Portland Metro, Southwest Washington and Central Oregon!
Grab a Cup of Coffee
Portland is known for its exceptional coffee shops, so it's only right to show off the best of the best to your visitors. Taking them to your favorite neighborhood spot is particularly special. But if you need some direction (or you're not a coffee drinker yourself!), you can't go wrong with Stumptown in Ace Hotel, Either/Or, Heart Coffee, Good Coffee, Dapper & Wise, Guilder or Upper Left Roasters.
Take the Historic Highway Drive to Multnomah Falls
Take a break from city life for the afternoon with a visit to Multnomah Falls, the most-visited natural recreation site in the Pacific Northwest. This scenic and spectacular waterfall in the Columbia River Gorge is truly a sight to see. Extend the sightseeing by driving to the falls along the Historic Columbia River Highway Scenic Byway, considered one of the most scenic drives in the country. Along this 70-mile highway, you will discover waterfalls, historic monuments and buildings, fish hatcheries, and number of jaw-dropping overlooks.
Get an Exotic Ice Cream Flavor at Salt & Straw
Photo Courtesy of Salt & Straw
Salt & Straw is not your average ice cream shop. It is known for its exotic flavors, such as Strawberry Honey Balsamic with Black Pepper, Roasted Strawberry Coconut, Pear & Blue Cheese, Honey Lavender, and more. This Portland-based ice cream shop was launched in 2011 by cousins Kim and Tyler Malek, and has since expanded to several locations in Portland, and other cities along the coast, including Los Angeles, San Diego, San Francisco and Seattle.
Grab a Beer at a Local Brewery
Photo Courtesy of Deschutes Brewery
You probably have a favorite go-to local brewery, which makes for the perfect destination with visitors in tow. But if you need some guidance, some of the city's top breweries include Deschutes, Hair of the Dog, Fat Head's, 10 Barrel Brewing, and Cascade Brewing Barrel House! Sip on local brews and unwind at any of these renowned breweries in the city.
Sample the City's Best Oysters
Photo Courtesy of the Waiting Room
Your guests simply must sample the exceptional seafood the Pacific Northwest is known for. With so many wonderful oyster bars and seafood restaurants in the city, you won't have a hard time tracking down Rock Points, Deer Creeks and the ever-popular Kumamotos in the Portland area. In fact, we put together a list of the best oyster spots in Portland, complete with a map to make your oyster hunt even easier!
Photo Courtesy of Xiong Garden via the Portland Saturday Market
Going to the Portland Saturday Market is an experience. This weekly market is nationally recognized as the largest continuously operating open-air arts and crafts market in the country. Shop from small businesses from the PNW creating locally handmade arts, crafts and foods at this massive market operating every weekend through December 24 on Saturdays from 10 a.m. to 5 p.m. and Sundays from 11 a.m. to 4:30 p.m.
Going on a hike is the perfect activity for outdoorsy and adventurous visitors. Plus, it's an excellent opportunity to show off this beautiful, scenic region packed with lush vegetation, mountains, streams, waterfalls and endless views. The Lost Lake Loop Hike in Cascade Locks provides unparalleled views of Mount Hood, as you maneuver the easy 3.2-mile loop around the lake. The hike up the Ramona Falls Trailhead brings you to one of the most beautiful waterfalls in the state. Indian Point provides a more difficult hike, but the sweeping views of the Columbia Gorge make it well worth the climb. Take a look at 13 of the most mind-blowing hikes around Portland for other ideas!
Happy Hosting!
We hope this helps make your hosting experience a little smoother. Let us know where you like to take visitors in the Portland area!