Summer is just around the corner! There are so many ways to celebrate this sunny season in and around Portland. All summer long, the city hosts a number of festivals celebrating a myriad of subjects, including craft beer, cider, flowers, music, dance, bicycles, various cultures, and more.
Mark your calendars for these exciting festivals taking place in June, July and August in Portland and its surrounding neighborhoods!
June
May 25–June 10 | Varying Locations
Each June, the community comes together at the Portland Rose Festival, a civic celebration dating all the way back to 1907. From May 25 through June 10, attend a number of exciting events, from the opening night fireworks display to the second-largest floral parade in the country, and every festivity in between. Tickets may be purchased in advance for the many events taking place throughout the festival!
June 8–10 | Burnside Brewing Co.
The Portland Fruit Beer Festival provides a unique perspective on the thriving craft beer industry in the Pacific Northwest. It is the first and largest festival dedicated to fruit beers of all kinds. Open to all ages, the Portland Fruit Beer Festival will offer more than 50 fruit beers and ciders, non-alcoholic drinks, incredible food vendors, DJ music, and other activities. Tickets are $20 for admission with a plastic cup or $25 for admission with glassware.
June 9 | Oaks Amusement Park
After Christmas, Midsummer is the most celebrated occasion in Scandinavia. Nordic Northwest is throwing the spectacular Portland Scandinavian Midsummer Festival, a family-friendly day with centuries-old traditions open to all. There are lots of activities in store, as the festival is celebrating its 90th year this year. Enjoy traditional fare and crafts from local Nordic clubs, vendors and artists. There will be endless entertainment, including dancing and singing, and a beer garden, all with a Nordic flair.
June 7–17 | Varying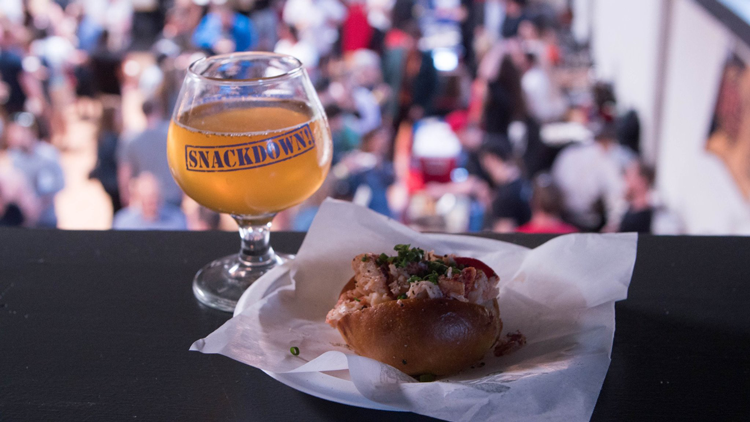 Photo Courtesy of © PDX Beer Week
Enjoy 11 days filled with fun, educational, eye- and palate-opening, eating and drinking events in the craft beer mecca that is Portland. PDX Beer Week is a celebration of craft beer culture and all of its tangents from food pairings to beer ice cream, artwork and design, film and science. Experience some of the best beers from around the world in addition to several local brands and companies.
June 16–17 | Tom McCall Waterfront Park
Portland Pride is one of the largest donation-based Pride celebrations in the country. Pride Northwest, Inc. hosts this two-day celebration promoting acceptance and pride for the LGBTQ community at Tom McCall Waterfront Park. Portland Pride takes place on Saturday from 12–8 p.m. and Sunday from 11:30 a.m. to 6 p.m. with a spectacular parade starting at 11 a.m. on Sunday.
June 22–25 | Overlook Park
Two of Portland's most beloved industries — organic beer and sustainability — come together in this beautiful annual celebration designed to promote both industries. The Organic Beer Fest will serve more than 50 organic beers, ciders and meads, alongside live music, food, vendors focused on sustainability, non-profits, and a children's area.
June 27 | The Oregon Convention Center
Head to the Oregon Convention Center for this one-of-a-kind event celebrating all things Saké. Saké Fest PDX will showcase the finest Japanese and US saké brands, with even some rare and premium saké varieties. Learn to pair saké with a variety of foods, including cheese, desserts, and chocolate, plus a wide range of fusion, Asian, and continental cuisines. Tickets for Saké Fest PDX range in price from $45 to $78.
June 29–30 | Fields Neighborhood Park
The Northwest Cider Association presents its seventh annual Oregon Cider Week, a celebration of all things cider, from June 21 through July 1. This 11-day celebration will showcase Northwest cider through a variety of special events, featured menus, happy hours, tap takeovers, and more. The largest event of the series is Cider Summit Portland, which will feature a range of ciders from the region and across the globe.
JULY
July 4–7 | Tom McCall Waterfront Park
Photo Courtesy of Waterfront Blues Festival
Kick off your Fourth of July celebration with the Waterfront Blues Festival, the largest celebration of blues, soul, funk, and rhythm and blues this side of the Mississippi. This long weekend is filled with amazing performances across four stages, lots of food, local vendors, river boat cruises, and more! The basic four-day tickets cost $30 in advance or $40 as the event draws nearer.
July 12–15 | Sheraton Portland Airport Hotel
The Portland Dance Festival combines two great genres of dance and two vibrant dance communities — country and West Coast swing! Considered one of the Northwest's longest-running dance events, the Portland Dance Festival has something for everyone, including social dancers, spectators, competitors, beginning dancers, workshop attendees, and those who simply want to have a great time with friends. Join the festivities on Friday evening, July 13 for three completely FREE beginning level dance classes.
July 14 | Tom McCall Bowl
Float atop the Willamette River at The Big Float, an annual fundraiser event for the Human Access Project. After the event opens with a grand parade, join the flotilla in the river atop a floatation device, then paddle down river to land on the west bank at the Tom McCall Bowl. It is there that Portland's grandest downtown beach party will be held, complete with live music, food carts, a beer and wine garden, sponsor booths, and a kids' activities area.
July 20–22 | Cathedral Park
The Jazz Society's Cathedral Park Jazz Festival is a free three-day concert series taking place in the Cathedral Park neighborhood at the base of the St. John's bridge. Now in its 38th year, the festival is the longest-running jazz and blues festival west of the Mississippi. The Cathedral Park Jazz Festival will showcase the region's best local jazz and blues musicians while recognizing and promoting the many local businesses in this vibrant neighborhood.
July 26–29 | Tom McCall Waterfront Park
Considered a craft beer destination across the nation, the Oregon Brewers Festival is one of the longest-running craft beer festivals in the country. Nearly 70,000 people attend this four-day event on an annual basis! Sample handcrafted brews from 80 independent craft breweries serving a variety of beers — including Belgians and blondes, pales and pilsners, and saisons and sours.
AUGUST
August 3–5 | Pendarvis Farm, Happy Valley
Photo Courtesy of Brud Giles via Pickathon
Considered one of Portland's most renowned music festivals, Pickathon is a three-day celebration of talented artists from both near and far. In fact, the festival is so "Portland" that season six of Portlandia kicks off with an episode taking place at Pickathon. This exciting celebration of music covers a wide variety of musical genres and is open for all ages. Tickets for the whole weekend are $320 for adults, $160 for teens (ages 13–16), and free for children 12 and under.
August 12 | Pioneer Courthouse Square
The India Festival features a day filled with back-to-back dances, musical performances, and food from Portland's finest Indian eateries. This free and fun-filled event at Pioneer Courthouse Square was designed to celebrate the spirit of Indian culture in a vibrant and unique way!
August 18 | Mount Tabor
Since 1997, the community has gathered atop Mount Tabor for the annual PDX Adult Soapbox Derby each summer. A crowd of 7,000–10,000 people watch as home-built creations and their owners race down the side of the hill three times, followed by championship rounds. Winners receive awards for speed, engineering, art and other categories after racers cross the finish line!
August 18–19 | Cathedral Park Place
Photo Courtesy of Amy Sakurai / Oregon Bicycle Constructors Association
Cyclists unite at the Oregon Handmade Bicycle Show, a weekend-long, family-friendly event pairing renowned bike frame and parts builders with local craft beer. This year, the show will take place at Cathedral Park Place, home to dozens of artist studios, booksellers, software designers, sculptors, printers, publishers, florists, and furniture makers as well as Dumonde Tech Racing Oils and Henry James Bicycles.
August 23–25 | Pioneer Courthouse Square
Festa Italiana celebrates Italian culture and the heritage of Italian-Americans in the Portland Metro area. Local Italian-American organizations unite efforts to produce this unique event spanning three days in the Pioneer Courthouse Square. Nearly 300 volunteers and generous sponsors work hard to create this spectacular event that is completely free and open to all!
Happy Summer!
How are you celebrating this incredible time of year? We'd love to know what events and festivals are on your calendar this summer. Let us know in the comments below!