Yoga is a healthy and rejuvenating way to escape the busyness and chaos of life. Not to mention, it is proven to benefit your physical, emotional, mental and spiritual health.
Becoming a part of a neighborhood yoga community is one of the best ways to connect with like-minded people passionate about the practice. Whether you are curious about yoga and have never set foot on a mat, or you have practiced for years and are interested in becoming a certified instructor, these yoga studios in the Portland area are a great place to start.
210 Northwest 17th Avenue #101
Photo Courtesy of Lincoln Barbour via The Yoga Space // Space Designed By Jessica Helgerson
This yoga studio in the heart of the city is one of the most gorgeous spaces we have encountered. Located in a historic chapel, The Yoga Space is a light-filled studio hosting spacious practice rooms, a meditation room, and a private outdoor terrace. This alignment-based studio features ongoing classes suitable for a variety of levels in Vinyasa, Ashtanga, Hatha, Restorative and Yin Yoga.
Forge Hot Yoga | West Linn, Portland + Happy Valley
1301 NE Alberta Street (Portland) | 1554 Garden Street #101 (West Linn) | 15932-B SE Happy Valley Town Center Drive (Happy Valley)
Forge Hot Yoga is an inviting yoga studio focused on Bikram Hot Yoga, Yin Yoga and Inferno Hot Pilates. Their heat-intensive classes help to reshape your body, mind and core using yoga as the medicine. Heal, transform and enhance your life at any of their three locations, including West Linn, Portland's Alberta District and Happy Valley.
Photo Courtesy of Turtles Yoga & Wellness
Turtles Yoga & Wellness is a wonderful facility in Beaverton with an array of amenities and membership benefits. The team at Turtles is focused on being kind to ourselves and others, being grateful for life, and having the openness to share our stories. What an amazing mantra! A membership at Turtles Yoga & Wellness offers access to a world of wellness at their beautiful heated lap pool, yoga and pilates classes, workshops, events and much more.
Photo Courtesy of Emily Joan Greene via Modo Yoga
We are inspired by both the refreshing space and uplifting environment of this studio in East Portland. Modo Yoga is a green, clean, hot yoga series that stretches, strengthens and tones the muscles while helping to detoxify the body and calm the mind. Relax and rejuvenate your body, mind and spirit in their serene and healthy environment, complete with a hot yoga area, spacious change rooms, lockers, cedar showers, and abundant natural light. Plus, grab a drink from Greenleaf Juicing Company to amplify the whole-body wellness experience! Check out the variety of classes available at Modo Yoga.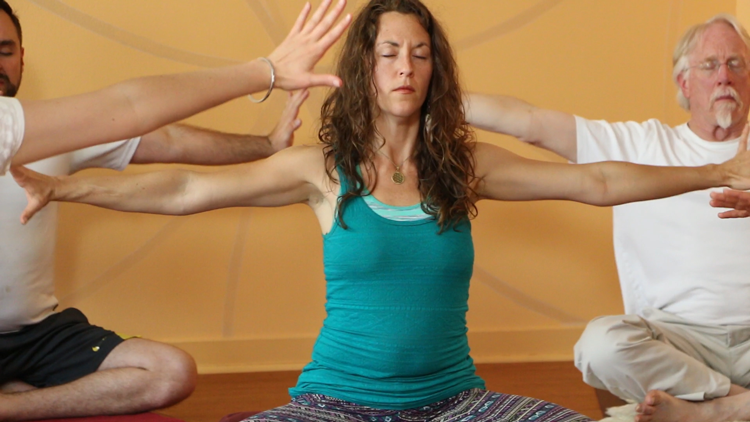 Photo Courtesy of Mandala Yoga
Return to the simplicity and serenity of yoga practice at Mandala Yoga. Against the magnificent backdrop of Mount Tabor, this beautiful sanctuary was designed for self-awareness and transformation. They believe yoga is for everyone, no matter the experience or fitness levels. Mandala specializes in Kundalini, Vinyasa, Hatha and Gentle styles of yoga. Explore their class offerings and visit this special Southeast Portland studio for rejuvenation and a sense of community.
Photo Courtesy of Stark Photography via Twist Yoga
Twist Yoga is a locally owned boutique studio in Lake Oswego with a vibrant and inviting spirit. The studio opened in December 2013, born out of a dream to create a space that was a peaceful combination of function and form. And they have created just that! Check out the class schedule and sign up for an upcoming class that fits your style and fitness needs. Twist Yoga welcomes new yoga students with open arms, and they offer unlimited yoga for 30 days for just $49 for all newcomers!
Photo Courtesy of Christy Cassano via Yoga Pearl
Yoga Pearl is a popular yoga studio in the heart of Portland's Pearl District. Over the years, this studio has become a neighborhood hub for pursuing passions, learning, overcoming challenges, and seeking renewal. Yoga Pearl offers a variety of classes in various styles, from prenatal and yin to deeply challenging Power Vinyasa classes. Check out their inspiring space complete with a nourishing health food cafe on site!
Karma Yoga is an inviting studio situated in Clackamas. They pride themselves on having an open and welcoming studio, teachers and community members. Karma offers a variety of classes suitable for every level, from beginners to those interested in Advanced Yoga Teacher Training. Check out their classes ranging from the thrilling aerial yoga to a more laid-back Hatha yoga class.
The People's Yoga | North Portland, NE Portland + East Portland
855 North Failing Street | 3016 Northeast Killingsworth Street | 4210 Southeast Belmont Street
Photo Courtesy of The People's Yoga
This yoga studio has a noble mission to make yoga affordable and available to all — no matter their financial status. Members of The People's Yoga not only have access to highly experienced practitioners with diverse teaching styles, but they also help fund yoga scholarships for community members in need. Be a part of the inspiring community at The People's Yoga, at any of their three locations throughout the Portland area. They have more than 50 classes per week with styles ranging from beginner to advanced!
CorePower Yoga | Tualatin, NW Portland + Southeast Portland
7497 Southwest Bridgeport Road | 2277 Northwest Quimby Street | 844 Southeast Morrison Street
Photo Courtesy of CorePower Yoga
CorePower Yoga is a prominent and well-known yoga studio company with locations all throughout the country. This makes it extra convenient to access their amazing studios, classes and community of members — whether you're in Tualatin, Northwest Portland or Southeast Portland. You can even receive one week of free yoga to sample their classes without committing to membership. But once you experience their top-notch classes, state-of-the-art facilities, and encouraging community of members, you may just become a member yourself!
Which yoga studios in Portland do you love?
We'd love to know your favorite! Let us know in the comments below.