Exceptional schools, beautiful homes and breathtaking scenery make Lake Oswego one of Oregon's most exclusive and sophisticated neighborhoods.
Many of the homes along the shores of Oswego Lake are as impressive as the natural beauty around them. Original homes reflect the classic architectural style of the area's history, including English cottage, Tudor revival, Victorian and Craftsman. Newer estates are modern and contemporary, constructed of high quality materials consistent with the area's luxurious atmosphere.
Explore a handful of the many luxury homes for sale in Lake Oswego — from modern marvels on the lake to elegant farmhouses in the heart of town.
Lakefront Modern Marvel
Address: 2236 Summit Court | Listed By: Kathy + Kevin Hall
We are completely blown away by this custom home nestled alongside the northern shore of Oswego Lake. It was designed to maximize both views and privacy, a rare combination made possible by lush canopies of foliage and a pristine position at the end of Summit Court. Each of the three levels offer modern design and plenty of natural light streaming through floor-to-ceiling windows. The new exterior decks extend the living space and promote resort-at-home living within this unforgettable property.
Contemporary Home in Street of Dreams
Address: 1836 Highlands Loop | Listed By: Kathy + Kevin Hall
This timeless northwest contemporary home was featured as a showcase home in the 2015 Street of Dreams. And it's easy to see why! The dramatic two-story great room with a soaring wall of windows acts as the focal point of the home. Other notable spaces include the stunning kitchen, the resort-style master bathroom, and the theater room with a lower-level entertainment area. During the warmer months, enjoy the covered outdoor kitchen and living area and the yard positioned for sunshine all day long.
Elegant Cape Cod Home With Exceptional Views
Address: 1500 Ridgecrest Drive | Listed By: Kathy + Kevin Hall
This landmark property is situated on Lake Oswego's most sought-after street. The vintage charm of the interior is complemented by jaw-dropping views visible from both inside and out on the many outdoor decks. The property looks out over Mount Hood, main Oswego Lake, the Oswego Lake Country Club golf course, and other surrounding scenery. This pristine location presents a wonderful investment opportunity for a complete remodel or a new build.
Midcentury Modern Gem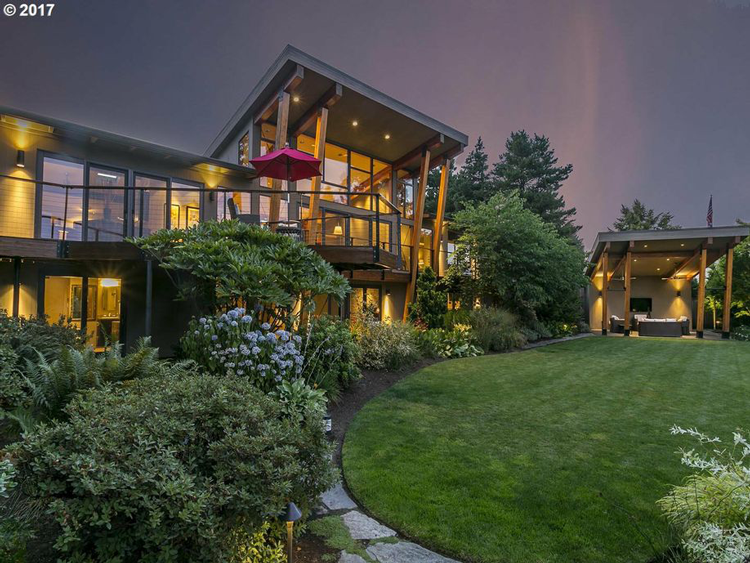 Address: 18475 Crestline Drive | Listed By: Kendall Bergstrom-Delancellotti
This architectural beauty is truly a sight to behold. Midcentury modern design beautifully merges with natural wood elements and sleek stone touches. Designed for both extravagant entertaining and endless relaxation, the property hosts an outdoor pavilion, an outdoor living room, a spa, a sauna, and an exquisite koi pond in the entryway. From nearly any vantage point inside or outside the home, enjoy unparalleled views of the surrounding landscape!
Contemporary Lakefront Home
Address: 16819 Greenbrier Road | Listed By: Kevin Costello
This contemporary lakefront property enjoys panoramic views of the water below. Natural light fills the kitchen, dining area and living space through soaring floor-to-ceiling windows filling the unique A-frame structure. This bright and airy home with four bedrooms, four bathrooms, plus a den and bonus room has ample space to host large groups. Enjoy immediate access to the covered boathouse for an adventure on the lake, or retreat to the spa adjacent to the covered deck area on the ground level.
Old World Beauty in Forest Hills
Address: 13047 Knaus Road | Listed By: Lisa Hanna
Built with timeless Old World craftsmanship, this home in the desirable Forest Hills neighborhood is cozy and inviting. The extensive woodwork throughout — including natural cherry wood elements, wood moldings and wood windows — is simply stunning. It even features a wine cellar and plenty of space for entertaining in the backyard, including a gas fire pit, a sport court, and a beautiful water feature.
Modern Meets Northwest Craftsman
Address: 18048 Eastridge Lane | Listed By: Declan O'Connor + Sara Clark
Enjoy private and opulent living amongst the trees in this spectacular home. The latest build from Lifestyle Homes perfectly blends modern aesthetics and Northwest Craftsman style. From the unique exterior with stunning stonework and wood details to the spacious interior with an open flow, this home is an absolute dream. The covered backyard deck is an excellent place to entertain, relax and enjoy surrounding nature while escaping the rain or the sun's powerful rays.
Lakefront Craftsman Surrounded by Foliage
Address: 2057 Summit Drive | Listed By: Trish Banning + Courtney Spears
This exceptional Craftsman property was completely remodeled and redesigned in 2007. The timeless and comfortable design invites residents and guests alike to rest and relax along the lake, enjoying serene water views and convenient water access. We appreciate the extensive use of stone and iron, the beautiful hardwood decks, and the intelligent use of space and design. This home feels somewhat like a larger-than-life treehouse in the woods!
Architecturally Inspired Modern Home
Address: 1828 Egan Way | Listed By: Pat Bangerter
This midcentury modern home is like stepping into a liveable work of art. This architecturally inspired home was completely remodeled with extremely high-quality materials and impeccable style. We particularly admire the walls of windows, allowing lots of natural light to enter the main living space. The designer incorporated several unique features, including concrete countertops in the kitchen and a sleek concrete wall surrounding the fireplace.
Charming Traditional Home in the Heart of Town
Address: 504 8th Street | Listed By: Kathy + Kevin Hall
Storybook charm exudes from this classic farmhouse traditional home located in the heart of Lake Oswego's First Addition/Evergreen neighborhood. Boasting both an ideal location and private serenity, this home has a Walk Score of 83, as many schools, shops, restaurants and other attractions are nearby. We admire the classic design of this home, plus the many charming features, such as the upstairs loft area with built-ins and a window seat.
Which luxurious property is your favorite?
With so many desirable features, it's impossible to pick just one!