A new year is upon us, and with it, a new set of resolutions. If fitness is on your list this year, you are probably not alone! Gym memberships tend to surge in January as people explore new ways to get fit.
Believe it or not, working out doesn't have to be a chore. In fact, Portland is home to a number of upbeat gyms, motivated trainers and unique classes that make pursuing your fitness resolutions a piece of cake (figuratively, of course). We rounded up some of the most entertaining and effective workouts in the Portland area to get you started. Have fun out there!  
Cycling + Small Group Fitness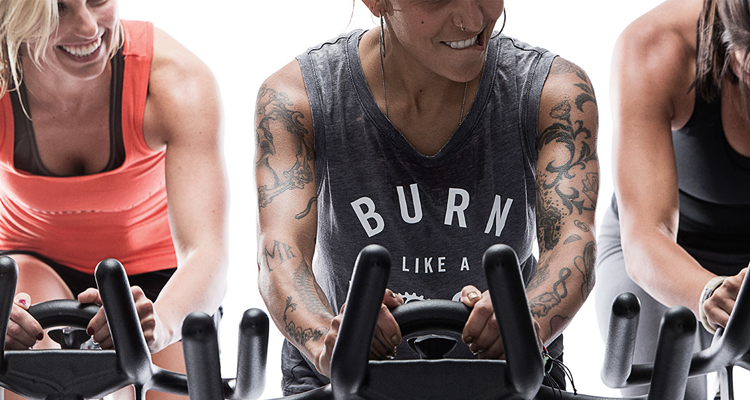 Photo courtesy of Ty Milford via BurnCycle
We have no doubt you will feel the burn at BurnCycle! The signature 45-minute class incorporates drills and intervals to target your legs, upper body, obliques and core, all while improving your cardiovascular fitness. The workouts are fun and set to upbeat music, so those 45 minutes will fly by.
At Honest, the staff believes that small, consistent lifestyle changes lead to big transformations. That's why they make it their priority to create a supportive, fun and friendly environment that will bring you back again and again! You'll be able to try indoor cycling that mimics real-world conditions, small-group training and even personal training — all led by passionate and highly qualified coaches.
1218 Northwest Marshall Street
If you're looking for a serious cycling workout that will improve your form and technique, Revocycle is the place to be. The owner, who has more than 25 years of cycling experience and a Phd. in science, designed the workouts to be highly effective both in and out of the studio. Here, the atmosphere is a bit more laid back, allowing you to tune into your body.
Dance

Photo courtesy of PulsePDX
3602 Northeast Sandy Boulevard
Part health club and part night club, Pulse PDX ensures you get a workout — without feeling like you're working out at all. The classes, which range from Zumba and pilates to hip hop and weighted circuits, are all held in a darkened room with fun, upbeat music and lights. You'll work up a sweat and improve your strength while having the time of your life!
Diva Den is a boutique dance and fitness facility that was created for women, by women. Here, you'll find fitness fusion, aerial dance, yoga and barre classes, all led by certified professional instructors in a friendly environment. So friendly in fact, that the studio claims that coming to one of these classes is a bit like going to happy hour with your friends! Try one week of classes for free and see for yourself.
Kickboxing
Photo courtesy of 9Round
9Round delivers astonishing results using a customized kickboxing method and heart-rate technology, and it's also a whole lot of fun! People flock here from all over the city for a unique workout that is interesting and effective. Show up at your convenience (there are no class times) and be greeted by a qualified trainer who will teach you how to do each exercise based on your fitness level. The workouts change daily, so you'll never get tired of coming to the studio!
Yoga + Pilates
Photo courtesy of Michael Verity Photography via Urban Pilates
Located in the heart of downtown Portland, Urban Pilates offers challenging but approachable pilates classes for all levels. You'll receive individualized instruction and precise workouts designed to deliver full-body results, including improved strength, control and flexibility.
Your fitness journey isn't just a way to work up a sweat — it's fuel for the mind, body and soul. At least, that's the philosophy at Fuel. Here, you'll experience a variety of yoga-based workouts designed to improve strength, flexibility and overall fitness. Each workout provides the opportunity to challenge yourself, rekindle your passion, and fuel your life outside of the studio.
Located in the heart of Portland's Pearl District, Yoga Pearl is dedicated to providing personalized yoga instruction for students of all levels. Whether this is your first time practicing or you've been at it for years, this studio provides the opportunity to deepen your practice, challenge yourself, and meet friendly, like-minded people in the process.  
HIIT, Circuit Training + Crossfit
Photo courtesy of Fulcrum Fitness
The Matrix Training system at Fulcrum was designed by founded David Levy, and is designed to produce results, keep you free of injuries, and help you avoid that notorious fitness plateau we all dread. You'll work in small groups to follow a science-backed workout that shifts daily and incorporates a mix of training exercises that target different areas to improve balance, agility, strength and flexibility.
The Refinery offers personal training, customized small group circuit classes and yoga — and the classes are guaranteed to keep you on your toes! The space is cool and modern, and the trainers are upbeat, motivating and dedicated to helping you reach your goals. It's a great place for the person who just "isn't that into gyms," or is looking for a creative alternative to fitness.
Studio X meets every athlete where they are, whether they are training for a triathlon or are just trying to get back into a basic fitness routine. The group classes are small so everyone will receive a little bit of one-on-one time, but there are also personal training options if that is more your style! The workouts are designed to be challenging and produce results, but you'll love every minute of it.
2636 Northwest 26th Avenue, Suite 1
The Skogg kettlebell method, developed by fitness legend Michael Skogg, combines strength training, cardio conditioning and power development into a fun, upbeat class. People from all over the world have tried (and loved) this method through virtual sessions, but the Portland-based studio also offers in-person group classes almost every day. Come see what all the fuss is about!
Fitness and Nutrition Programs
Photo courtesy of Ronald Hope Photography via the Point Gym and Kitchen 
Point Gym and Kitchen is designed for those who like to train indoors and play outdoors. Here, you will join a community to keep you accountable to your fitness goals, participate in a number of classes that incorporate cross-training methods for functional fitness, and consult with professional nutrition counselors to ensure a wholesome, well-rounded diet. People of all levels are welcome, and your first week is free!
4418 Southeast Hawthorne Boulevard
Hitting the gym is only half of the equation — a healthy diet is also vital. That's why the team at Nourish Northwest makes it easy to accomplish your goals in both areas! While the schedule is jam-packed with challenging TRX and yoga classes, HIIT training, boot camps and more, you'll also be able to join in a healthy cooking class after training, meet with a registered dietitian, or even work with a personal chef!
Where do you work out in the Portland area?
Let us know about your favorite gym (and what makes it so great) in the comments below! We're always looking for recommendations.